This week's weather will be significantly cooler than what we experienced last week as a upper-level system to our east pulls down chillier air from the north.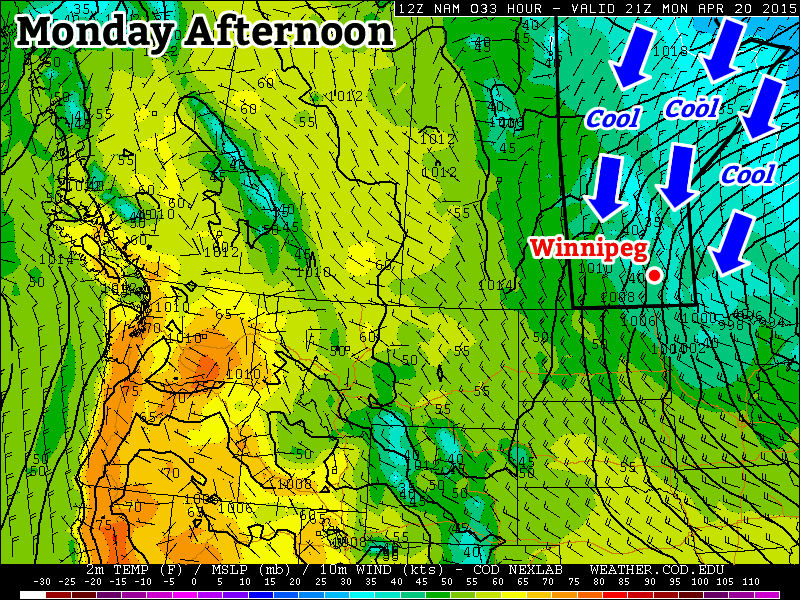 Monday
Today will be cool, cloudy, and precipitation-y. We'll see some mixed showers and flurries throughout the day as a strong low pressure system exits our region. High temperatures will be in the mid single digits, meaning that even if it does snow it won't stick around for long. Winds will be gusty due to the departure of that weather system, with values from the northwest of 40km/h gusting to 60km/h.
Tuesday
Tuesday will remain cool and breezy, but we will see some sun! High temperatures will be in the upper single digits under mainly sunny skies. Winds will be northerly at 20-30 km/h, making it feel on the chilly side.
Wednesday
Wednesday will be slightly cooler than Tuesday as more cool air pours in from the north. High temperatures will be in the mid to upper single digits, but skies will remain mainly sunny. Winds will be northerly at 20-30km/h once again
Long Range
The long range forecast suggests that this cooler pattern will stick around for at least the rest of the week. A persistent trough is expected to remain parked just to our east, meaning that cool air will be continually pumped into southern Manitoba during the short to medium-term. However, in the longer range this pattern is expected to break-down, ushering in a return of more seasonal conditions.