A persistent area of low pressure off the coast of Eastern Australia is to blame for extreme amounts of rainfall that fell during the mid-week.
An upper level low that was cut-off from the main jet stream to the south was the reason for the slow movement of the surface low. Sydney and surrounding regions were hardest hit from the storm where over 300mm fell in some areas in less than 24 hours. Dungog and Maitland, towns north of Sydney, received some of the highest amounts in the region; 312mm fell in Dungog in 24 hours and 301mm fell in Maitland in the same amount of time. Sydney received 225mm during a two-day span – relatively speaking, this is a significant rainfall for them. According to the Australian Bureau of Meteorology this was the most rain Sydney has received during two-day period in more than a decade. What made conditions even worse was that winds howled to 80km/h in Sydney and over 130km/h in three separate regions on the east coast of Australia. The high winds made for swells of over 6m out at sea.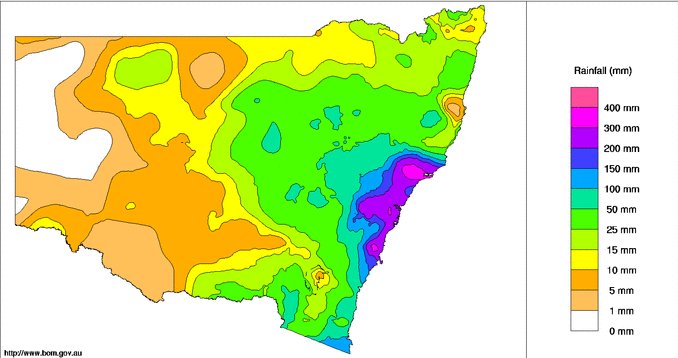 Due to the high winds and flooding rains, power to 215,000 people was knocked out in the region. In addition to that, creeks quickly became dangerous, fast-flowing rivers in the Dungog region. Several houses in Dungog were washed away due to the floodwaters and unfortunately four people perished.  There were also 150 water rescues that had to be executed. As of Friday morning where were still a few thousand people isolated by floodwaters that cut off main roads. In total, 12 communities were officially declared a natural disaster area by the government – insurance companies estimate the damage to be around 100 million dollars.
Since then the soggy weather has continued, off and on, throughout the end of the week. With another system and associated cold from arriving from the west today, the chance for rain continues – amounts will be nowhere near the ones that were observed this past week, however.