Temperatures will remain well below normal through the coming weekend as unseasonably cool air becomes entrenched over the region behind the Colorado Low that brought rain to Southern Manitoba on Wednesday & Thursday.
Today will be a comparatively chilly day with temperatures struggling to climb to a high of just 7°C; this is around 10°C below the average high of 18°C for this time of year. The cool temperatures will be accompanied by gusty northwesterly winds of 30km/h with gusts to about 50km/h throughout most of the day. Skies will be fairly cloudy, but a few sunny breaks will manage to materialize through the day.
Tonight in the Red River Valley will bring cloudy periods and a low temperature dipping just below freezing to –1°C.
Saturday and Sunday will be fairly similar days with highs near 11 or 12°C and mixed skies as some cloud cover streams across the region from North Dakota. Winds will be relatively light out of the north at around 20km/h. Both Saturday and Sunday night will bring some cloud with lows in the 1–3°C range.
Cool Weather Persists Into Next Week
There's nothing but bad news for those hoping for a quick rebound back to summer-like weather: it's going to take quite a while for seasonal temperatures to return to the Red River Valley.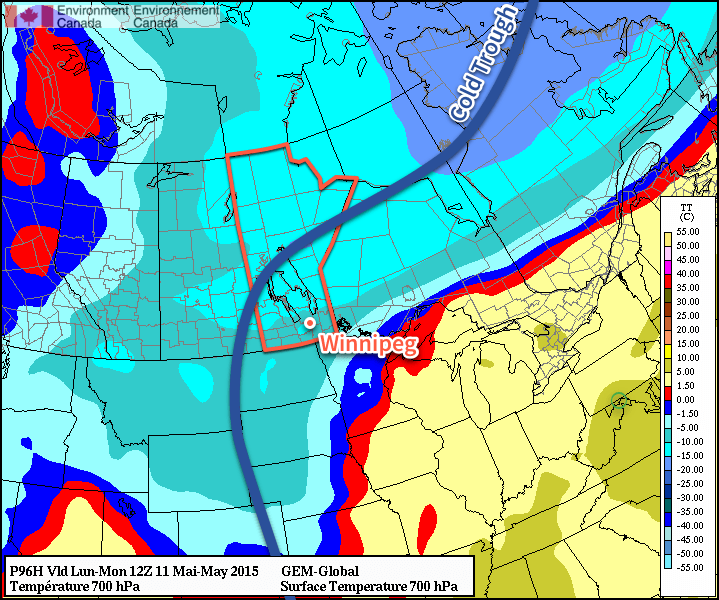 Cooler-than-seasonal temperatures are expected to persist until the middle of next week thanks to the cold trough pictured above remaining stubbornly entrenched over the province. Long-range models are showing a return to seasonal warmth in the high teens for the second half of next week as an upper-level ride begins to build into the region, shunting the colder weather off to the east.