The weather through the second half of the week will have a distinctly fall-like feel to it as a building ridge of high pressure over the Prairies brings cooler weather to Southern Manitoba with daytime highs in the upper teens and overnight lows in the single digits.
Thanks to a high pressure system building in from the Arctic, temperatures will be fairly cool over the coming few days with daytime highs around 18°C and overnight lows in the mid-to-upper single digits. Winds will be out of the northwest at around 20km/h today and tomorrow, however swing around to the south for Friday.
The only real notable weather will be tonight. With very cool air pushing into Southern Manitoba[1], lake-effect cloudy and precipitation will likely develop overnight into Thursday morning. Showers or drizzle are possible in the lee of the lakes beginning late in the evening tonight until mid-morning on Thursday. Even if the precipitation doesn't occur, some cloudiness is a certainty, so expect cloudy or mixed skies on Thursday morning with a clearing trend into the afternoon.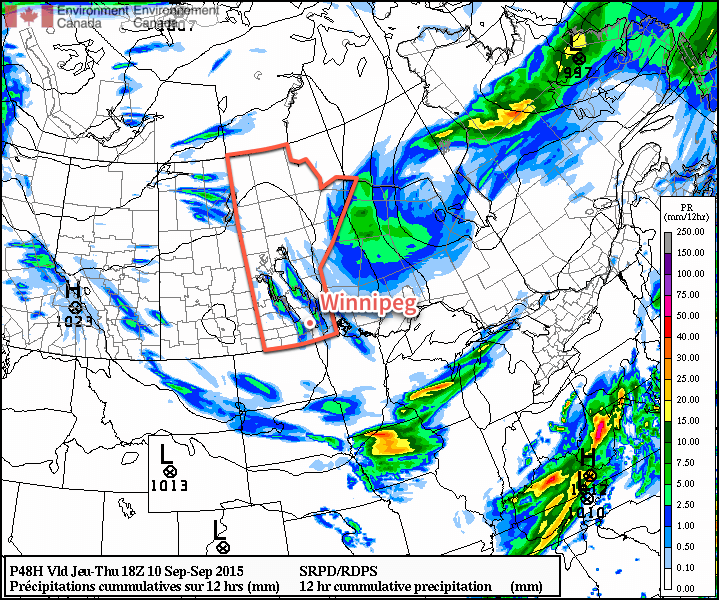 Otherwise, the weather will be quite benign for the remainder of the work week.
Long Range Outlook
Looking ahead to the weekend, it looks like warmer weather will begin to return to the region. Daytime highs will climb back into the mid–20's with breezy southerly winds on Saturday. Sunday will feature a high in the mid–20's again with strong southerly winds ahead of a developing low pressure system. There looks to be a slight chance for some rain on Sunday evening/overnight into Monday, however the odds look slim at this point.
All in all the weather will be fairly nice for the coming 5 days, so enjoy it; just remember to begin packing a jacket or sweater for the evenings!
---
850mb temperatures tonight are forecast to fall to around 3°C.  ↩