This week will start out on the dreary side as a series of low pressure systems bring rain to southern Manitoba. Some parts of southern Manitoba may even see a bit of snow by midweek.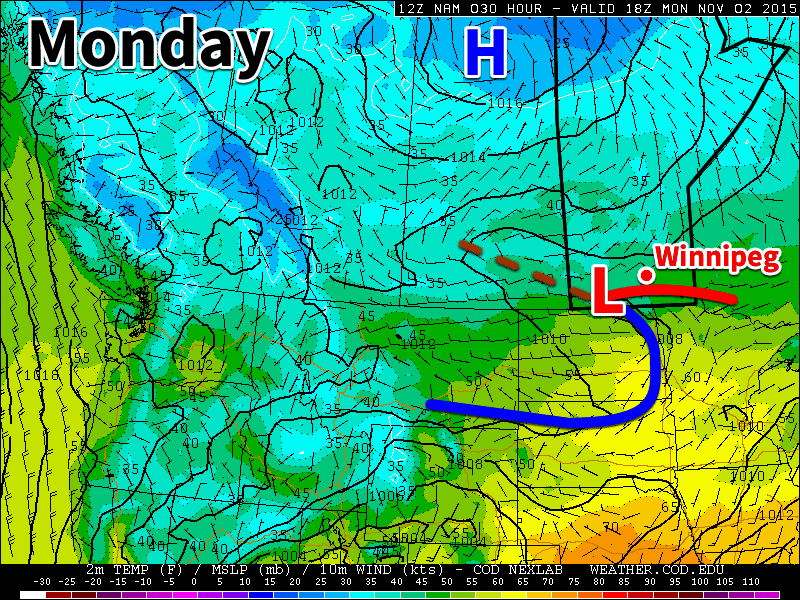 Monday
Today will feature mainly cloudy skies and light rain showers as a low pressure system passes through southern Manitoba. Rainfall amounts in the Winnipeg region are expected to be under 2 mm, but areas further north may see slightly higher amounts. Winds will be light and temperatures will be relatively mild (near 10C), so conditions will generally be comfortable outside of the rain showers.
Tuesday
More rain appears to be on tap for Tuesday as we come under the influence of another low pressure system pushing up from the south. Like Monday, accumulations are expected to be small, with amounts of only around 2 mm expected. It will be windier and cooler than Monday though, with temperatures in the mid single digits and breezy north-east winds.
Wednesday
Wednesday will see the continuation of Tuesday's system with more rain likely in store. Accumulations will probably range from 2-4mm in the Red River Valley. There is a chance of snow in the higher terrain of western Manitoba, but it is too early to say how much could fall. Temperatures will be in the low to mid single digits with a breezy north-west wind.
Long Range
The long range forecast continues to strongly hint at above-normal weather for the first half of November. The combination of a positive Arctic Oscillation and the increasing influence of El Nino will allow Pacific air to continue moving across the Prairies while preventing significant Arctic air masses from surging southward. That isn't to say we won't get cold weather this November, but it certainly seems most likely that warmer conditions will dominate. Given that the normal high for this time of year is only 3C, "warm weather" will be a relative term from this point forward.