Unsettled Weather Continues; Snow Elusive in Red River Valley
The unsettled pattern that's been a mainstay of weather chatter since the beginning of the weekend will continue to bring more dreary and wet weather to Winnipeg through the remainder of this week. The upside? Temperatures will continue to remain unseasonably warm for the foreseeable future; not a bad trade if you can handle the absence of sunshine!
Today will see Winnipeg and the Red River Valley under the influence of a low pressure system moving through the Lake of the Woods region and off into northwestern Ontario. While this system is expected to spread 5–10cm of snow across the Parkland region of western Manitoba, here in the Red River Valley generally light shower or drizzle activity is expected with total rainfall amounts under a couple mm or so. Daytime highs will climb to around the 7°C mark with relatively light winds eventually shifting out of the northwest to 20–30km/h in the afternoon.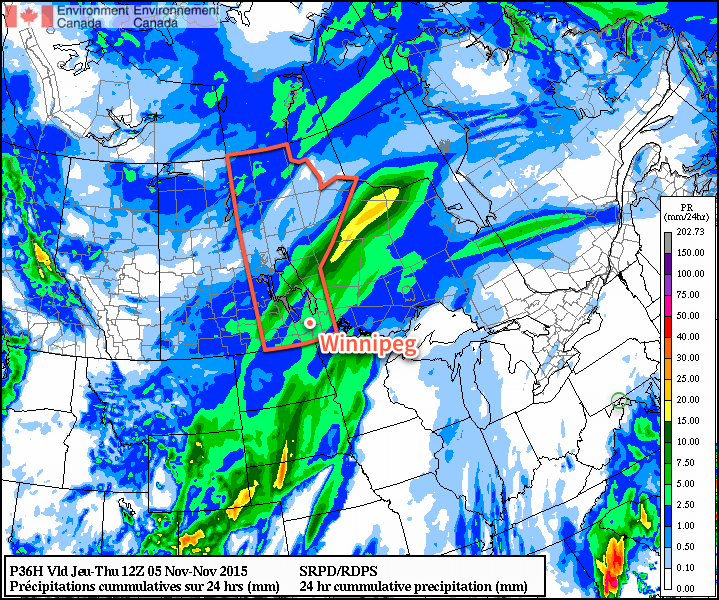 As we head into the evening, the chance for showers or drizzle will continue well into the evening and overnight period. Total amounts, once again, look quite low. The drizzle and/or shower activity will likely taper off late overnight or early Thursday morning. Expect a low near 3°C.
Thursday will be a bit of an unpleasant day as a cooler temperature steady near 4°C combines with brisk northwesterly winds at 30–40km/h as another low pressure system passes by southeast of the Red River Valley. While conditions will be dry through the morning hours, Winnipeg will quite likely see more shower activity push in from the south for the afternoon hours, clipped by the northwestern flank of the area of rain and snow produced by the low moving through.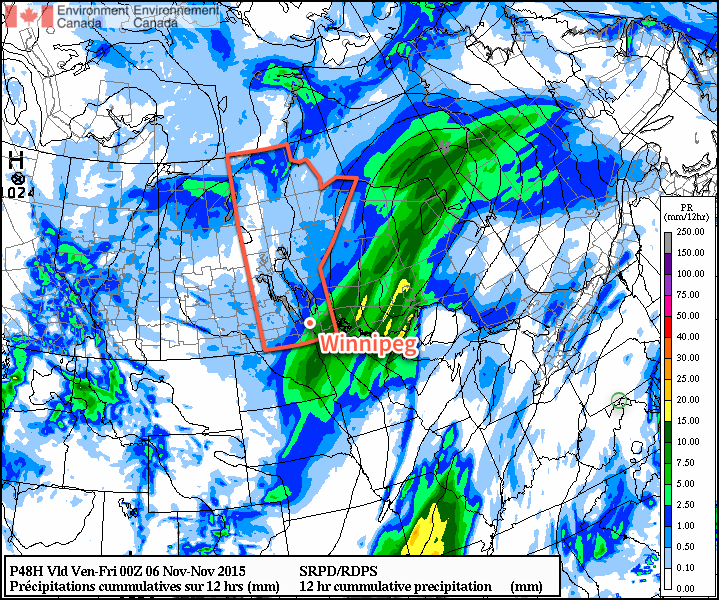 The showers will taper off late in the afternoon and the Red River Valley will head towards an overnight low near –1°C under mainly cloudy skies with diminishing winds.
Friday continues the above-normal daytime highs, and the dreary weather, as mainly cloudy conditions give way to a few scattered showers in the afternoon with northwest winds of 20–30km/h. Daytime highs will sit near 4°C. Friday night will be quite cool with a low near –3°C and, finally, clouds beginning to scatter out.
Mild Weekend Ahead; Sunshine Possible Too!
This weekend looks to continue the above-seasonal temperatures with daytime highs in the mid-single digits and mixed to mainly sunny skies. Saturday might see somewhat windy conditions, however things look quite pleasant on Sunday with little by way of wind, sunshine and a high near 5°C or so. Granted, at this time of year, sunny forecasts can quickly become stratus-filled broken promises, so we'll be keeping an eye on things as we head towards the weekend.