More snow is on the way this week, probably not what you were hoping to hear (at least most of you).
Monday
Today will feature mainly cloudy skies and more snow! There will be a chance of flurries throughout the day as we remain under a cloud deck with some low-level instability. Accumulations of new snow aren't expected to be large, but will not be welcome by most nonetheless. Luckily, temperatures will remain near 0C, allowing snow to easily melt off treated surfaces. Winds will also be relatively light, preventing the white-out conditions we experienced last week.
Tuesday
We'll likely see a break from the snow on Tuesday morning, but more is on the way later on Tuesday. A stronger low pressure system will be pushing into southern Manitoba from the west, bringing more accumulating snow by later on Tuesday.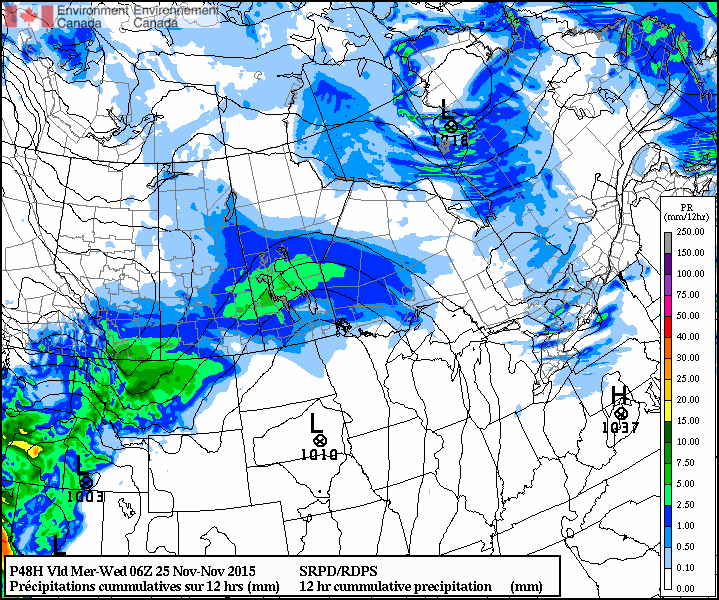 At this point accumulations looks to be around 5ish centimetres, but that number may go up or down depending on the eventual track of the system. Winds will be easterly at 30km/h gusting to 50km/h, leading to blowing and drifting snow out on the highways. However, temperatures will still be hovering near 0C, again helping to prevent ice from forming on treated roadways.
Wednesday
Snow will taper off on Wednesday morning, followed be clearing skies through the day. Unfortunately, a cold front will push through southern Manitoba on Wednesday morning, ushering in gusty north winds and a chillier air mass. Wind speeds are expected to increase to 40km/h gusting to 60km/h, allowing for more blowing and drifting snow. Temperatures will fall throughout the day as this colder air mass floods in, with temperatures dropping to the minus double digits by evening.
Long Range
The long range forecast continues to show generally above-seasonal weather for southern Manitoba as we push further toward winter (remember it's not technically "winter" yet). This November is running 6.4C above normal, although that is going to change with the colder pattern that we're currently in. Unfortunately, we live in Manitoba, so even "warm" winter weather is never really that warm, but hopefully we'll avoid the extreme cold that has plagued us frequently the last few winters.