Beautiful Start to December Continues
A foggy start today will be the minor blip in what looks to be a beautiful second half of the week, and start to meteorological winter, as the mild weather shows no end in sight.
The forecast for the remainder of the work week is pretty straightforward: beautiful with warm and sunny weather.
This morning will be the one blip over the next few days as fog over the region gradually burns off. After that, we'll see mainly sunny conditions over the coming days with temperatures slowly warming as a train of low pressure systems tracking across the Northern Prairies drag warmer air eastwards across the Prairies.
Winds will be calm today, however pick up through the remainder of the week. Thursday will see westerly winds around 20–30 km/h while Friday will see gusty southerlies at 30–40 km/h.
By Friday, daytime highs will be 10°C or more above seasonal values with the potential for substantial snow-melt through much of the Red River Valley.
Weekend Outlook & Beyond
The mild weather will continue into the weekend with daytime highs slightly above 0°C expected throughout much of the Red River Valley. Saturday will likely be the nicest day of the week with daytime highs of 2–4°C and some breezy westerlies. Sunday will be a bit cooler with lighter winds.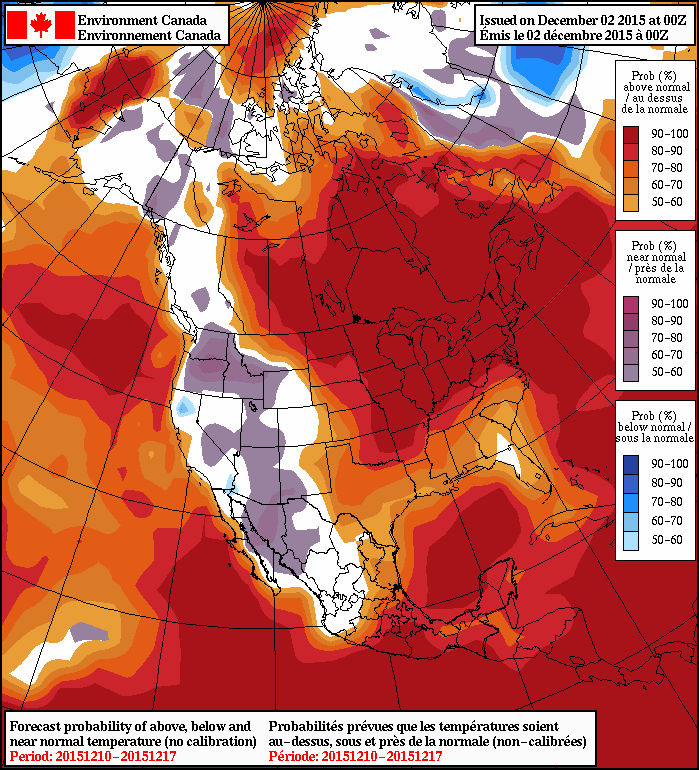 Looking further ahead, the NAEFS continues to remain very confident in above normal temperatures for the region. With no indication that the Polar Jet has any plans to shift further south, out of the Northern Prairies, it seems fairly safe to go with the NAEFS forecast. Early indications are that we can expect daytime highs next week in the range of –2°C to +2°C or so with little in the way of precipitation.