Slightly cooler temperatures have moved into the Red River Valley, but they won't be enough to break our trend of unseasonably warm weather as daytime highs and lows continue to sit between 5 to 10°C above normal. Alongside the cooler but still relatively mild weather will be a whole lot of cloud and a chance for some more snow across the region.
Today's weather will be predominantly influenced by a ridge of high pressure extending from the high Arctic southwards through Nunavut, Manitoba and into North Dakota. Unlike some Arctic ridges, this one is fairly weak, and as a result, instead of crisp blue skies and bone-chilling cold, we'll see grey skies, cool easterly winds, and a slight chance of flurries.
With all the cloud cover entrenched over the region, temperatures today will be fairly mild. Daytime highs through the Red River Valley should end up sitting around –1°C.
Another shot of light snow is in the cards for tonight, however, as a band of snow slowly spreads northeastwards out of the United States. The snow will develop and through the day on the U.S. side of the border as a low pressure system, ejected eastwards from yesterday's explosive Pacific-coast storm, develops through the Northern Plains. The band of snow will slowly push to the northeast and move into southern Manitoba through the overnight period. For most places, less than 1–2cm is expected, however near the U.S. border, slightly more may fall, totalling up to 2–4cm by Saturday morning. Expect an overnight low near –5°C.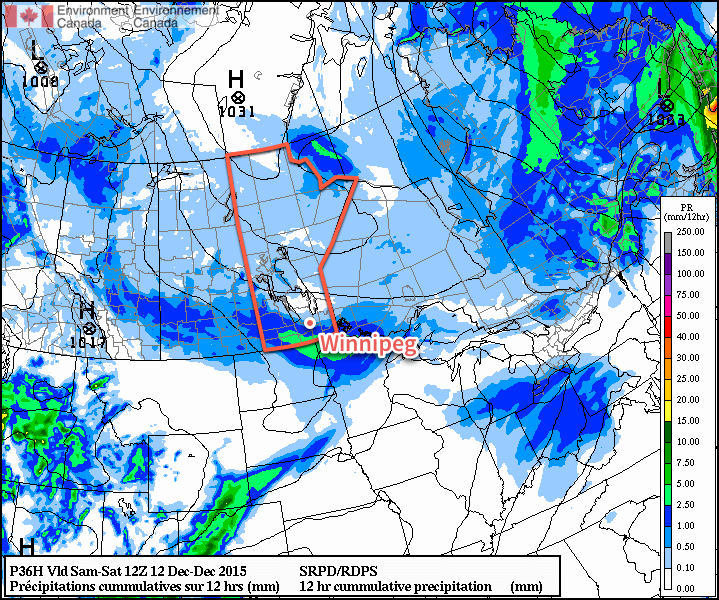 Saturday will bring more cloudy skies and widespread light flurry activity. Temperatures will continue to be mild with daytime highs around –2 or –1°C, which when combined with the fact that there won't be much wind to speak of, will make for quite a pleasant December day. The flurries will taper off in the evening as temperatures dip just a few degrees to about –5°C.
Mild weather continues on Sunday under cloudy skies as slightly warmer air builds into the southern portion of the province. Daytime highs will climb 1–2°C higher than Saturday and sit near the freezing mark with relatively light northeasterly winds. No organized snow is expected on Sunday, so all in all, it will likely be a pleasant end to the weekend! Expect temperatures to dip to around –5 to –7°C on Sunday night.
Long Range: Does the Warmth End?
This section of the forecast has been a broken record so far this winter: continuing mild. And, at the moment, that's not going to change. In fact, over the past week and a bit, several agencies have re-run seasonal forecast models for North America and they all continue to forecast the same thing: generally mild weather with below-normal precipitation.
This large-scale seasonal outlook has been faring quite well so far this year. The end to this year has been exceptionally mild for Winnipeg; perhaps not in magnitude[1], but just through the sheer persistence of moderately above-normal temperatures.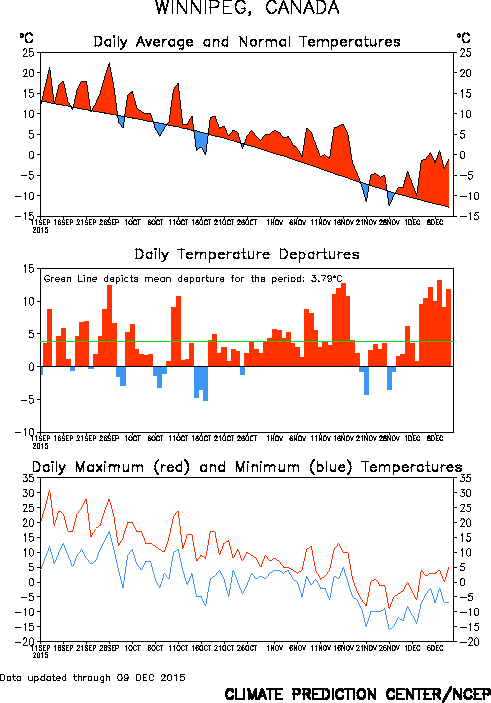 Since the beginning of November, there have been just 4 days with below-normal daily temperatures and over the last 90 days, just 16. In a place that's known for large temperature ranges, it's impressive to think that over 80% of the past 90 days have been unseasonably warm. This incredible warmth led to the 4th warmest fall on record with a mean temperature 3.0°C above normal. By all accounts, this trend looks to continue and that the remainder of the winter, although likely to have occasional cold spells, will generally be a mild one.
---
Record high temperatures have been relatively rare over the past 60 days.  ↩