This week will be see temperatures trend below seasonal as a surge of arctic air comes down from the north.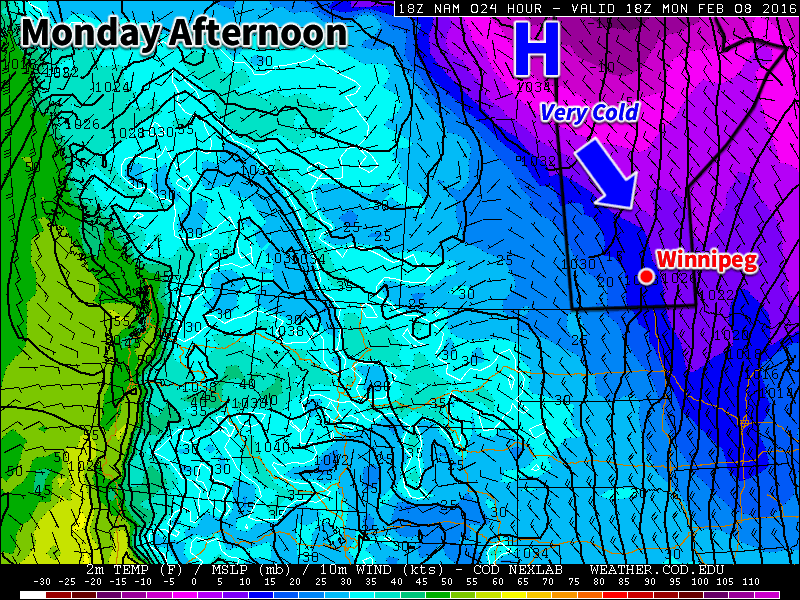 Today will be slightly below seasonal as colder air filters southward behind the weekend's strong low pressure system. High temperatures will be in the low minus teens under clearing skies. Winds will remain stiff out of the north-west at 30km/h gusting to 50km/h. There may still be a bit of drifting snow on the highways with these wind speeds, but heavy blowing snow is not expected.
Tuesday will see a further drop in temperatures as that arctic air mass becomes more entrenched over southern Manitoba. High temperatures will be in the upper minus teens under mainly sunny skies. Winds will remain northerly at about 20km/h. Tuesday night is expected to be quite cold due to the presence of a strong surface ridge of high pressure over the area along with clear skies. Temperatures are expected to drop to around -30C, but luckily wind chill values should not be a significant factor due to the light winds with this high pressure system.
Wednesday will remain cold, with temperatures staying in the upper minus teens. The good part of this colder pattern is that we should continue to see sunny skies on Wednesday. We will be under the centre of a surface high on Wednesday, bringing generally light winds to the region.
Long Range
The long range forecast shows cold conditions sticking around for the rest of the work-week. Models suggest we should warm back up to above-seasonal conditions by the weekend into next week. In the even longer range it appears that we may see one more arctic blast later next week before a more prolonged warm period takes hold towards the end of the month.