Bitterly cold temperatures will be in place today as a strong Arctic ridge of high pressure moves through the region. This cold snap will be short-lived as warmer air begins moving into the region through the weekend; by Sunday, milder temperatures will be in place alongside some light snow.
Today will be, temperature-wise, the coldest day of the week as temperatures are held back by the breezy northwesterly winds of an advancing Arctic air mass. Temperatures will recover only a little bit as they struggle to climb to an afternoon high near -21°C before quickly beginning to drop as the sun goes down this evening.
Temperatures will plummet to the -30°C mark by Saturday morning as winds gradually diminish. Wind chills this morning as well as tonight will likely be flirting closely with the -40 mark. Environment Canada has issued an extreme cold warning for much of the province because of that.
Saturday may end up feeling like a colder day than Friday; while warmer temperatures may begin to work into the region, they'll be accompanied by those famous winter southerlies that result in a fairly miserable transition day to warmer weather. While temperatures will rise towards -15°C by the end of the day, southerly winds will strengthen to around 40km/h making it feel significantly colder than it actually is. As a warm front begins moving into Manitoba later in the day, it will spread cloud cover into the Red River Valley and by mid-evening, it seems likely that skies will be mixed to cloudy with a chance of flurries. It will stay fairly windy through the night as temperatures continue to rise to around -12°C by Sunday morning.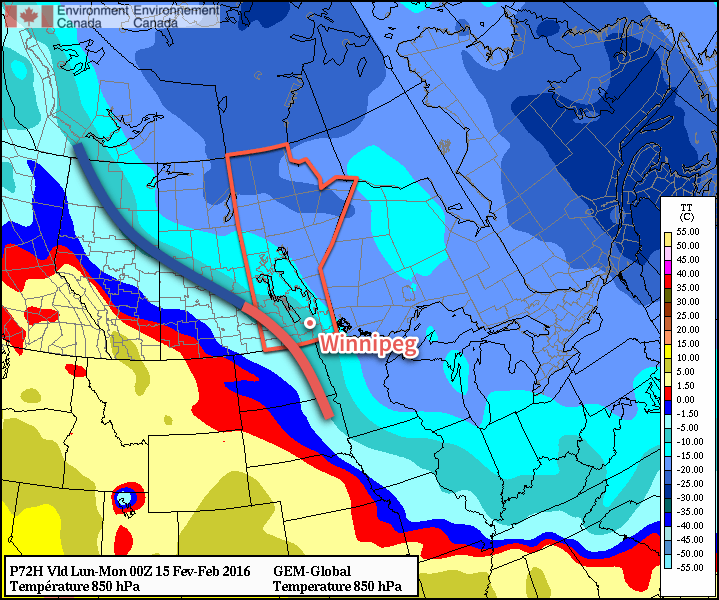 Sunday will be significantly more pleasant as mild weather continues to move into the region. Temperatures will climb to near -6°C on Sunday afternoon with light winds and a good chance of light snow. No significant accumulations are expected with Sunday's disturbance, although 1-2cm of snow could pile up locally. Temperatures will fall to just -9 or -10°C on Sunday night under cloudy skies.
Long Range: Generally Mild
Looking ahead into next week, it looks like Southern Manitoba is transitioning into a generally above-normal temperature pattern.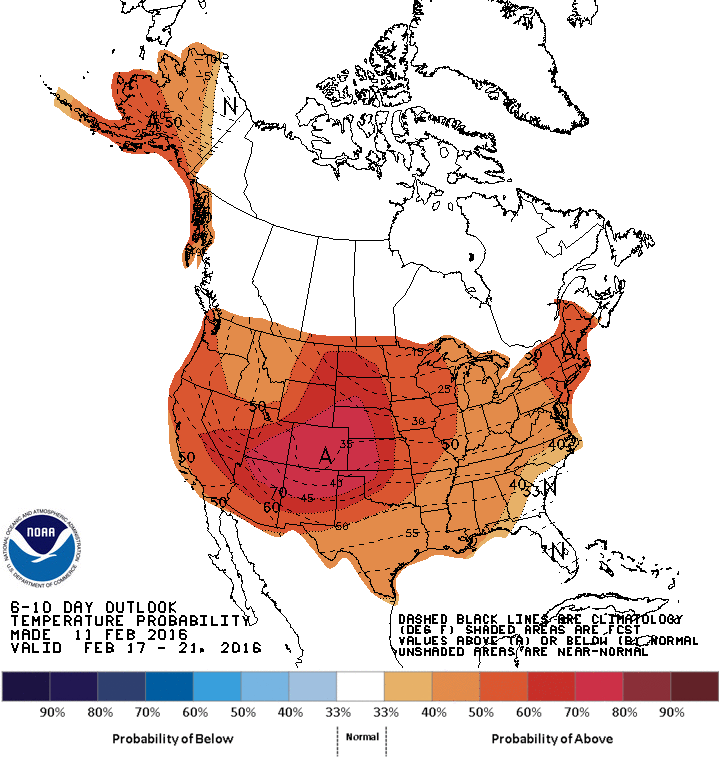 Milder Pacific air will be building into the province through much of next week. The start of next week will see a bit more variability in temperatures, with some days above normal and some below, but by the second half of the week there seems to be a fair amount of confidence of temperatures switching to a more persistent above-normal pattern. Current guidance places daytime highs near -5°C by the end of next week into the week after.
Through this period, no significant precipitation events are expected.
The normal daytime high for Winnipeg is currently -9°C and the normal overnight low is -19°C.