Today will mark the start of a prolonged spell of unseasonably warm weather for Southern Manitoba. A strong west-to-southwest flow aloft will begin building into the region today, ushering in much milder Pacific air which will help daytime highs climb above the freezing mark. The milder weather will bring unsettled weather with numerous chances for snow or rain along with the risk for freezing rain over the coming 3-5 days.
Today will bring soaring temperatures as gusty southerly winds develop and raise our temperatures from sub-minus 20 values this morning to around -4 or -3°C by the end of the day. While winds will be light early this morning, they will pick up towards midday to 30-40 km/h out of the south as the warm front towards the Red River Valley. As the warmer air advances eastwards, it will produce scattered flurries that will pass through much of the Red River Valley.
Temperatures will remain steady or drop slightly on Thursday night as more warm air surges northeastwards ahead of an incoming low pressure system. Any remaining flurry activity will taper off overnight, but by Thursday morning the potential for precipitation will return.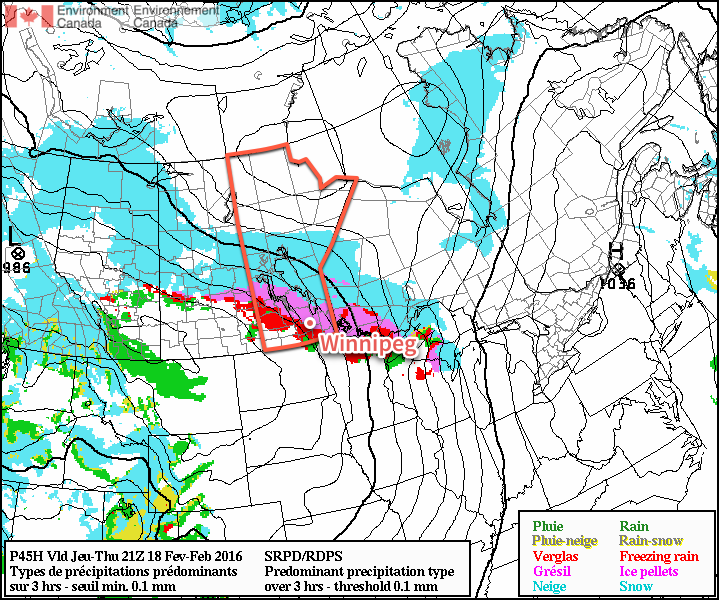 Thursday will be a mild but messy day. A low pressure system tracking across the Southern Prairies will spread a wintery mix of precipitation through the region with pretty much anything possible. With a high of just +1°C, much of the day will bring the potential for flurries or ice pellets, with the risk of freezing rain. At this point it doesn't appear that amount will be too significant for the Red River Valley, but with a significant chance for freezing precipitation, we'll be keeping close tabs on it.
Winds will be moderate throughout Thursday morning out of the southeast to about 30-40km/h. Temperatures will climb to near the 0°C mark and then remain there through the remainder of Thursday and through Thursday night. The chance for any type of precipitation (flurries, freezing rain, rain showers) will likely continue through Thursday night.
Friday will see even warmer air push into the Red River Valley with a daytime high near +2°C expected. There will continue to be a chance for flurries in the morning transitioning to rain showers. Winds will remain light until later in the day when a weak cold front swings through and ushers in winds near 30km/h out of the west-northwest.
Long Range: Mild Weather Continues
Looking forward, it looks like the warmer temperatures will remain in place for a while yet. This weekend will remain warm with daytime highs near 0°C on Saturday and -5°C on Sunday, with chances for snow on both days.
Further on into next week, temperatures are forecast to continue above seasonal for this time of year as shown above in the CPC's 6-10 day temperature outlook.
The normal daytime high for Winnipeg is currently -8°C and the normal overnight low is -18°C.