The mild weather will continue today with daytime highs of +1 or +2°C today as yet more warm air washes over Southern Manitoba. The system responsible for this mild spell will be making its way across the region today and after it brings some mixed precipitation, it will push eastwards into Ontario, taking the warmth with it. Northerly winds will develop tonight and begin to usher in cooler, more seasonal temperatures.
Today will bring some more organized precipitation across the Red River Valley as the main disturbance that's been responsible for the warmth this week moves across the region. With temperatures so close to the freezing mark, what type of precipitation will be falling is a bit of a difficult question to answer. Looking at the Red River Valley as a whole, we can say that there will be mixed precipitation, however for any one location may see just rain, just snow, or both. Even if snow falls, with the above-0°C temperatures, it won't be able to accumulate much. By the time the precipitation tapers off, just 1-2 mm of rain or cm of snow will have fallen.
With light winds and above-zero temperatures, it also is possible that drizzle or fog patches are an issue throughout much of the day.
As the system moves into Ontario later today, northerly winds will begin developing over Southern Manitoba and draw in cooler air from the north. Drizzle or freezing drizzle will be possible through the early evening hours, but that risk should dissipate heading into the overnight period. Temperatures will dip to about -6°C with gusty northerly winds up to 30 km/h.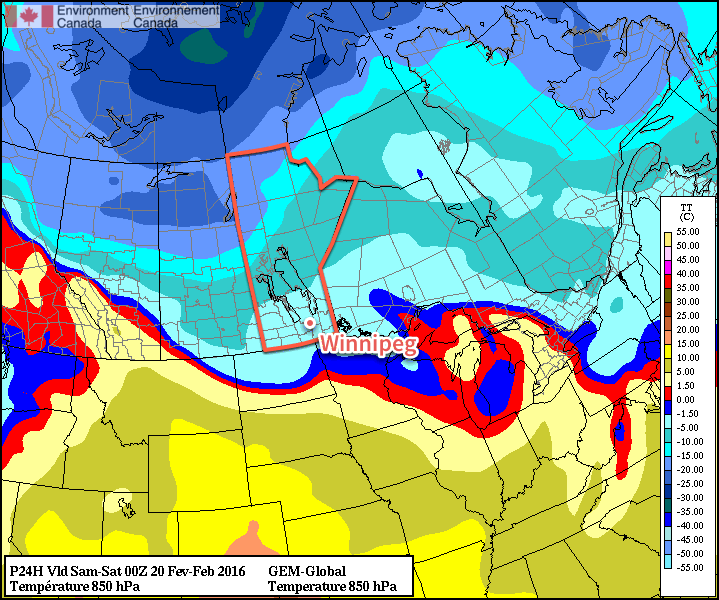 Saturday will bring mixed skies and diminishing winds as the Red River Valley sees a weak ridge of high pressure begin to build in. There's a bit of uncertainty to exactly how much cloud will clear out of the region; it will likely trend towards cloudier, but we should see a few sunny breaks through the day. Temperatures will recover just slightly from the overnight low to a high of -5°C. The colder weather will continue pushing southwards with gradual clearing through the evening & overnight that will allow temperatures to dip to an overnight low near -17°C.
Sunday will bring partly cloudy skies to Winnipeg, but the southern Red River Valley will likely see cloudier skies as a weak low pressure moves through North Dakota. This system will produce some light snow for areas further south, but in Winnipeg there will just be a chance of flurries. Temperatures will be slightly cooler than seasonal with a high of -12°C. Skies should clear on Sunday night as temperatures head to a low near -16°C.
Long Range: Not Cold For Long
This cool-down will be brief; by Monday daytime high temperatures approaching the freezing mark will return to the Red River Valley.
Temperatures will be variable next week with warm days giving way to 1-2 days of seasonal temperatures before warmer weather returns again. No significant precipitation events are expected through next week.
Winnipeg's seasonal daytime high is currently -7°C while the seasonal overnight low is -18°C.