There's not too much to say about the upcoming weekend, which is a bit of relief after the relentless storm earlier this week. Below-normal temperatures and sunny skies ahead.
Temperatures over the coming few days will be well below normal due to a rather potent Arctic ridge entrenched over the region. The upside to the colder weather is that we'll see plenty of sunshine for the next couple days before some cloud, and warmer temperatures, moves in for Sunday.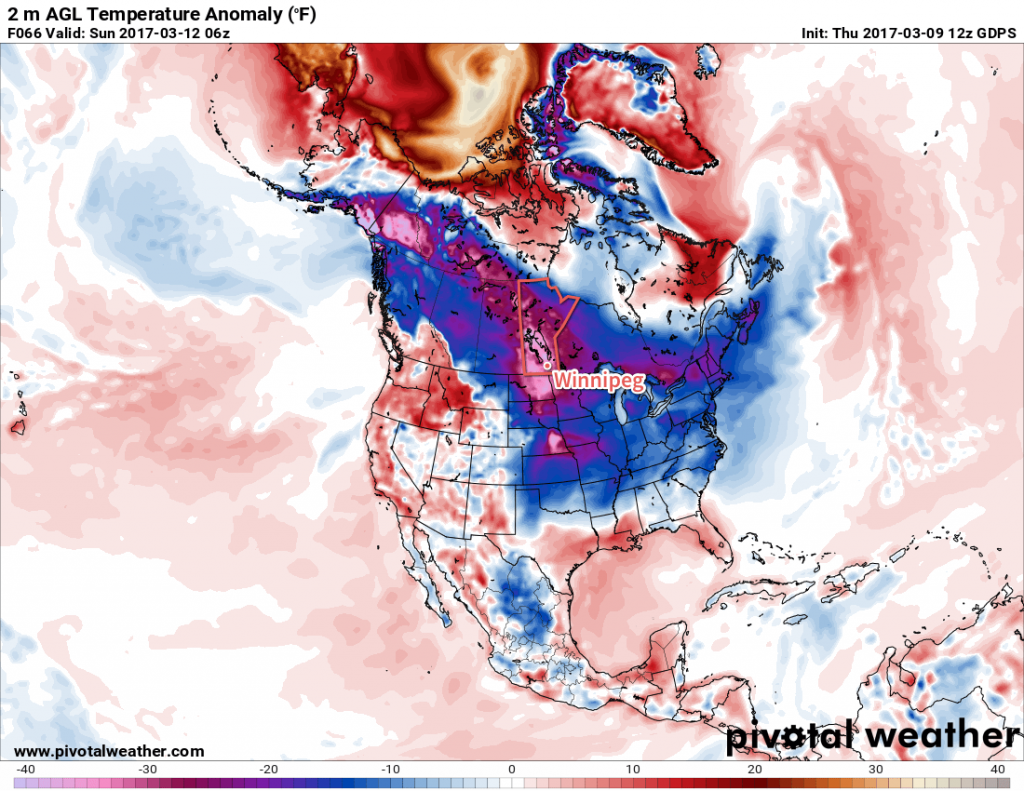 So for both today & tomorrow, expect highs near -15 to -13°C, with overnight lows in the -20 to -25°C range. Skies will be sunny today, but more mixed tomorrow as some cloud cover moves in from the west ahead of the next disturbance that will clip across southeastern Saskatchewan and southwestern Manitoba.
The bigger change will come on Sunday as the disturbance clips through the region. Skies will be mainly cloudy, although it should be noted that Winnipeg may see a little more sunshine if the system edges just a little bit southwards or more cloud if it tracks a bit further north. Temperatures will also warm up a tad with highs climbing towards the -10°C mark but lows will still be quite cool on Sunday night, bottoming out near -19°C.
Long Range
While a few weak clipper systems are expected to pass over southwestern Manitoba over the coming week, it looks to remain fairly dry here in the Red River Valley. Temperatures will move towards seasonal to above-seasonal mid-week, and with that shift to warmer weather we may see a bit of precipitation, but at this point it's simply too early to tell.
Winnipeg's seasonal daytime high is currently -3°C while the seasonal overnight low is -13°C.