Springtime warmth will arrive in Winnipeg as temperatures climb above the freezing mark, but the warmer weather will be accompanied by some rain and snow as a low pressure system moves through the region.
Today will be a very pleasant day in Winnipeg with sunny skies in the morning giving way to mixed skies with temperatures climbing to a high near -2°C.1 Winds will pick up out of the south to around 30 km/h this afternoon. Tonight will bring increasing cloudiness overnight as temperatures drop to a low near -5°C with southerly winds continuing at 20-30 km/h.
Tomorrow will be the mildest day of the next few as an approaching low pressure system moves through the region. Skies will be mainly cloudy to start the day and continue to be cloudy for the remainder of the day. A warm front will move across the Red River Valley through the afternoon, bringing milder temperatures as highs climb to around the +3°C mark. Along with the warmer weather, rain will spread across the Red River Valley in the afternoon with the warm front.2 It appears at this point that the Red River Valley will likely receive 2-4 mm of rain, so nothing too dramatic, although there are some models indicating the potential for 10-15 mm.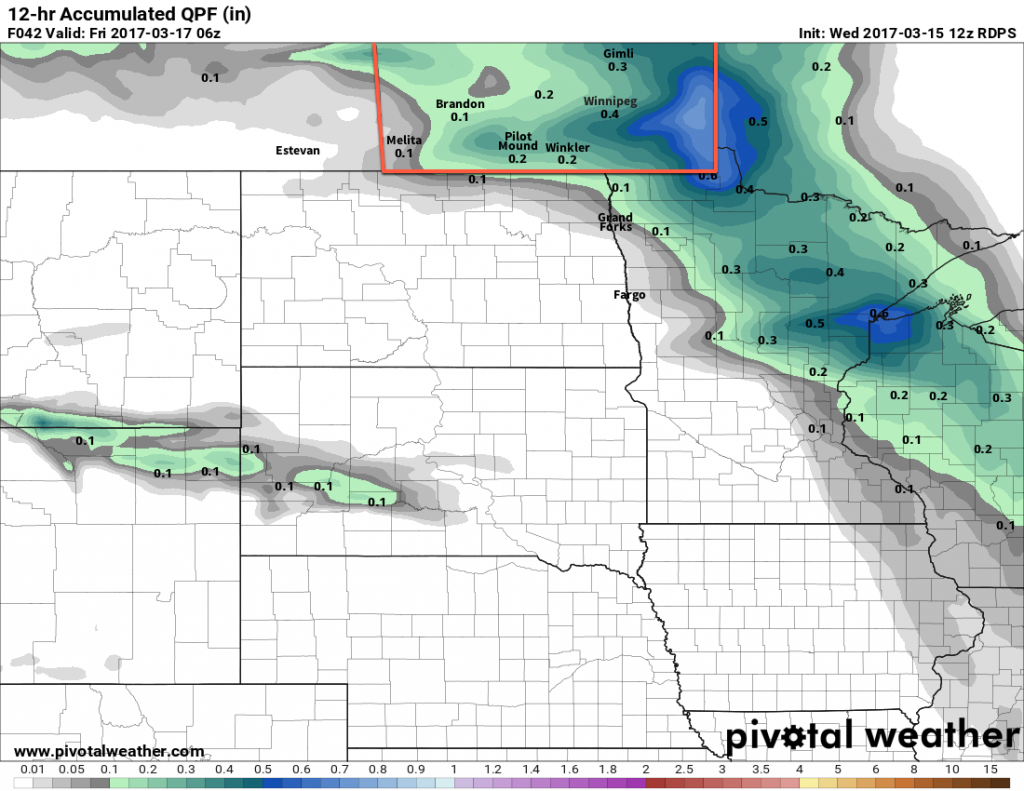 The light rain will end in the evening, followed quickly by the winds diminishing. The cloudy skies and warm air over the Red River Valley will keep overnight lows fairly warm, with Winnipeg dropping to around 0°C for a low. Towards early Friday morning, winds will then pick back up out of the northwest as the cold front swings through, which will bring cooler temperatures back into the region.
Friday will continue with mainly cloudy skies and fairly strong northwesterly winds to 40-50 km/h. Temperatures will remain steady near 0°C as any diurnal warming will be offset by the cooler air mass moving into the region. Throughout much of the day there will a decent chance for light snow, but no accumulations are expected at this point.
Friday night will bring diminishing winds, clearing skies, and cooler temperatures with overnight lows dropping to around -14°C.
Long Range
The weekend is looking quite pleasant with partly cloudy skies both Saturday and Sunday and high temperatures climbing back to above normal. At this point, Sunday is looking like it could be quite warm with highs in the 4-8°C range, although those warmer temperatures would likely come with a decent southerly wind. The hope at this point is that any precipitation associated with this warm-up will move across the central and northern Prairies, leaving us dry.
Into next week it looks like a return to near-seasonal temperatures and dry conditions.
Winnipeg's seasonal daytime high is currently -1°C while the seasonal overnight low is -11°C.
While our high is forecast for the airport location, it's quite likely several sites across Winnipeg see high temperatures closer to +1 or +2°C. ↩
There's a chance that the early stages of the precipitation fall as snow if temperatures haven't warmed quite enough yet, but the transition to rain would follow quickly. ↩