A complex low pressure system will bring several chances for thunderstorms to Winnipeg & the Red River Valley today and tonight into Saturday morning, some of which may be severe. All the unsettled weather will clear out on Saturday afternoon, leaving us with a seasonably mild and dry weekend.
The risk of thunderstorms returns to Winnipeg today as an approaching warm front moves into the region. As it advances eastwards, leftover cloud cover from overnight thunderstorms in Saskatchewan will spread into the Red River Valley. Before we get into the thunderstorm details, today's high in Winnipeg will be a balmy 27°C with dew points climbing up to the 16-17°C range, making it feel a bit humid in the afternoon. Winds will be out of the south-southeast at about 20-30 km/h. Expect a low tonight near 18°C. Now, onto the thunderstorm details!
The first potential thunderstorm threat is for this afternoon, and will be focused primarily over southwestern Manitoba.
Moisture: Surface dewpoints will climb into the 15-17°C range ahead of the surface trough moving into the region. This moisture will be relatively deep, dropping only to around 13°C at 850mb.
Instability: MLCAPE values will climb to 1000-1500 J/kg of CAPE through the afternoon, although capping may be an issue depending on the timing of the 700mb thermal ridge passage.
Shear: Shear is fairly good with veering profiles and 45-50 kt of bulk shear. Low-level shear is relatively unidirectional with moderate speed shear.
Trigger: Low centre with trough line extending northwards will provide focus for low-level convergence. Additional, the triple point of a frontal wave tracking along the U.S./Canada border will also provide more focus and convergence.
The main uncertainties are tied to how quickly warmer air at 700mb1 can exit area. While it's in place, it will likely prevent the development of thunderstorms until the evening. Should thunderstorms develop, the primary threats would be large hail and strong winds. The storms should be moving quickly enough that the threat for localized flooding due to rain is minimized, and higher cloud bases coupled with relatively small amounts of low-level wind shear will also reduce the tornado threat. If these thunderstorms develop, they will track eastwards into the Red River Valley in the early evening and make their way through.
The second thunderstorm threat will develop this evening and will impact much of southern Manitoba. Another disturbance will push into the region and initiate thunderstorms.
Moisture: The low-level jet will be supplying air with dew points near 16-17°C, providing ample moisture for thunderstorm development.
Instability: MUCAPE values will hover near 1000-1500 J/kg, enough energy to strong to severe thunderstorms.
Shear: Will be excellent; a very potent low-level jet will develop, strengthening to 50kt by 03Z. 500mb winds will be out of the west to southwest at 45-50 kt. This shear will be very supportive of thunderstorm development.
Trigger: Shortwave and associated frontal wave will be trigger for thunderstorm development.
Even now, there's significant uncertainty with this afternoon's convection. That said, it seems likely that thunderstorms will likely develop over portions of southwest Manitoba near 6-7PM and then undergo rapid upscale growth and develop into a line that tears eastwards across the Red River Valley; the primary threats associated with these storms will be large hail and damaging winds. Significantly elevated precipitable water values also suggest very intense downpours are likely as well.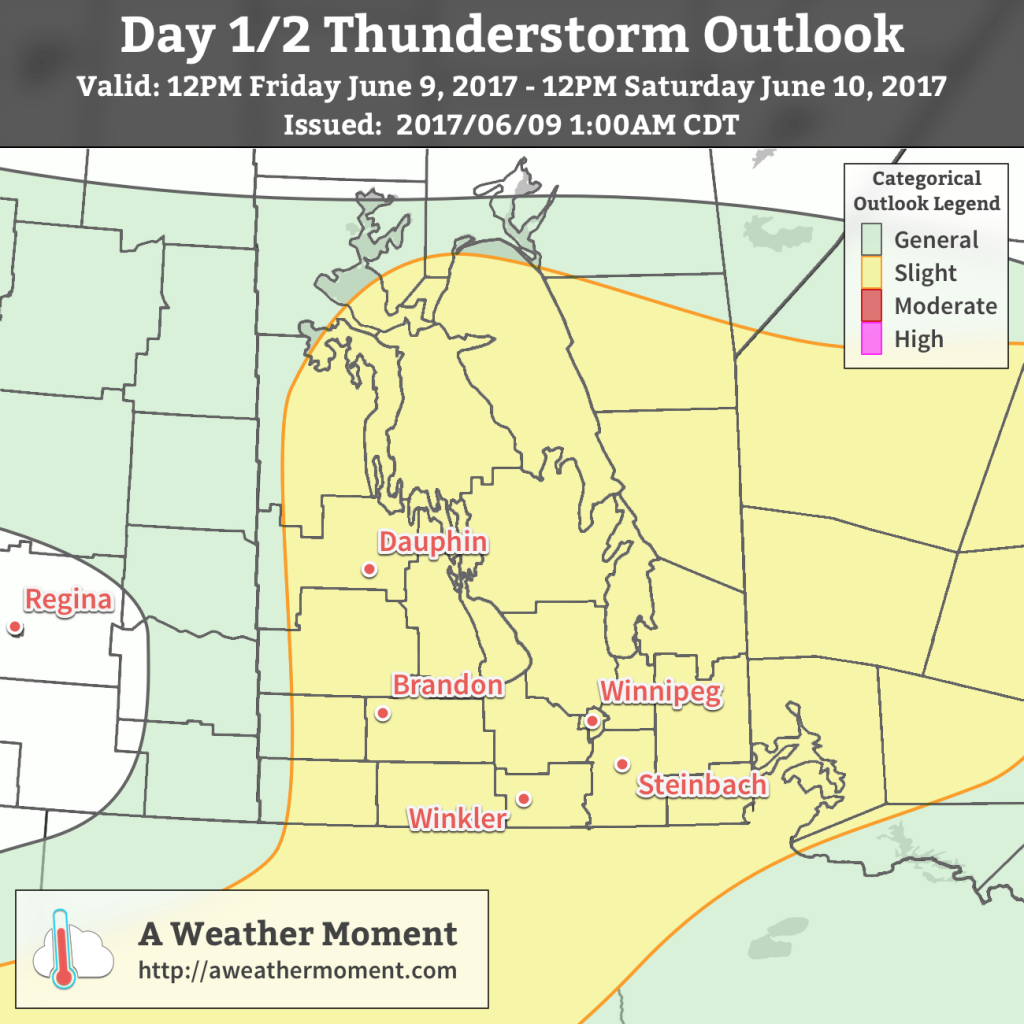 Saturday will bring some more morning showers or thunderstorms, then breezy westerly winds of 30 gusting 50 km/h will usher in drier air in the afternoon as the clouds break up and clear out. Temperatures will climb up to a high near 23°C. Expect a low near 13°C under mainly clear skies on Saturday night.
Sunday will bring mainly sunny skies to Winnipeg with winds strengthening out of the southwest to around 30-40 km/h. Temperatures will climb to a high near 25°C. Winds will taper off Sunday evening as temperatures dip to a low near 15°C.
Long Range
Next week becomes quite uncertain as a major low pressure system develops in the Northern Plains of the United States and then slowly meanders northwards. As we move into summer, these systems will increasingly be driven by thunderstorms, which carry an inherent level of uncertainty, especially in the long range as how the various rounds of thunderstorm activity develop can impact the overall development of the low pressure system. That said, conditions will turn unsettled next week with near-seasonal to slightly above-seasonal temperatures.
Winnipeg's seasonal daytime high is currently 23°C while the seasonal overnight low is 10°C.
An Additional Note
This will be the last forecast we issue here at A Weather Moment for the next while. We'll be taking a bit of a vacation and won't have our regular forecast posts on Monday June 12th or Wednesday June 14th. We suggest you check Environment Canada's forecasts while we're away!
Approximately 3km above the ground. ↩