A low pressure system tracking across the northern Prairies will bring windy conditions to Winnipeg this weekend alongside some milder temperatures.
As mentioned above, a fairly large low pressure system will move across the northern Prairies over the next few days that will draw some warmer air northwards out of the United States, but also produce fairly breezy conditions across the region.
Today will see the wind build out of the south to 20-30 km/h with gusts as high as 50 km/h as temperatures climb to an above-seasonal high near 17°C. Skies will remain sunny throughout the day, making for a relatively pleasant day. Winds will stay breezy out of the south at 20-30 km/h through the night with a bit of gustiness as temperatures drop to a low near 8°C. Skies will be fairly clear much of the night, but expect a few clouds to build in towards morning.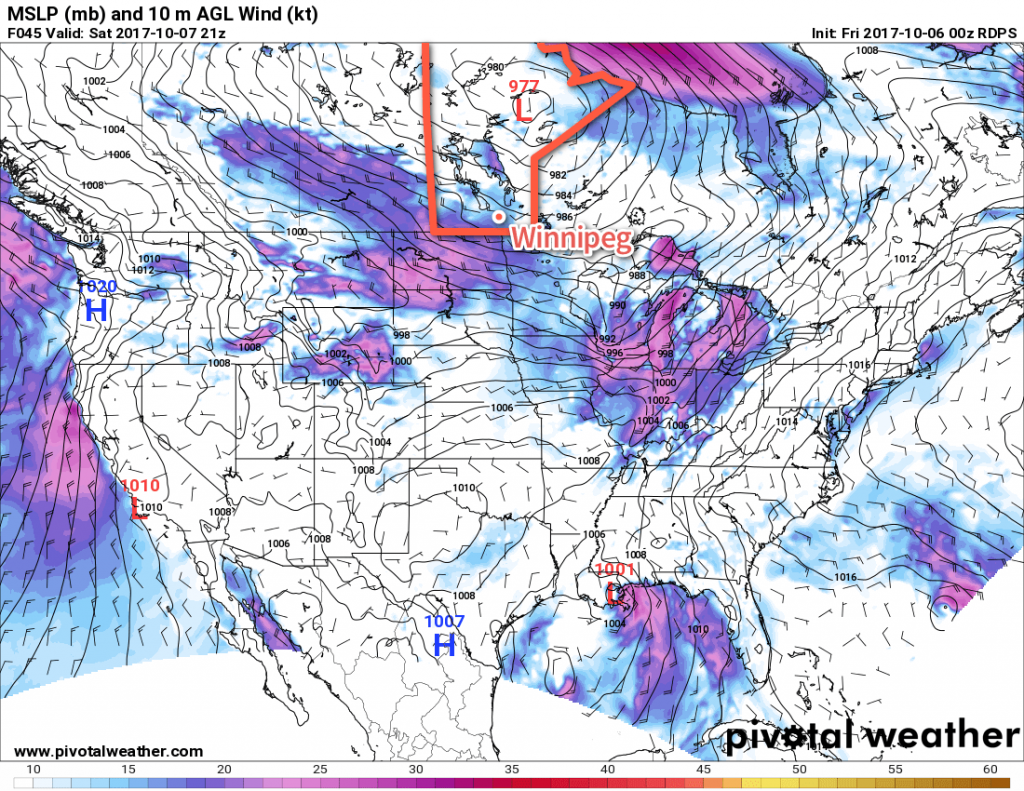 Saturday will bring another day of above-seasonal temperatures as highs climb to around the 16°C mark, but skies will bring more clouds, particularly for the afternoon. After a cold front moves through midday, winds will shift to the west and strengthen to 40 gusting to 60 km/h. There may be a slight chance of some rain, but it looks likely that any shower activity will remain north of Winnipeg. Winds will remain breezy out of the west-southwest at around 30 gusting 50 km/h through the night as skies clear and temperatures dip to a low near 7°C.
Sunny skies will move in once again on Sunday, with clear conditions through the morning and partly cloudy skies developing for the afternoon as we hit a high temperature near 13°C. Winds will continue to be breezy out of the west-southwest at around 30 gusting to 50 km/h. Skies will clear for Sunday night as temperatures dip to a low near 4°C.
Long Range
Much of next week looks…unremarkable. Monday will bring slightly below-seasonal temperatures as cooler air filters southwards in the wake of the low pressure system exiting the region, but a quick rebound towards seasonal values are expected on Tuesday and will persist through the week. Skies will be sunny to partly cloudy for much of the week and winds look to be a bit breezy mid-week, but precipitation looks scarce, with no significant chances for rain until the end of the week.
So, actually, it looks like a lovely week of fall weather is coming up. Enjoy!
Winnipeg's seasonal daytime high is currently 13°C while the seasonal overnight low is 2°C.