Today will be downright unpleasant out there as a potentially record breaking cold start to the day1 gives way to strong southerly winds as snow moves into the region. After today, though, conditions improve substantially with the record-breaking cold moving out of the area and a gradual return to seasonal weather.
The wind will be out in full force today as strong southerlies strengthen to 40 gusting 60 km/h this morning, which combined with the cold temperatures will produce wind chill values near -30 in the first half of the morning. Temperatures will slowly climb through the day, reaching -9°C this afternoon and then sticking there until rising further overnight to around the -5°C mark by Saturday morning. The winds will begin to taper off in the evening, diminishing to calm by Saturday morning.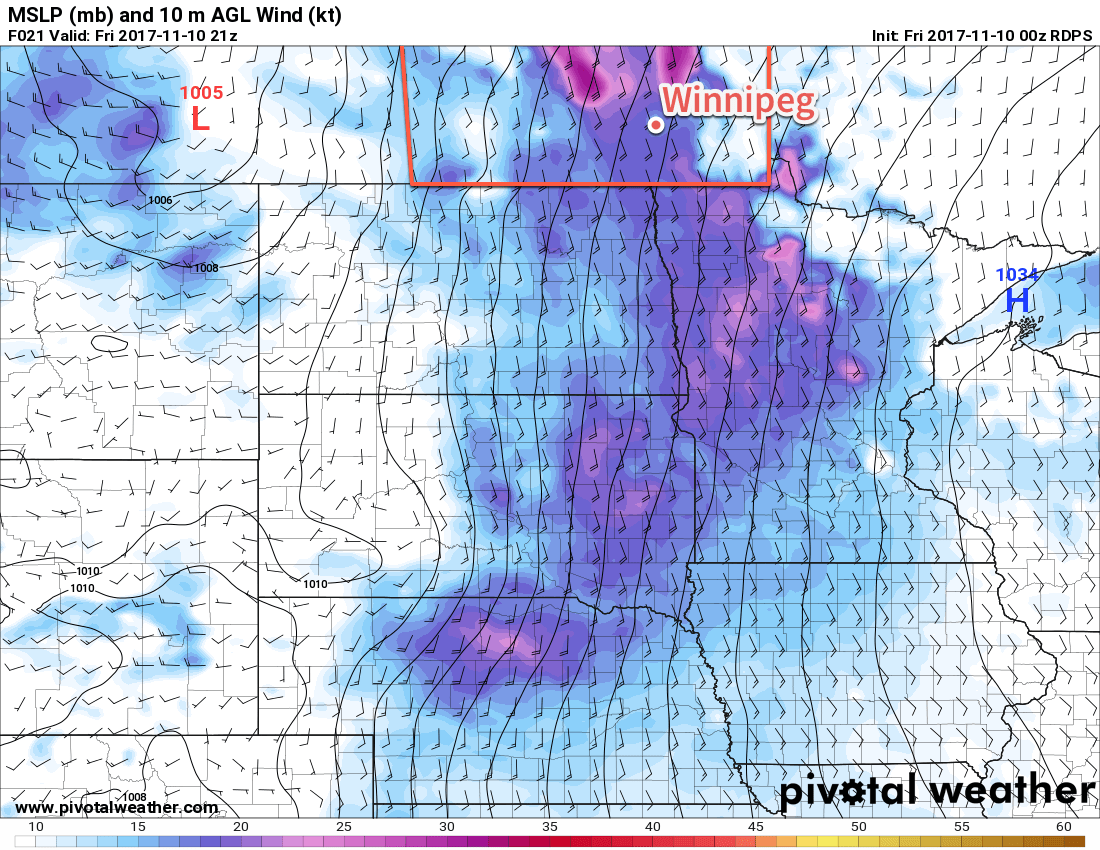 Those strong winds are due to the tight pressure gradient between a departing high pressure system that brought the cold temperatures and an approaching low pressure system. In addition to the winds, this low will spread light snow through western Manitoba this morning then into the Red River Valley for the afternoon. Most of the snow will be done by evening, but flurries will likely persist overnight.
While snowfall amounts won't be too high — generally around 3 to 5 cm is expected — as the snow combines with the strong winds, travel may be impacted by scattered pockets of blowing snow. Certainly not a blizzard by any stretch of the imagination, but be prepared to take some sections of highways slowly as reduced visibility may be an issue from time to time.
The weekend looks better; any remaining flurries should taper off Saturday morning as a very broad ridge of high pressure builds into the Prairies, although a few scattered flurries will be possible through the remainder of the day. Saturday should see closer-to-seasonal temperatures with highs near -2 or -3°C and northwesterly winds of 10 to 20 km/h under mostly cloudy skies, although some afternoon sunny breaks are possible.
Temperatures cool off a bit Saturday night into Sunday as the ridge of high pressure moves through Manitoba. Winnipeg should see a low near -10°C on Saturday night with variable cloudiness and light winds. Sunday will bring mixed skies and slightly cooler temperatures once again with highs near -6°C. Sunday night's low is a bit of a tricky proposition as temperatures will likely dive in the evening, but then clouds and increasing winds will move in and bring the temperature back up to -6 or -5°C by Monday morning. At this point, it seems like the low will dip to around -11°C before climbing back up, but if it stays clear for a bit longer it could be a few degrees lower, or if it remains cloudier temperatures may not even dip much from the daytime high.
Long Range Outlook
Next week will bring seasonal temperatures back to the region with highs of 0 to +2°C expected on both Monday and Tuesday. A low pressure system moving through on Tuesday may bring some precipitation to the region, then temperatures cool down on Wednesday before returning to the freezing mark on Thursday as another low pressure system moves through bringing a chance of snow to the Red River Valley. So a bit of a mixed bag, but certainly warmer than it has been!
Winnipeg's seasonal daytime high is currently 0°C while the seasonal overnight low is -8°C.
This post is being written on Thursday evening; while we're pretty proud of our forecasts, even we can't claim to be able to forecast down to tenths of degrees! ↩