An Alberta clipper tracking across the province will bring above-freezing temperatures to Winnipeg today, but strong northwesterlies will usher in colder temperatures this evening that will remain in place for much of the week.
Mild temperatures are on the way today as an Alberta clipper tracking through the Interlake spreads above-freezing temperatures along and south of the Trans-Canada corridor. Temperatures will reach a high near +1°C this afternoon with some rain showers developing across portions of the Red River Valley. Winds will shift from southerly near 20 km/h to westerly at 30 gusting to 50 km/h mid-afternoon, and then shift to northwesterly behind a cold front that sweeps through between 5 and 7PM, ushering in strong winds of 40-50 km/h with gusts up to 70 km/h. By then, any precipitation will switch over and fall as snow. Although snowfall is not expected to be particularly intense, the combination of snow with strong northerly winds will likely produce some areas of reduced visibility in blowing snow.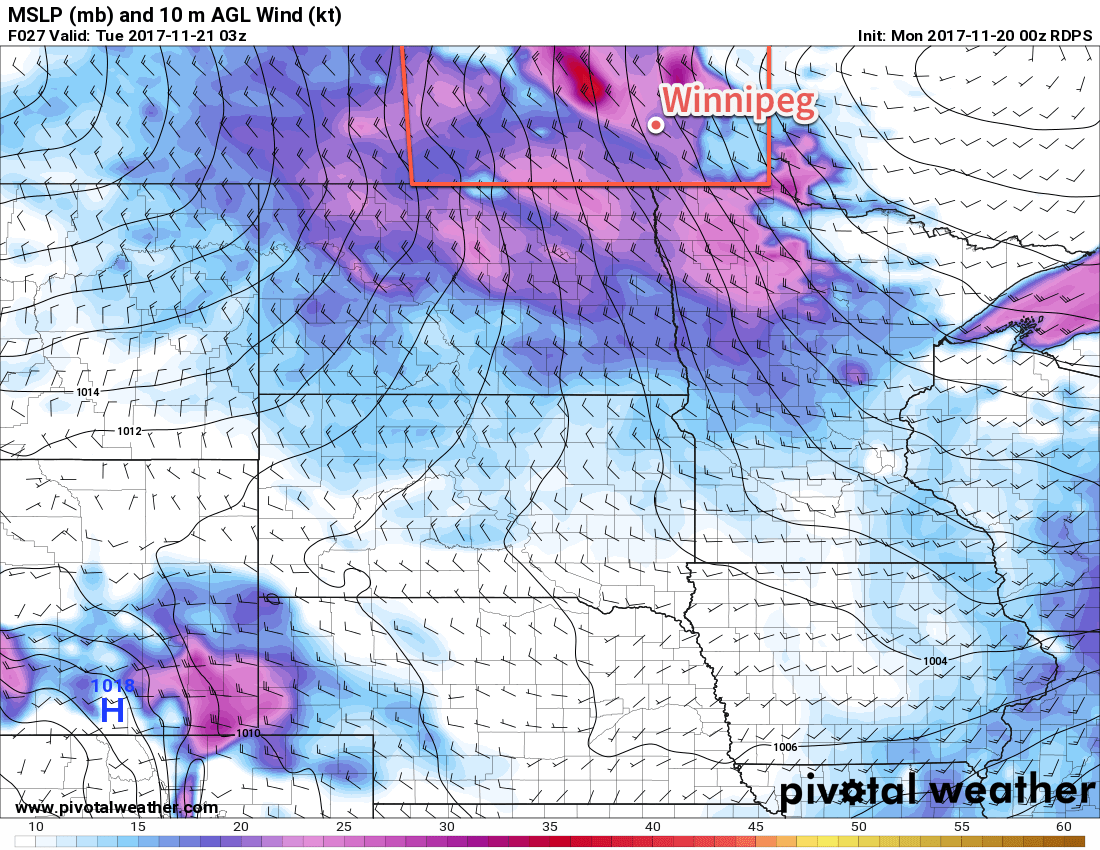 With the northwesterly winds, temperatures will rapidly plummet in the evening, going from near +1°C at 5PM to -7 or -8°C by midnight. This rapid drop in temperatures combined with light snow and strong winds will result in a rapid freeze, likely producing slippery roads and poor driving conditions. If you must travel tonight, be sure to give yourself extra time, drive safely, and ensure you have an emergency car kit with you. Any remaining light snow will taper off towards early Tuesday morning as temperatures head to a low near -10°C.
Tuesday will see morning northwesterlies near 30 gusting 50 km/h gradually taper off through the day as a ridge of high pressure moves in. Temperatures will be cool with highs near -7°C under mixed skies. Even cooler air will move in on Tuesday night as the ridge of high pressure moves into the Red River Valley, sending lows into the -15 to -20°C range, depending on exactly how much cloud cover remains in the region.
Winnipeg will see cloudy periods on Wednesday as a weak upper-level disturbance bringing a few light flurries to south-western Manitoba spreads cloud into the Red River Valley. Winds will continue to be light under the ridge of high pressure and temperatures will reach a high near -7°C once again. Expect clear skies and a low near -14°C on Wednesday night.
Long Range Outlook
The remainder of the week looks cool for the most part; a low tracking across the central Prairies on Friday will bring mild temperatures once again, but cooler temperatures crash back southwards in the northwesterlies behind the system on Friday night. Cooler temperatures look to stick around through the weekend into next week under variable cloudiness.
Winnipeg's seasonal daytime high is currently -3°C while the seasonal overnight low is -12°C.