Mild weather will remain in place for Winnipeg and the Red River Valley, but a pair of low pressure systems will bring plenty of cloud, wind, and some wet weather over the next few days. Better to make the best of it, though, as it's increasingly looking like Winnipeg may plunge into the winter deep freeze by the end of next week!
Today will bring cloudy skies to Winnipeg as a low pressure system moves into the province from Saskatchewan. Ahead of the low, strong southerly winds of 40-50 km/h with gusts up to 60-70 km/h will develop in the Red River Valley. The winds will increase through the morning, peak midday, then begin to subside through the afternoon. Temperatures will climb to a high near +3°C once the winds ease, but by late afternoon the chance for snow will pick up as a trough swings through the Red River Valley. There's a chance that early on, precipitation may fall as rain showers instead of snow, but with wet bulb temperatures expected to remain below 0°C, it should switch over to snow as soon as it strengthens to any moderate intensity. The snow will taper off late in the evening, leaving behind a soggy mess as much of it melts on contact. Temperatures will then head to a low near -3°C with northwesterly winds 40 gusting to 60 km/h picking up mid-evening and tapering off overnight.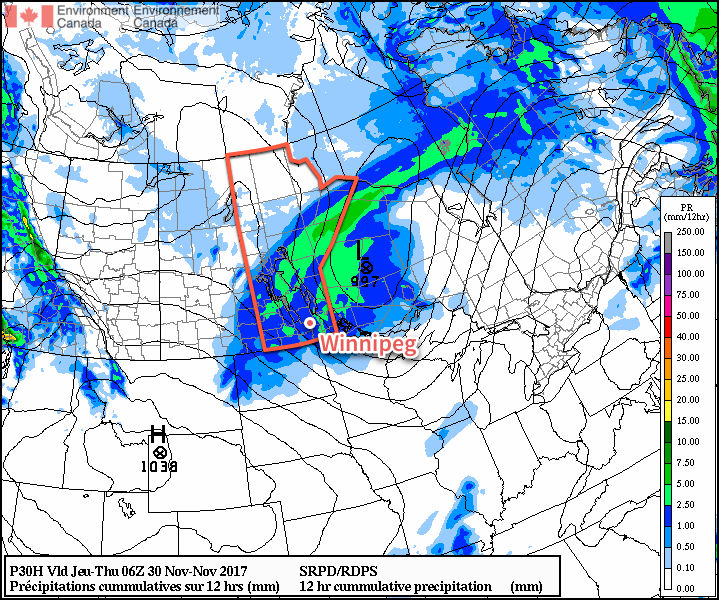 Thursday will bring cloudy skies for much of the day, although some sun might be seen late in the day as clouds begin to clear out late in the afternoon. Winds will be light and gradually shift to southerly through the day as temperatures climb to a high near +1°C. As mentioned before, skies will clear out for Thursday night, leaving Winnipeg with starry skies as temperatures head to a low near -5°C with light winds.
Friday will be another mostly cloudy day as overcast skies move back into the region through the morning. Temperatures will climb to a high near +1°C again with continued southerly winds at 10-20 km/h. Another disturbance tracking across the region will bring a mix of rain changing to snow to Winnipeg sometime in the morning and ending by mid-afternoon. W
Temperatures will dip to a low near -5°C under partly cloudy skies on Friday night.
Long Range Outlook
Mild temperatures will continue through the weekend under variable cloudiness, but a large-scale pattern change next week looks to put the wheels in motion towards an outbreak of Arctic air that would plunge much of central and eastern Canada into a period of below-normal temperatures.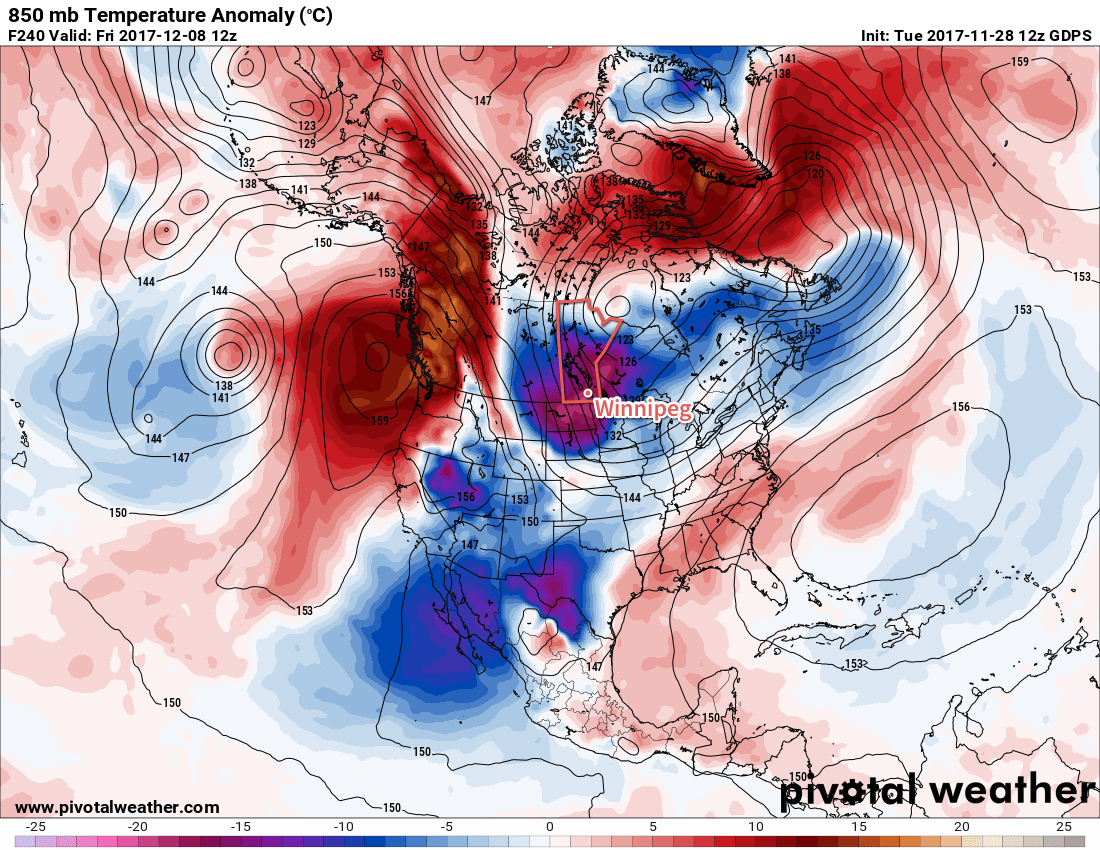 Models have growing consensus that over the coming week, a strong upper-level ridge will develop, and remain anchored, over British Columbia. In response to that ridge, a deep upper-level trough is expected to develop in response over eastern Canada, bringing a northwesterly flow to the Prairies that would set up the Arctic pipeline, allowing much colder air to spill southwards. With the growing consensus in the models, it seems like it would be prudent to enjoy the mild weather as much as possible…a more traditional Winnipeg winter may be looming on the horizon.
Winnipeg's seasonal daytime high is currently -6°C while the seasonal overnight low is -15°C.