Winnipeg will see variable cloudiness over the next several days with breezy conditions while the city is given a brief reprieve from unseasonably cold temperatures.
Today will be a considerably more pleasant day in Winnipeg than yesterday was, with a much warmer high near -8°C this afternoon as a weak low moving into the Interlake ushers a seasonal air mass into the region. Winds will be a bit breezy out of the south this afternoon, strengthening to around 20 to 30 km/h and producing wind chill values in the -15 to -20 range. This will still be much more pleasant than the -35 wind chills Winnipeg saw for much of Thursday. Winnipeg should see plenty of sun through the first half of the day, but clouds will begin moving into the region in the afternoon as the low approaches, with skies becoming cloudy by mid-afternoon. Expect cloudy skies on Friday night with just a slight chance of some non-accumulating light snow. Winnipeg should see a low near -15°C.
Saturday will see skies clear out early in the morning with temperatures recovering to a high near -10°C. Winds will be breezy out of the west at around 30 gusting to 50 km/h, creating wind chill values near -20. The Arctic front will slump back southwards on Saturday evening, bringing more cloud to the region as temperatures drop to a low near -21°C. There will be just a slight chance of some non-accumulating light snow on Saturday night.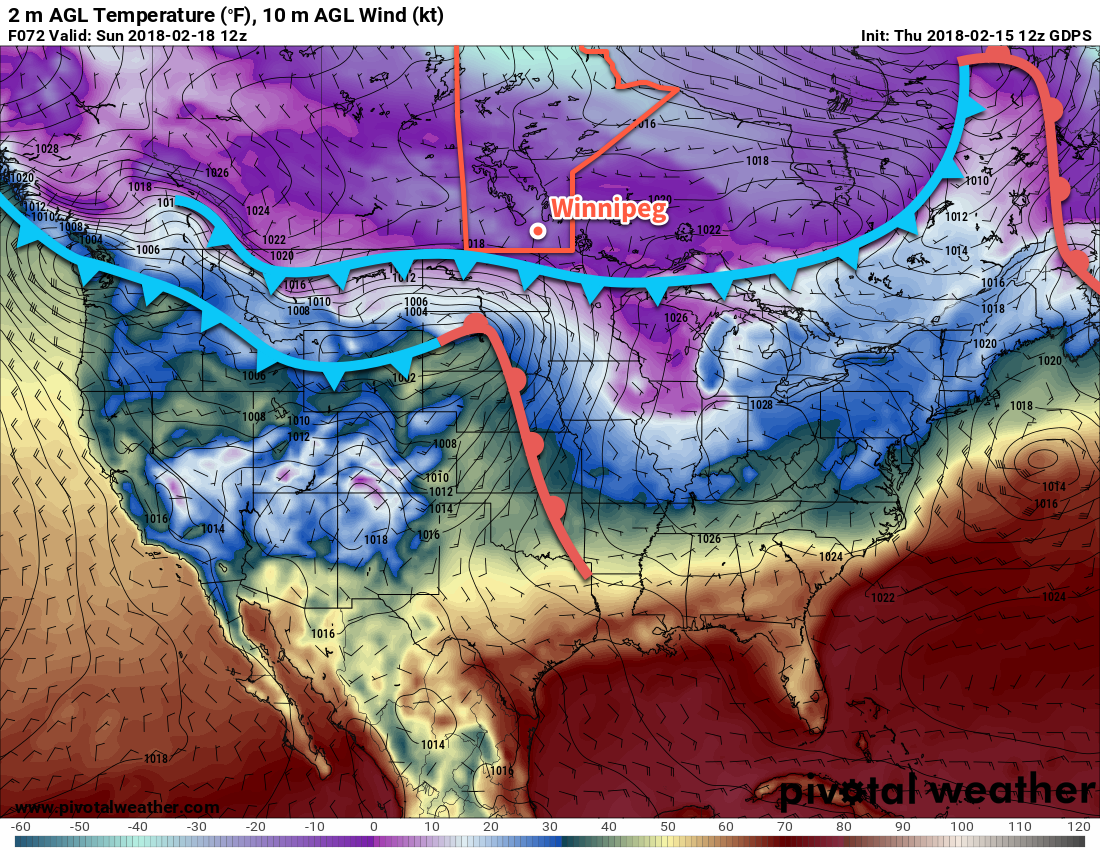 With Winnipeg behind the Arctic front once again on Sunday, temperatures will be well below seasonal with a high near -17°C. Any cloud left in the region should clear out midday, and winds will be out of the north at around 10 to 15 km/h, creating wind chill values near -25. With clear skies much of Sunday night, temperatures will drop to a well below-seasonal low near -25°C.
Long Range Outlook
In what is becoming a notable trend, Winnipeg's long-range forecast continues to lack any significant precipitation, with nothing more than a trace of precipitation forecast in the next 7-10 days. Passing systems will bring some cloud to the region, but generally speaking, things will remain dry. Below-normal temperatures will likely persist into the middle of next week, but then a trend towards more seasonal temperatures is expected.
Winnipeg's seasonal daytime high is currently -8°C while the seasonal overnight low is -18°C.