Winnipeg will see near-seasonal temperatures and variable cloudiness through the remainder of the work week.
Winnipeg's cool start to the day will continue right through as a ridge of high pressure moves through the area. Under sunny skies, the city will see temperatures climb to a below-seasonal high near 19°C. It will be another cool night with temperatures dipping down to a low near 4 or 5 °C. It doesn't look too likely, but there will undoubtedly be a small chance for isolated patches of frost outside the city, particularly to the southeast.
Thursday will bring a return to seasonal temperatures as the ridge shuffles off to the east. Temperatures will climb to a high near 22°C with light winds and mainly sunny skies. By evening, some cloud cover will begin spreading into the Red River Valley as a warm front slowly pushes towards the region from the southwest. Temperatures should head to a low near 13°C on Thursday night under mixed to cloudy skies. There will be a slight chance of some showers overnight as a warm front pushes towards the region.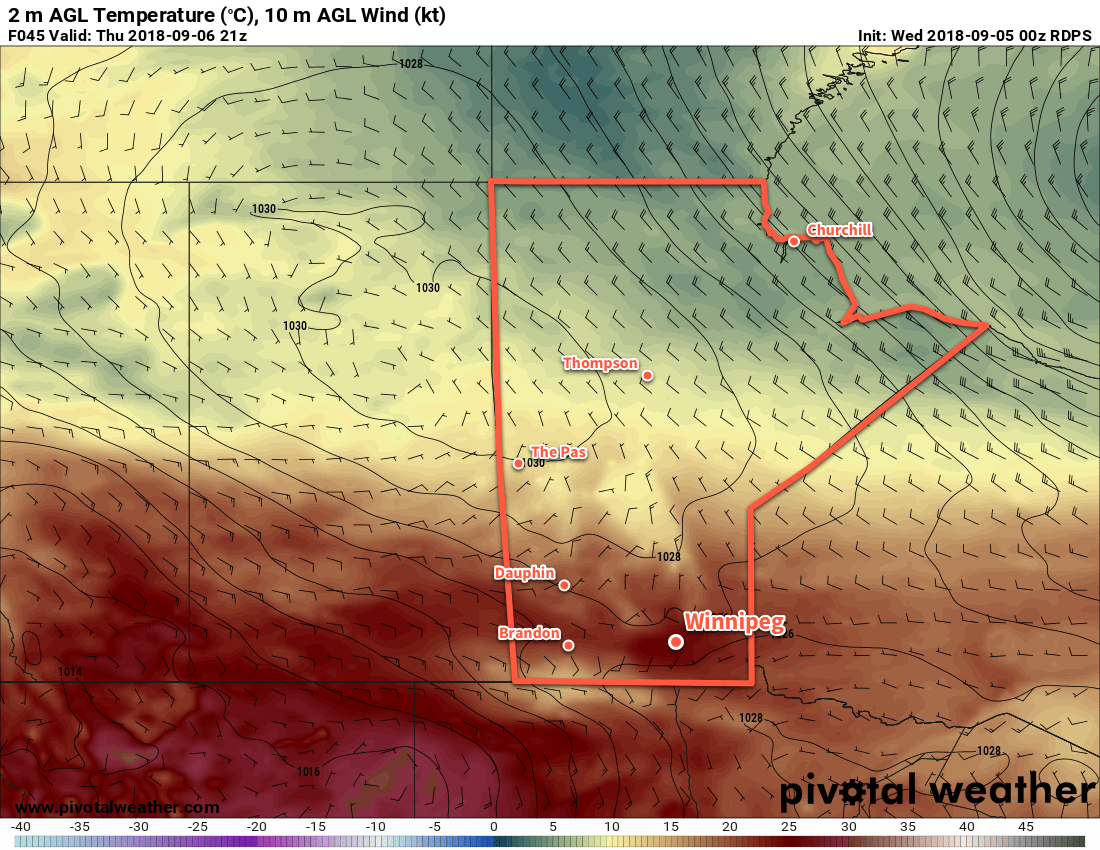 Friday will see warmer air trying to push into the region but not quite making it. Slowly lifted northwards by a low pressure system developing over Alberta, a warm front will lie southeastwards across Saskatchewan and into central North Dakota. Ahead of the warm front in the Red River Valley, southeasterly winds of 30 gusting 50 km/h will develop with mixed skies. With a bit less sunshine and the warmer air stuck to the southwest, Winnipeg will see a seasonal high near 22°C once again. This setup will also bring a small chance of a few showers to the region in the afternoon and through the night, but at this point the chances look low.
Long Range Outlook
Conditions will turn cloudier and unsettled for the weekend as the Alberta low finally pushes eastwards across the Prairies. Daytime highs will push back towards the mid-20s alongside breezy southerly winds. The city will see several chances for showers or thunderstorms both Saturday and Sunday. Forecasts show settled weather returning for Monday, but early indications are that the chance for showers returns on Tuesday and an unsettled pattern may persist for much of the remainder of the work week.
Winnipeg's seasonal daytime high is currently 21°C while the seasonal overnight low is 8°C.