Winnipeg will see a mild but unsettled weekend as a slow-moving low pressure system works through the region.
Mixed skies will be in place over the Red River Valley today as a warm front approaches from the southwest. Winnipeg will see a seasonal high near 22°C with dry conditions. Areas over the southern RRV, though, may see scattered showers develop later this afternoon into the evening. Winds will increase from 10 to 20 km/h in Winnipeg to closer to 30 km/h near the US border. Temperatures will remain seasonably mild tonight with a low in Winnipeg near 14°C. An approaching warm front will sustain southeasterly winds at 20 to 30 km/h as well as bring increasing cloud cover. By early Saturday morning, showers and/or thundershowers will be in place across much of the Red River Valley.
The showers will stick around through the first half of Saturday morning, then push off to the east. In their wake, Winnipeg will continue to see mixed to mainly cloudy skies with moderate southerly winds increasing to 40 gusting 60 km/h. Despite the cloud, temperatures should climb to a high near 25°C in Winnipeg. Heading into Saturday night, the remainder of the warm front will push through, bringing more cloud and another chance of [thunder]showers to the Red River Valley. Temperatures will dip to a low near 16°C with breezy winds persisting right into early Sunday morning.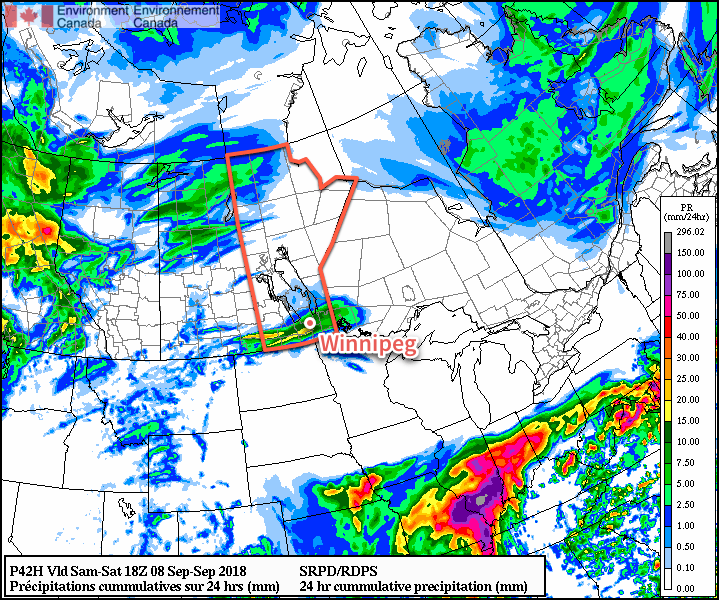 After those showers clear out early Sunday morning, Winnipeg will see a relatively pleasant day. Mixed skies will continue, but winds will ease into the 20 to 30
km/h
range as temperatures climb to a high near 27°C. A cold front will push through on Sunday evening, bringing with it a good chance of showers or thunderstorms. There may even be a low chance of scattered strong to severe thunderstorms along the front as it moves through. The region will finally see some marked clearing on Sunday night as winds ease and temperatures head to a low near 13°C.
Long Range Outlook
Winnipeg will see a return to seasonal temperatures and settled conditions on Monday. It will be short-lived though; most long-range forecasts show the return of unsettled conditions by Wednesday. Winnipeg looks to see several chances for rain through the second half of next week. While a stretch of cloudy weather won't be what most people would like, numerous chances for some rain sounds quite nice to my increasingly parched lawn!
Winnipeg's seasonal daytime high is currently 20°C while the seasonal overnight low is 8°C.