A low pressure system tracking along the 60th parallel will spread a substantially warmer air mass across southern Manitoba on Thursday.
Today will be another cool day as a ridge of high pressure tracks across the province. Winnipeg will see a high temperature near 5°C with light winds and mainly sunny skies. Tonight, winds should pick up out of the south to around 20-30 km/h ahead of warmer air working in from the west. Some more cloud will push into the region as temperatures head to a low near +3°C.
Thursday will bring the warmest temperatures in a month to Winnipeg. Breezy southwesterly winds of 20 to 30 km/h will remain in place all day as temperatures climb to a high near 17°C! After the last month of below-seasonal temperatures this might seem downright hot to some, but it won't be anywhere near the record high of 22.8°C set in 1914. Winds will diminish in the evening with a bit of cloud cover working across the region. Temperatures will dip to a low near 5°C.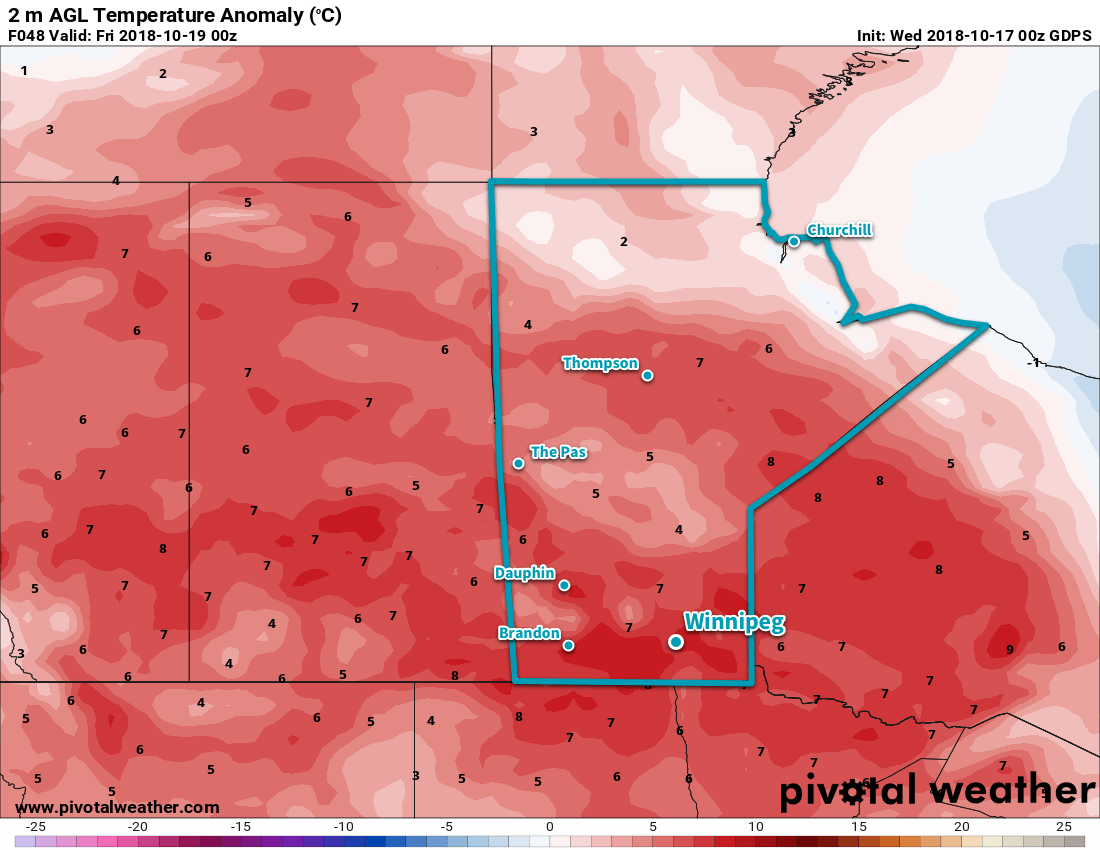 Friday will bring mostly cloudy skies as a moderate northwesterly wind of 30 to 40 km/h pushes the warmest temperatures out of the region. Winnipeg will see a near-seasonal high of 9°C. The day should remain dry, however by evening there will be a chance of showers or flurries slumping southwards out of the Interlake. Temperatures will head to a low near -1°C on Friday night.
Long Range Outlook
It appears that Saturday will bring cooler temperatures back to Winnipeg with highs in the low single digits with mixed skies. Sunday should bring more sunshine back to the region with temperatures returning to seasonal values. Much of the next week looks to seasonal to slightly below-seasonal temperatures and dry conditions with a good chance of plenty of sunshine. The slightly warmer, sunnier, and drier weather will be welcome news to some farmers who really need their fields to dry.
Winnipeg's seasonal daytime high is currently 10°C while the seasonal overnight low is -1°C.