After record-setting heat yesterday, a change is in the weather as unsettled conditions today lead to cooler temperatures for the weekend.
Winnipeg's sunny skies of yesterday will be replaced by mixed to mostly cloudy skies today. A cold front passed through the region overnight, ushering in northwesterly winds for today that will keep conditions much cooler than yesterday. With breezy northwesterly winds near 30 gusting 50 km/h, Winnipeg should see a high near 8°C today.
A second cold front will sweep through the region late in the day as Arctic air surges southwards behind the low pressure system that brought the mild temperatures to the region yesterday. As the front pushes through, it will bring a chance of showers to the Red River Valley for the late afternoon into the evening. Cooler temperatures will continue to spill southwards through the night as the northwesterly winds continue. There will be a chance for flurries in the lee of the Manitoba Lakes right through the overnight period. Winnipeg will see a low near -3°C under mixed skies.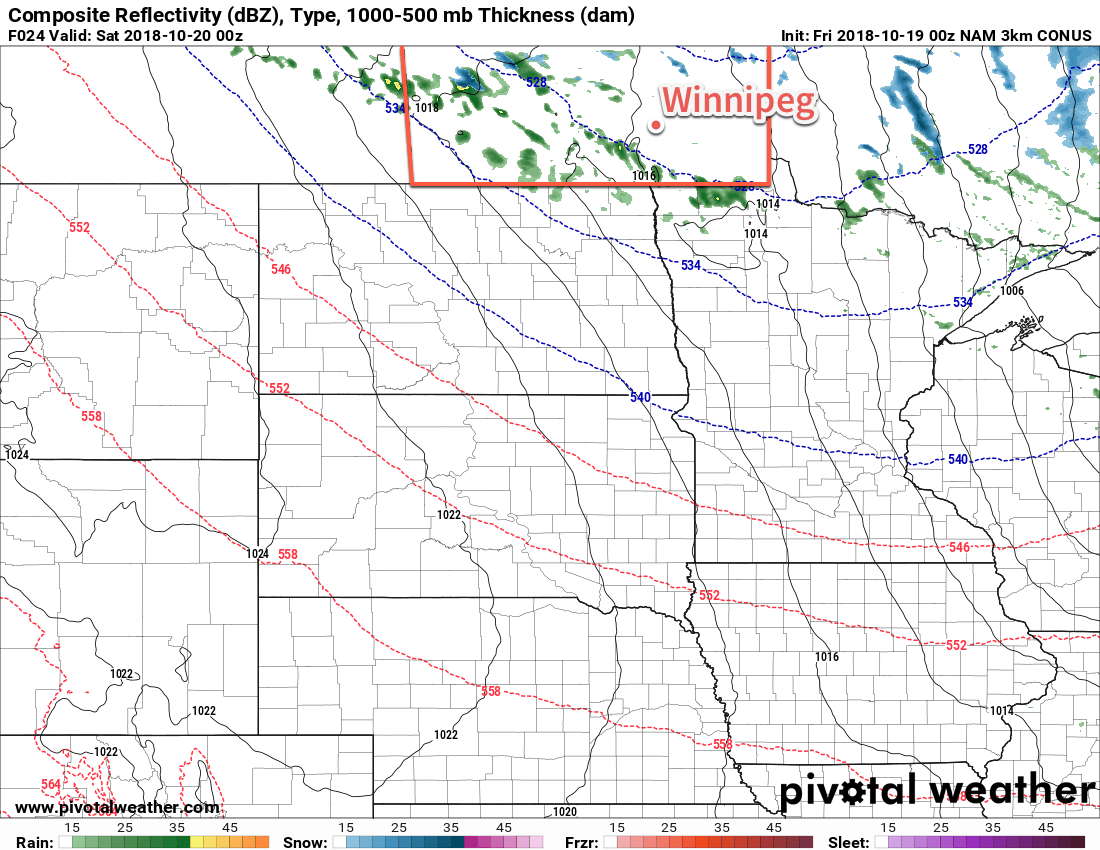 Saturday will be a very cool day as an Arctic high moves across the region. Winds will diminish through the morning as temperatures climb towards a high of just +3°C. Skies should be partly cloudy with more organized bands of stratus coming off of the lakes to both the west and east of Winnipeg. Heading into the night, more cloud will move into the region as a warm front pushes across the province. Winnipeg will see a low near -1°C with southerly winds near 20 km/h.
Sunday should bring mainly sunny skies to Winnipeg as the cloud pushes off to the east. With the warm front through, the city should see a more seasonable high of around 10°C with light winds. It's looking like Sunday will actually be quite a pleasant fall day! Temperatures will head to a low near +1°C on Sunday night with light westerly winds.
Long Range Outlook
Next week looks set to bring closer to seasonal conditions. Daytime highs in the mid- to upper single digits are forecast alongside variably cloudy skies. It also appears that it will remain dry with no notable precipitation in the forecast.
Winnipeg's seasonal daytime high is currently 9°C while the seasonal overnight low is -1°C.