After some light snow this morning, Winnipeg will see conditions gradually improve with near-seasonal temperatures alongside a bit of sunshine this weekend.
Winnipeg will see a bit of light snow move through this morning as the remnants of a low pressure system that impacted Saskatchewan yesterday moves through. For those hoping the snow stays away for a while longer, temperatures near freezing will ensure much of what falls melts quickly. The snow should clear out around lunch, leaving the city with cloudy skies for the afternoon as temperatures slowly increase to a high near 3°C. The clouds will stick around tonight as temperatures dip to a low near -2°C. Winds will remain light through the day.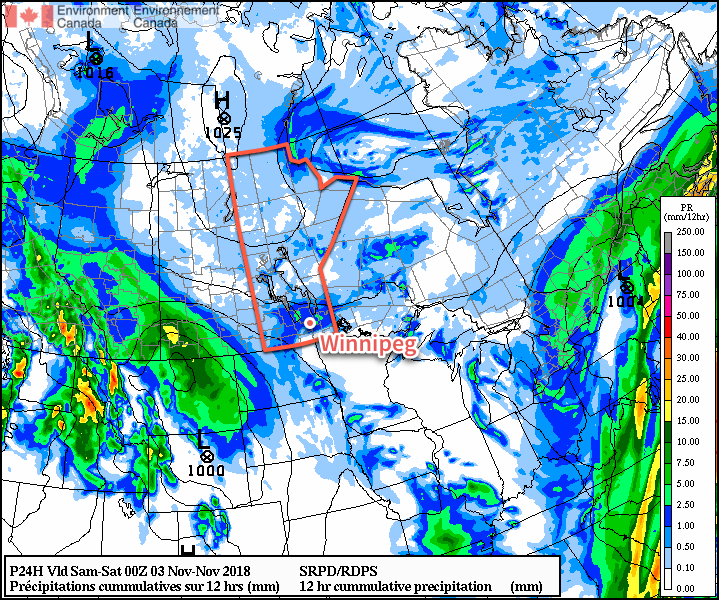 Saturday should bring some sunny breaks to the city as temperatures climb to a high near 3°C again. Winds will remain light out of the northeast. Mixed skies will remain overnight with temperatures falling to a low near -3°C. Sunday will bring mixed skies to the city – perhaps one of the sunniest days the city has seen in a while – with a high near 5°C. An approaching low pressure system will gradually increase winds out of the southeast to around 20 km/h by the evening. Winnipeg will see increasing cloudiness on Sunday night as temperatures dip to a low near 0°C.
Long Range Outlook
The first half of next week looks like a return to cloudy conditions with a slight chance of rain or snow Monday night into Tuesday. Guidance currently shows a sharp cold front passing through the city on Tuesday, sending temperatures well below seasonal values for the second half of the week. Enjoy the seasonably mild temperatures and breaks of sun this weekend, next week looks set to get a whole lot colder!
Winnipeg's seasonal daytime high is currently +3°C while the seasonal overnight low is -5°C.