A cold front will blast through Winnipeg on Tuesday, bringing snow, gusty northwesterly winds, and a notable shift into unseasonably cold November temperatures.
Winnipeg will have one more day of respite before wintery weather crashes through the province. Winnipeg will sit under cloudy skies with light southeasterly winds through the day today. Temperatures will climb to a high near +4°C. Some light rain or snow will push into the Red River Valley this afternoon, then into Winnipeg by this evening. This precipitation will persist through the night, changing over to snow as temperatures dip towards a low near 0°C. Total snowfall accumulations of 3 to 5 cm look likely by early Tuesday morning in Winnipeg with higher accumulations to the west in southwest Manitoba and the Parkland.
Tuesday will be a rather miserable day in the Red River Valley. A cold front will sweep through Southern Manitoba midday, ushering in northwesterly winds up to 40 gusting 60 km/h. Temperatures top out near +1°C in the morning, but then drop to 0°C or just below freezing for the afternoon. Light snow will continue for much of the day with another 2 to 4 cm accumulation possible. Those gusty northwest winds will combine with the new snow and may produce areas of local blowing snow.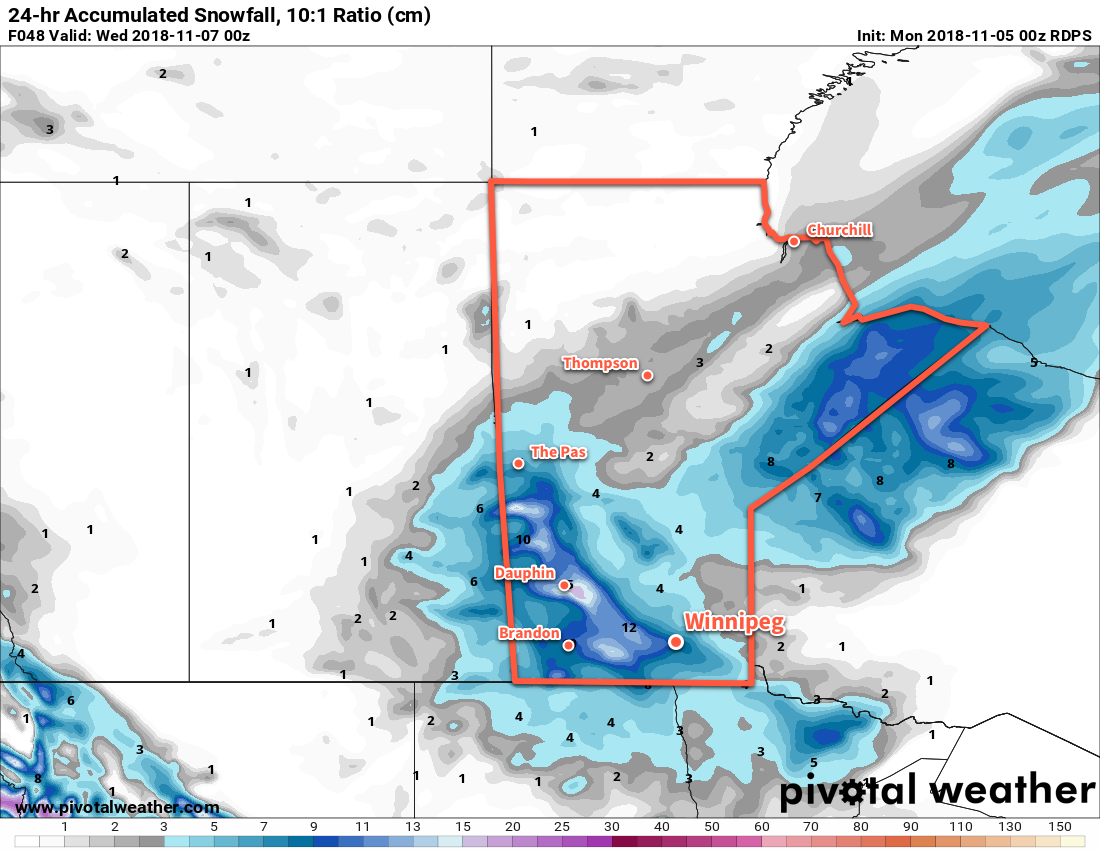 The snow will taper off on Tuesday evening, but the wind will remain breezy out of the northwest through the night. Temperatures will dip to a low near -6°C with flurries possible overnight.
Wednesday will bring improving conditions with gradually diminishing winds and mostly cloudy skies. Temperatures will be well below-seasonal for this time of year with a high of just -4°C. Skies should remain mostly cloudy with a low near -10°C on Wednesday night.
Long Range Outlook
Unfortunately, it appears that a quasi-stationary upper-level vortex will develop over Nunavut and Northern Manitoba this week, which will ensure that temperatures remain locked well below-normal. The city will see plenty of cloud through the week, which will actually be a bit of a blessing as the overcast skies will act as a blanket and keep temperatures a bit warmer than they would otherwise.
It looks like winter will arrive Monday night into Tuesday, and it's not going to be going anywhere anytime soon.
Winnipeg's seasonal daytime high is currently +2°C while the seasonal overnight low is -6°C.