After a stretch of relatively benign weather, things will be getting slightly more active in Winnipeg through the remainder of the week.
Kicking off the trend towards unsettled weather, Winnipeg will see a mild but potentially messy day today. The culprit for our weather will be a low pressure system tracking through the Interlake today. It brings with it the chance for light precipitation through much of the day, but what exactly falls from the sky will vary as the day moves on. There will be a slight chance of rain or freezing rain showers, [freezing] drizzle, and/or flurries in Winnipeg today. The overall amounts of precipitation will remain low, but it will be a generally damp day. Temperatures will climb to a high near +1°C with winds picking up to northwest 30 gusting 50 km/h this afternoon. Any leftover flurries will clear out this evening. Winds will ease overnight with a few clear patches developing as temperatures head to a low near -11°C.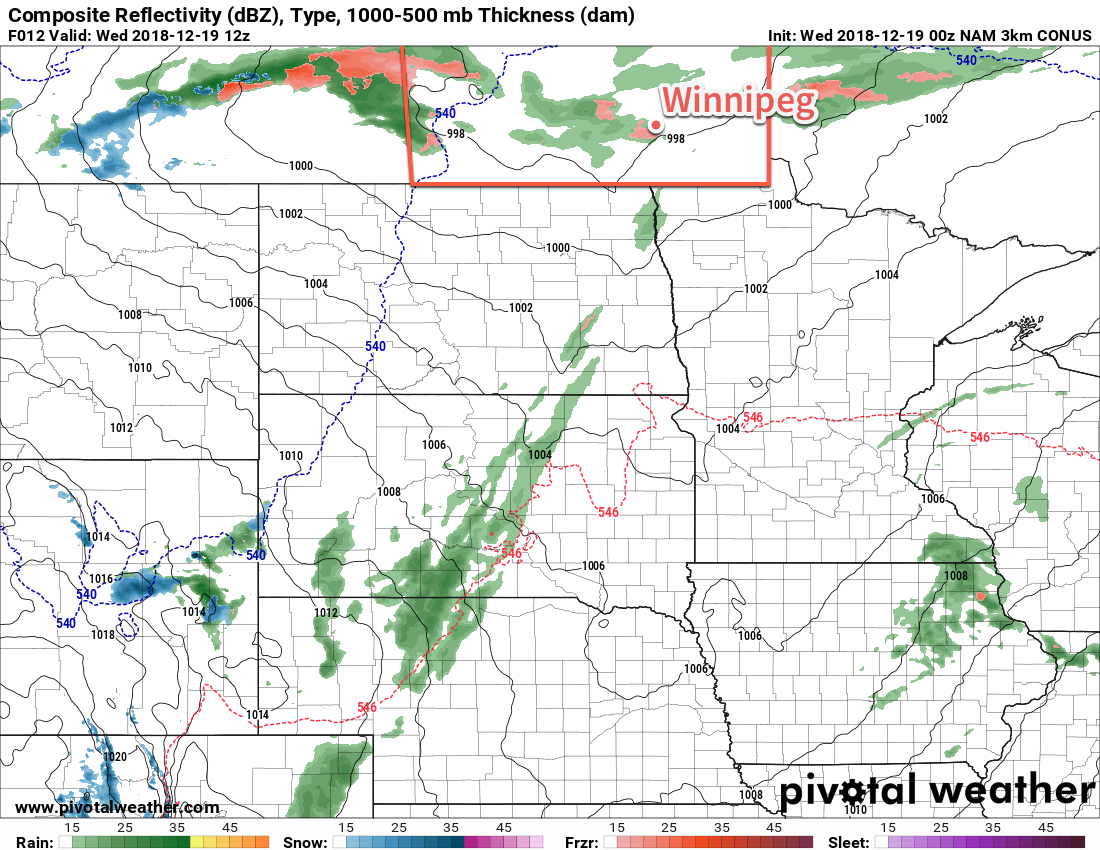 A ridge of high pressure move over the region on Thursday. Winnipeg will see mixed skies, light winds, rand a high near -6°C. Clouds will thicken up on Thursday night as temperatures head to a low near -10°C.
On Friday, the city will see southerly winds of 30 to 40 km/h develop ahead of an Alberta Clipper tracking across Saskatchewan. Skies will stay cloudy through the day as temperatures head to a high near -5°C. Some light snow will likely push into the Red River Valley in the evening with accumulations near 5 cm possible by Saturday morning. Temperatures will keep steady near -4°C on Friday night as winds slowly ease.
Long Range Outlook
Winnipeg may see more snow on Saturday as the clipper system slows, blocked to the east by a major winter storm on the east coast. Temperatures will head back towards seasonal for Christmas with variable cloudiness. One thing to keep an eye on will be a second clipper system that is forecast to track through SE Saskatchewan into North Dakota on Christmas Eve. If its track ends up just a tad further north, then it may impact travel conditions in the Red River Valley for Christmas Eve.
Overall, though, the forecast continues to be relatively pleasant for December.
Winnipeg's seasonal daytime high is currently -11°C while the seasonal overnight low is -21°C.