Winnipeg will see a short-lived return to seasonal temperatures over the next couple days. The warm weather won't be absent long, though, returning on Sunday and bringing a fresh batch of snow to wrap up the weekend.
Winnipeg will see one more seasonably mild day today as temperatures climb to a high near -3°C. The city will see a mix of sun and cloud through the day with light winds. The variable cloudiness will continue tonight, but a cold front slumping southwards will send overnight lows around -10°C. Winds will shift northerly at 15-20 km/h overnight.
Saturday will bring more cold air southwards across the Prairies in the wake of the cold front. Temperatures in Winnipeg will slowly drop through the day to around -14 by late in the afternoon. Skies will remain mixed, although a bit more clearing could work into the Red River Valley late in the day. Tomorrow's overnight low is tricky; temperatures will drop under a ridge of high pressure moving through the region, but cloud cover moving into the region will start sending temperatures back the other way. It seems likely that Winnipeg will get to a low near -17°C before rising back to around -13°C by Sunday morning. If it stays clear a bit longer, then lows could dip down to around -20°C or even a slight bit cooler.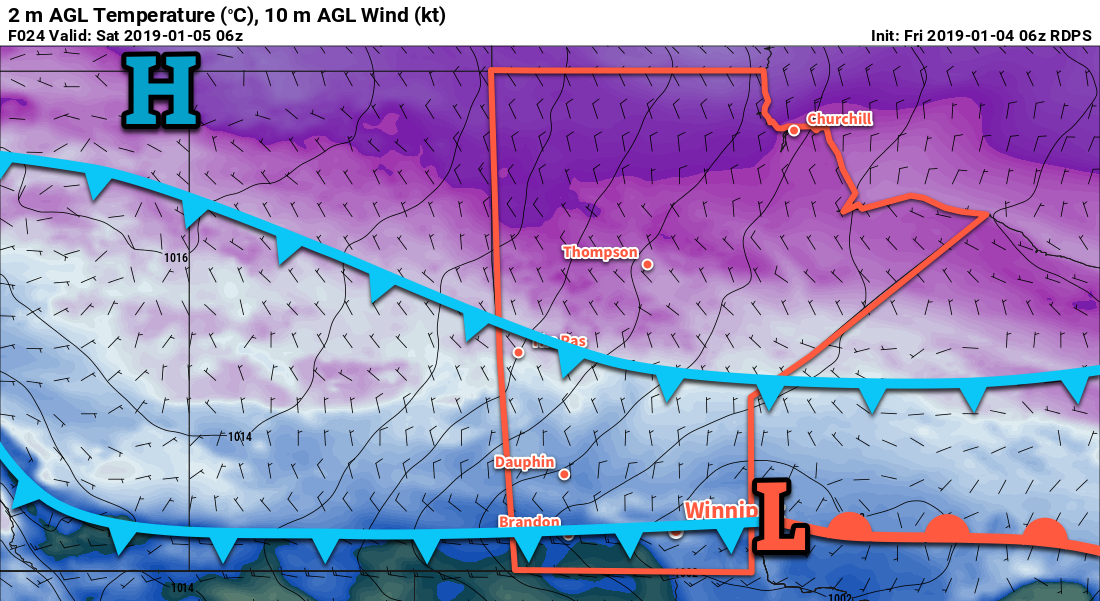 On Sunday, a milder air mass will once again work its way back into the region. Skies will remain cloudy in Winnipeg with southeasterly winds picking up into the 30-40 km/h range. Temperatures will climb to a high near -6°C. Sometime in the afternoon or early evening, snow will begin spreading across the Red River Valley. The snow will persist through the night as temperatures rise to around -3°C. The city could see around 5 cm of fresh snow by Monday morning.
Long Range Outlook
Monday will bring clearing skies with any remaining snow tapering off in the morning. Temperatures will be seasonably mild with a high near -1°C. The remainder of the week is looking on the cloudier side with temperatures swinging between milder and seasonable conditions as the city moves out of and into Arctic air masses. No significant snowfall is forecast after Sunday night's accumulations for the remainder of the week.
Winnipeg's seasonal daytime high is currently -13°C while the seasonal overnight low is -23°C.