A warm front pushing across the Red River Valley on Wednesday night will usher in milder temperatures with periods of light snow to end the week.
Winnipeg will see mainly sunny skies and near-seasonal temperatures today as an Arctic high moves through the region. Temperatures should reach a high near -15°C with light winds. Temperatures will drop into the -20s tonight, then rise to around -15°C with increasing cloud by Thursday morning as a warm front approaches. Some light snow may develop overnight, but dry air coming out of the Arctic high may hold off the snow until later Thursday morning.
On Thursday, a warm front pushing eastwards across the region will warm temperatures to a high near -9°C with southeasterly winds increasing to 30 gusting 50 km/h. Winnipeg & areas south will see some periods of light snow through the day, but most areas will see limited accumulations of less than 2 cm. The main area of accumulating snow with this system will be much further north, with a band of 5 to 10 cm moving out of central Saskatchewan and across the northern Interlake. Winds will ease Thursday night as a weak low pressure centre moves into the Red River Valely. Temperatures will keep steady near -10°C with cloudy skies and periods of light snow. 1 to 3 cm accumulation is possible by morning.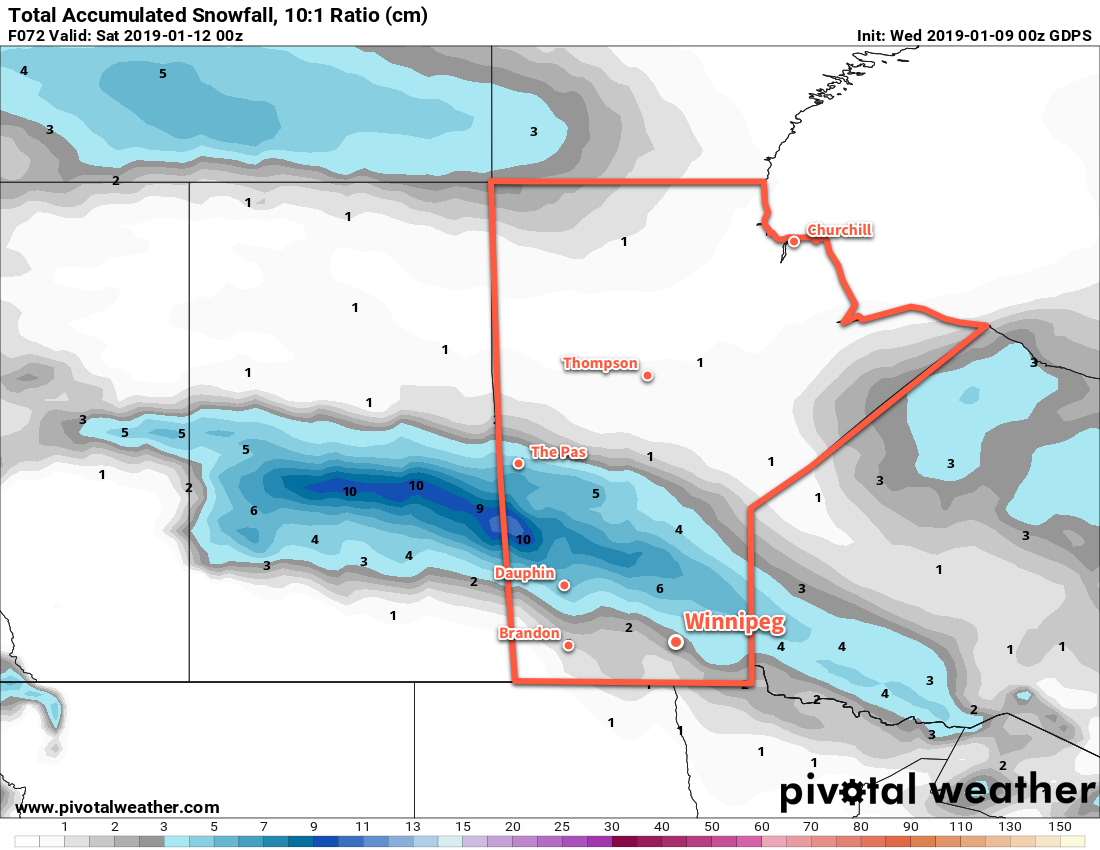 On Friday, the low centre will slowly exit the region. Temperatures will be seasonably mild with a high near -8°C in Winnipeg. Cloudy skies will continue with periods of light snow through the day. Accumulations will once again be minimal. Behind the low, light northerly winds will develop as a weak Arctic ridge begins building into the region. Winnipeg should see a low near -16°C on Friday night with as the cloud cover begins to break up.
Long Range Outlook
Forecasts show conditions remaining seasonably warm for Winnipeg over the weekend and into next week. The city should see some sun through the weekend, but cloudier conditions are forecast to return next week. The next chance for accumulating snow is Monday night or Tuesday when an Alberta Clipper may move through the province. Colder temperatures are forecast to move into the region behind this system for the second half of next week.
Winnipeg's seasonal daytime high is currently -13°C while the seasonal overnight low is -24°C.