Winnipeg will see a much-welcome return to seasonal temperatures as snow moves into the region.
A developing disturbance called an inverted trough will move into Manitoba today, bringing cloud, light snow, and much warmer temperatures. Winnipeg will see sunshine this morning replaced by increasing cloudiness in the afternoon. As the cloud pushes in, temperatures will climb to a high around -10°C. Light snow will spread across the Red River Valley this evening and continue through the night. The city should see close to 5 cm of snow by Tuesday morning. With the cloudy skies and inverted trough moving through, temperatures should stay steady near -11°C through the night.
The city will see light snow through much of Tuesday with another 2 to 4 cm likely. Temperatures will climb to a high near -9°C as the inverted trough continues through the province. Snow will taper off sometime late in the afternoon or early evening leaving behind mostly cloudy skies with a chance of flurries. Temperatures will head back to a low near -20°C on Tuesday night.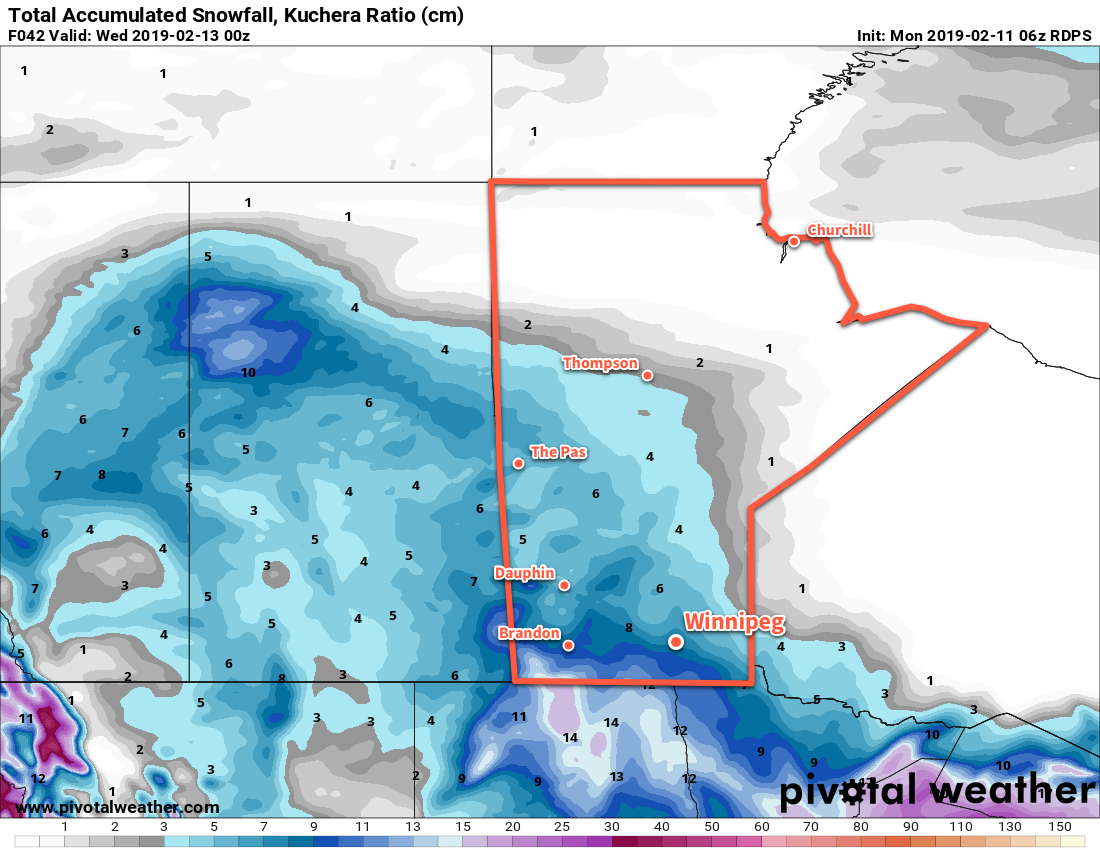 Another disturbance tracking along the U.S. border will bring more cloud and a chance of light snow to the region on Wednesday. Winnipeg will have cooler high near -15°C. After this disturbance passes, another Arctic high will slowly begin building back into the region. Overnight lows will dip down to around -22°C on Wednesday night.
Long Range Outlook
The rest of the week will bring variable cloudiness and below-seasonal temperatures. The cool conditions won't be as extreme as the last cold snap, though, with daytime highs in the minus teens and overnight lows dipping into the -20s.
Today's seasonal daytime high in Winnipeg is -9°C while the seasonal overnight low is -19°C.