Winnipeg will see windy conditions develop later today as warmer temperatures push in from the west.
The prolonged stretch of below-seasonal temperatures in Winnipeg that began on February 3rd is finally coming to an end. A developing westerly flow aloft will spread milder Pacific air eastwards across the Prairies today. Unfortunately for Winnipeg, there will be a bit of a transition day before we shift into the warmer temperatures. Under a few clouds today, winds will remain light until later this afternoon. Southerly winds will increase to around 30 km/h by evening, persisting at 30 to 40 km/h through the night. These southerly winds will keep temperatures a bit cooler with a high near -7°C. Temperatures will remain fairly steady overnight, dipping to a low near -8°C with increasing cloudiness.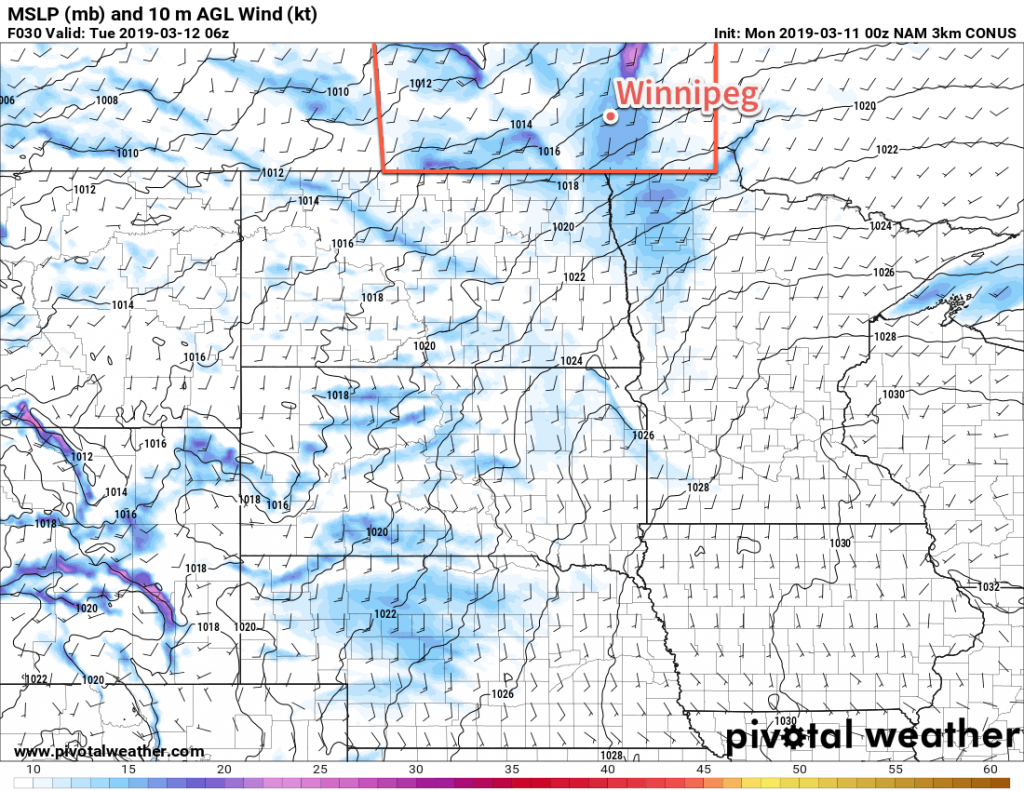 For Tuesday into Wednesday, a potent Colorado Low developing in the US will be the controlling force of the weather. While at one point it seemed the Red River Valley might see a major storm, forecasts continue to trend the system southeastwards. Now, it looks that southeastern Manitoba may see some snow, but that most of the province will escape it. Instead, the region will see plenty of low cloud and mild temperatures near the freezing mark.
The wind will diminish Tuesday and then remain calm until it begins picking up out of the north on Wednesday night.
We'll be keeping an eye on the Colorado Low as it develops.
Long Range Outlook
Temperatures will cool to just a tad below seasonal values in the wake of the Colorado Low, but by the weekend temperatures are forecast to bounce right back to around the freezing mark. Combined with the increasingly strong sunshine, Winnipeg may just find itself entering the beginning of the spring melt!
Today's seasonal daytime high in Winnipeg is -2°C while the seasonal overnight low is -13°C.