A mix of rain and snow will move through Winnipeg on Thursday, marking the start of an unsettled warm-up for the weekend.
Today will be a sunny but cool day in Winnipeg as a ridge of high pressure moves through. With light winds, temperatures will climb to a high near +1°C. Skies will stay mostly clear tonight with temperatures dropping to a low near -6°C.
Weather returns to the region on Thursday as a warm front moves through ahead of a low pressure system in Saskatchewan. Skies will cloud over early in the day with southerly winds increasing to 40 gusting 60 km/h. By mid- to late-afternoon, a wintery mix of precipitation will work its way across the Red River Valley. The rain/snow will exit the region early in the evening, leaving behind light winds, cloudy skies, and a chance of drizzle. Winnipeg will see a low near 0°C on Thursday night.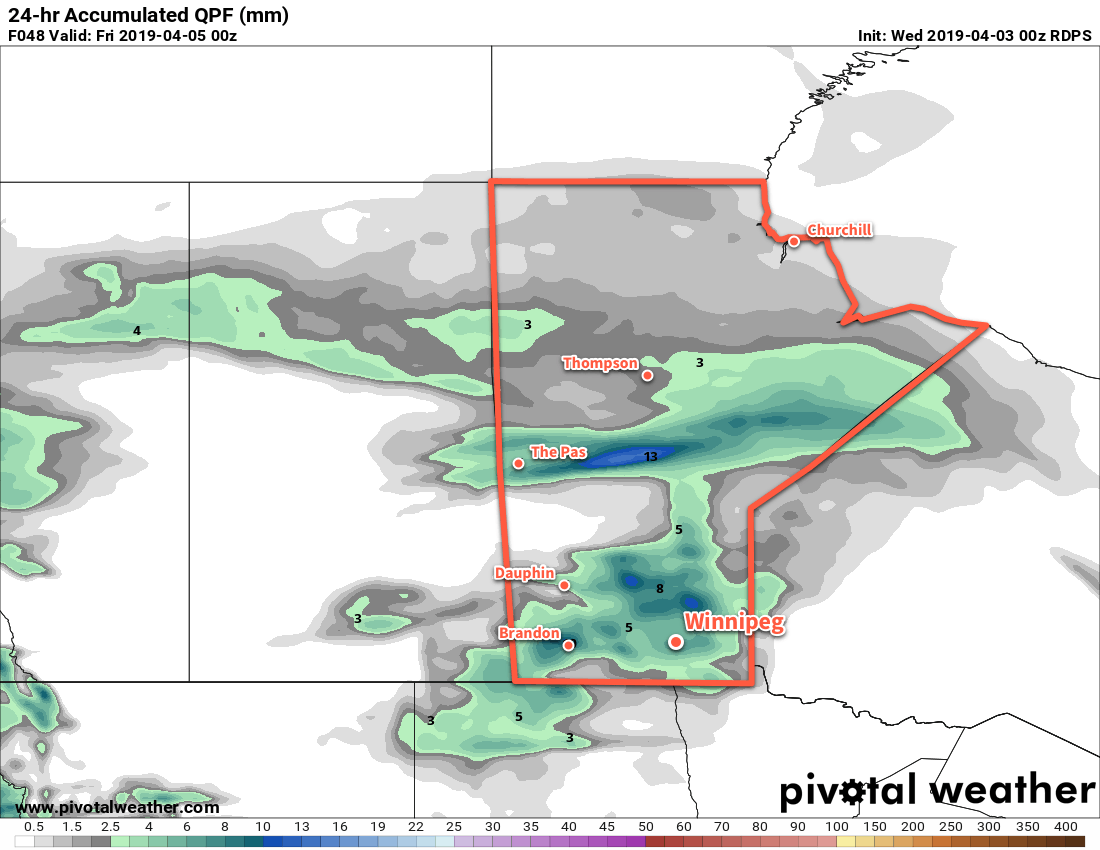 Skies will start off cloudy on Friday morning with a continued chance of drizzle, then a weak cold front will push through the region. Skies should begin to clear in the afternoon with temperatures reaching a high near 6°C. The reprieve will be short-lived, though as more cloud pushes in overnight ahead of the next disturbance. Temperatures should dip to around -3°C on Friday night.
Long Range Outlook
Winnipeg's weekend looks mild thanks to a southwesterly flow developing aloft. Unfortunately, that also means rather unsettled conditions with a fair amount of cloud and a couple chances for precipitation. Temperatures will climb into the teens, though, with overnight lows likely remaining above zero. It appears that conditions will gradually settle next week with a return towards seasonal temperatures.
Today's seasonal daytime high in Winnipeg is 6°C while the seasonal overnight low is -5°C.