Rain will spread over Winnipeg later this morning, kicking off a weekend of unsettled conditions for the region.
More rain is on the way for Winnipeg today as another low pressure system moves through. This system shares bears resemblance to Wednesday's rain, but will track a bit further north and is a bit stronger. Rain will spread into southern Manitoba from North Dakota through the morning. The main area of rain will exit mid- to late afternoon, but the chance for showers will continue.
Rainfall totals for the region will be higher than seen on Wednesday. The highest amounts will fall close to the U.S. border with 15 to 25 mm by the time the rain tapers off. Rainfall amounts will diminish into the 10 to 15 mm range for Winnipeg and the Trans-Canada Highway corridor, then taper off to just a trace further north in western Manitoba across the Interlake. In Winnipeg, rain will taper off later this afternoon, but a few more showers are possible through the night. Temperatures will climb to around 14°C this morning, but once the rain moves in temperatures will dip to around 10°C. Winds will pick up out of the east into the 20 to 30 km/h range today.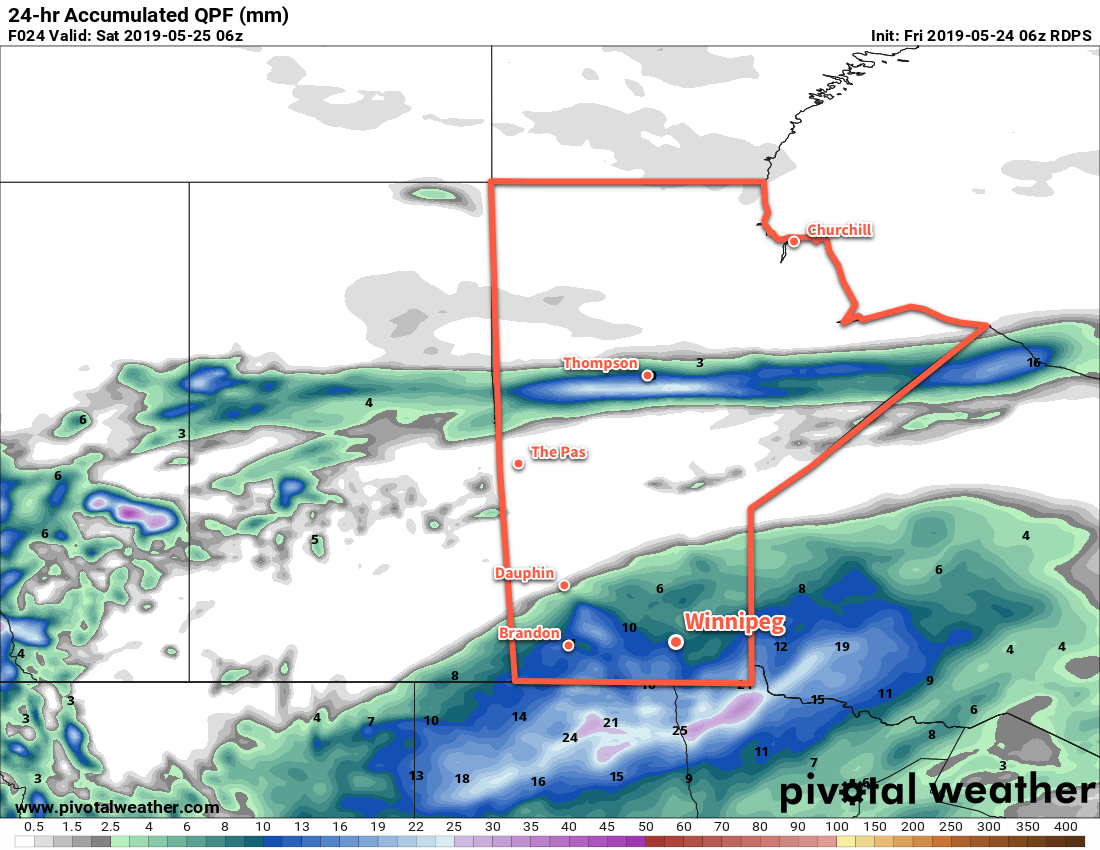 Winds will ease this evening with temperatures dipping to a low near 8°C overnight.
Saturday will bring mixed skies to the city. In the morning, there will likely be plenty of leftover cloud from Friday's system, but that should break up for the afternoon. Once the sun pokes out, temperatures should manage to climb back up to a high near 19°C. The chance for showers will redevelop in Winnipeg overnight as skies cloud over and temperatures dip to a low near 8°C.
Sunday will bring more cloud and a continued chance for showers as the front stalls over the region. Temperatures should climb into the low teens with northeasterly winds up to around 20 km/h. Skies stay mostly cloudy Sunday night with another chance of showers as another disturbance crosses North Dakota. Temperatures will dip to a low around 5°C.
Long Range Outlook
The sun should reappear to kick off next week with temperatures climbing back into the upper teens and low twenties. A passing low might bring some showers to the region on Tuesday night, but otherwise it looks dry right through the end of the work week.
Today's seasonal daytime high in Winnipeg is 21°C while the seasonal overnight low is 7°C.