A push of warmer temperatures into Manitoba will send daytime highs soaring into the upper 20s today. Joining the warmth will be hazy skies as smoke from the northern Alberta forest fires moves in as well.
Winnipeg's driving weather feature over the coming days will be an upper high shifting from northern Alberta to the Dakotas. It will have 2 major impacts for the region: warmer temperatures and smoke. First: the smoke.
As the upper high slumps southeastwards, the flow aloft will turn northwesterly. This will spread large amounts of smoke from the forest fires over northern Alberta across Saskatchewan into southern Manitoba. This smoke will be noticeable over the next few days, both aloft and as hazy conditions near the ground. If you have sensitivities to air quality be sure to keep an eye on the forecast AQHI values. Exactly when the smoke clears depends on how the large-scale weather pattern evolves near the end of the week. At this point it looks like there will still be some smoke and haze present on Friday with improvement on Saturday.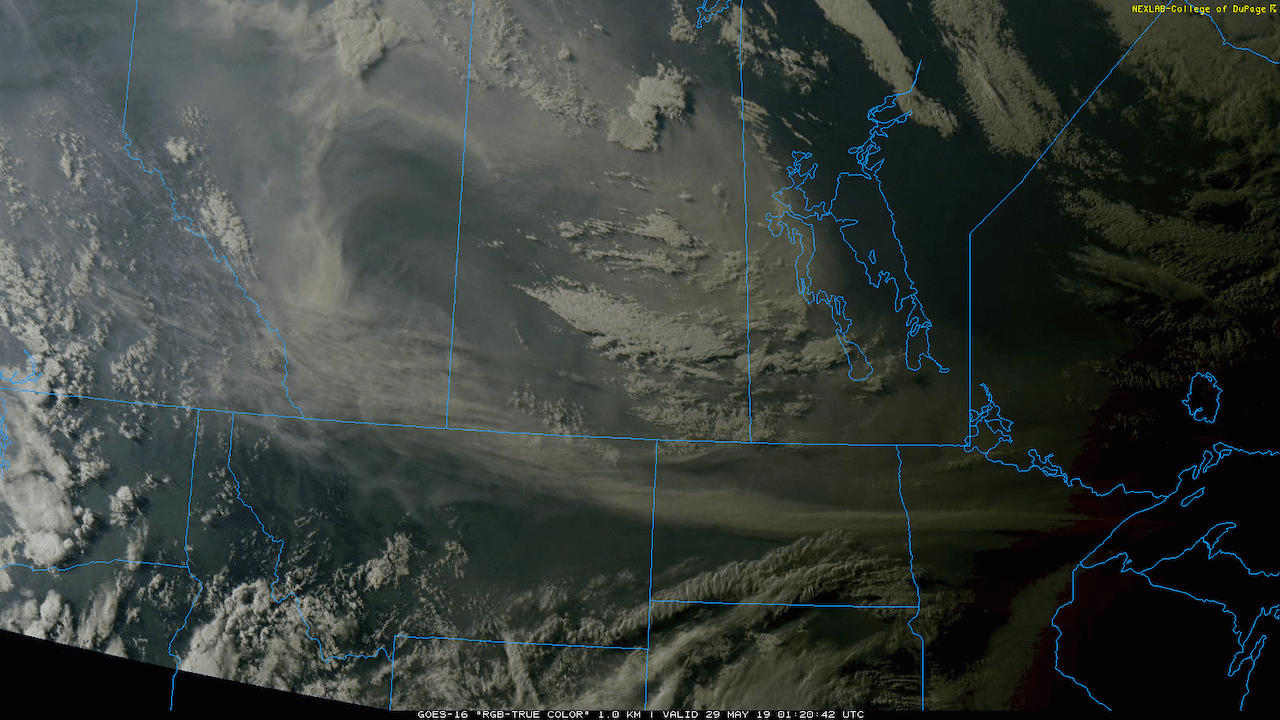 With the smoke out of the way, that leaves temperatures. While the smoke makes forecasting exact daytime highs tricky, this upper high will spread a hot air mass over part of the province. Temperatures will quickly climb into the mid-20's by lunch today, then continue on to a high near 28°C this afternoon. Temperatures will stay warm tonight with a low near 13°C. Thursday will be another hot day with a high near 27°C. A cold front will push through on Friday morning, sending temperatures back to near-seasonal values to end the week.
Through all this, Winnipeg should see plenty of sunshine, albeit dimmed somewhat by the smoke. It doesn't appear that Winnipeg will see any meaningful chances for rain, despite some cloud in the area Thursday morning as a warm front wavers through the region. The passage of the cold front also looks dry for Winnipeg.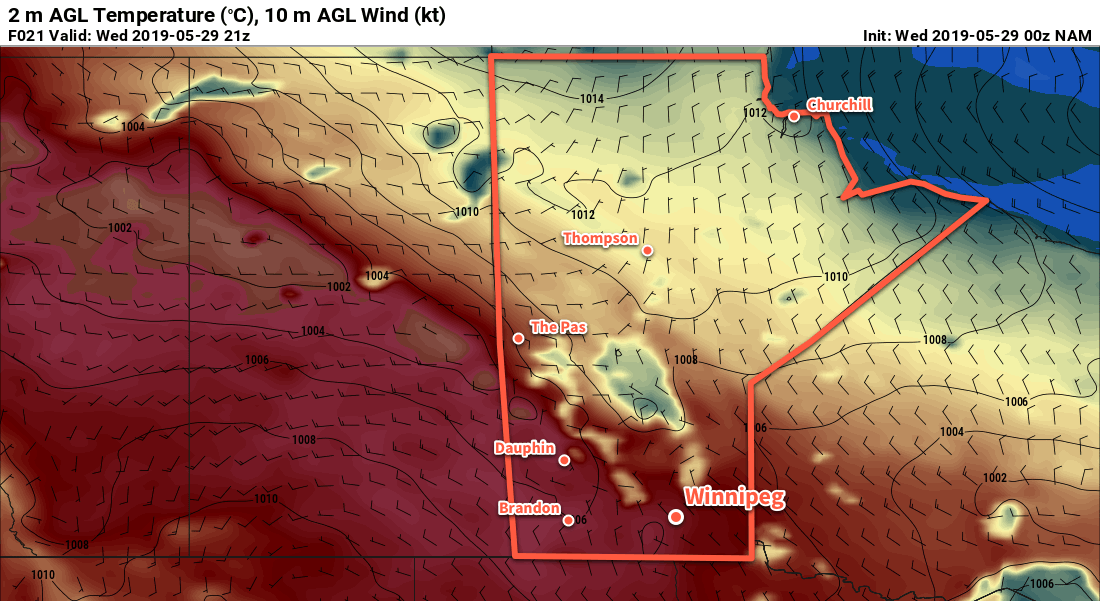 Winds will be light today, only picking up out of the north to around 15-20 km/h this afternoon and remaining light and variable on Thursday. On Friday, the wind will pick up out of the north to around 30 gusting 50 km/h behind the passage of the warm front in the morning.
Long Range Outlook
This weekend will bring more sunshine to Winnipeg with the smoke likely clearing out on Saturday. On Sunday, the warm weather will come surging back into the province with daytime highs climbing into the upper 20s again. This time, it doesn't look like smoke will affect southern Manitoba; the upper flow will be more westerly than northwesterly, keeping the smoke further north.
Today's seasonal daytime high in Winnipeg is 22°C while the seasonal overnight low is 8°C.