Summer finally arrives in Winnipeg this week with seasonal to above-seasonal temperatures in place right through the week.
An approaching low will spread heat and southerly winds of 20 to 30 km/h through the region. Much of the day will bring partly cloudy skies to the city as temperatures soar to a high near 29°C. Notably different from other warmth so far this year will be the humidity; by the afternoon, dew points will climb into the mid-teens. While it won't feel humid per-say, it will be a noticeable difference from when temperatures reached 30°C last Thursday. The chance for thunderstorms will develop mid- to late afternoon and persist overnight as the low pressure centre approaches. Temperatures will stay warm on Tuesday night with a low near 18°C.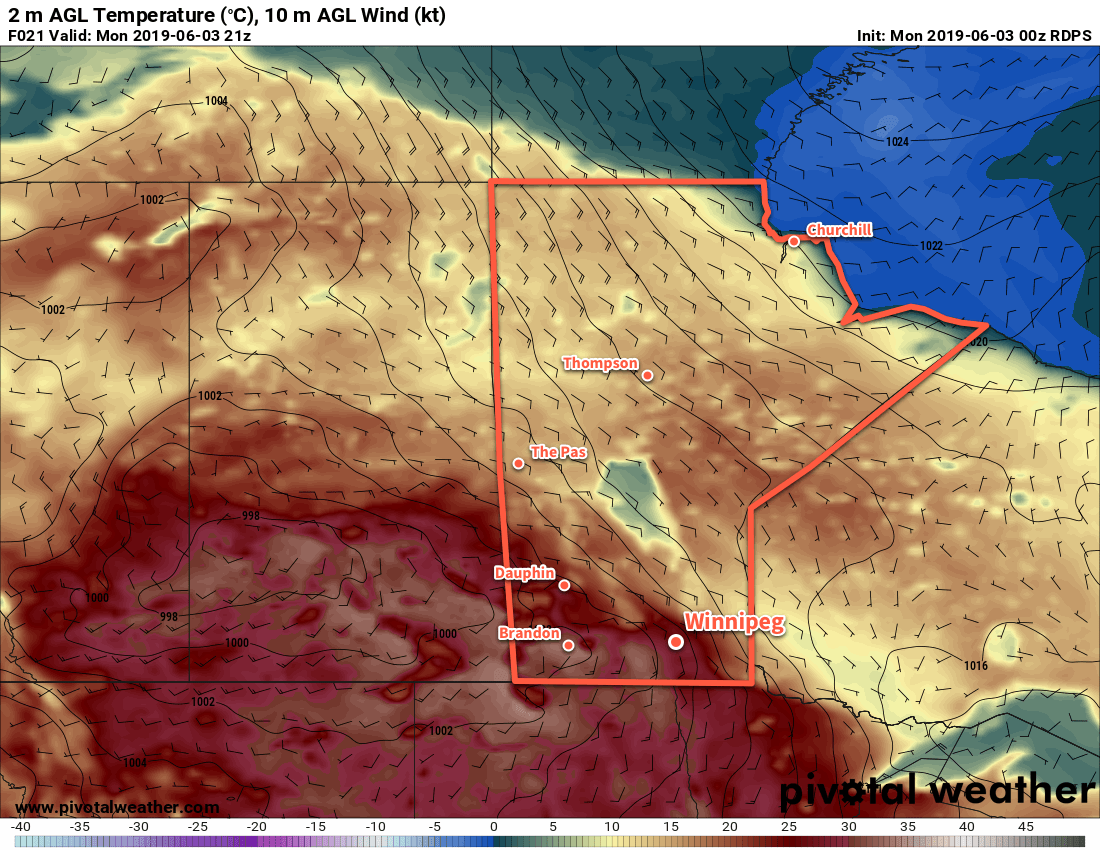 The low will move through the Red River Valley on Tuesday morning, bringing mixed skies northwesterly winds. By midday, the city will be under mixed to mainly sunny skies with northerly winds near 30 gusting 50 km/h. These northerly winds will clear the skies and usher in a drier air mass the afternoon. Temperatures should reach a high near 26°C midday then cool to around 21°C by the evening. Winds will ease in the evening and Winnipeg will have a pleasant night: clear skies, light winds, and a low near 12°C.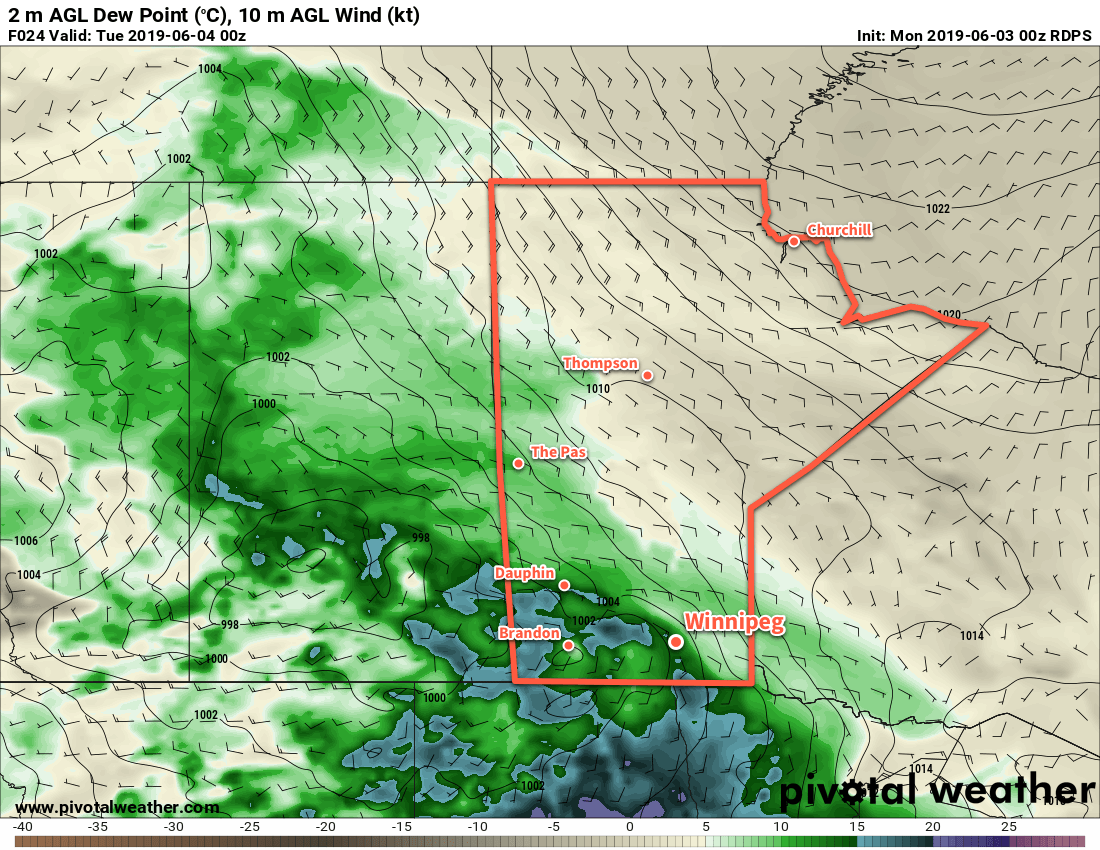 Wednesday will see a high pressure system pass by to the south. It should keep winds light with a few clouds through the day. Temperatures will be warm again, though, with a high near 27 or 28°C. Another low pressure system moving through Saskatchewan will lift a warm front northwards through the province overnight. As it moves through, it will bring a chance of showers and/or thunderstorms to Winnipeg overnight.
Technical Thunderstorm Discussion
There is a widespread thunderstorm threat over the southeastern Prairies today. Although many ingredients are in place, the overall situation is conditional. Going over the MIST ingredients:
Moisture: Dew point values are forecast to rise into the mid-teens. There is a bit of uncertainty in this as dew points have been trending below model forecasts lately. That said, yesterday evening a pool of 15°C dew points was in place over western South Dakota. With the low-level jet continuing advection overnight, it seems likely that dew points should rise substantially towards forecasted values as the day progresses.
Instability: These dew points are forecast to produce MLCAPE values between 1000 and 1500 J/kg over SE Saskatchewan and SW Manitoba this afternoon. This instability will spread eastwards into the Red River Valley this afternoon. The instability will continue overnight with forecast MUCAPE values near 1000 J/kg spreading into the southeastern corner of the province.
Shear: Weak upper-level winds will limit shear in areas of greatest CAPE; only ~15 kt of 0-6 km bulk shear is forecast. Closer to the warm frontal boundary, strengthening upper-level winds increase the shear into the 30 to 35 kt range. Shear profiles are generally veering and would support primarily multicell thunderstorms.
Trigger: The warm front will be the primary area of focus, but strong capping will likely delay initiation until evening. Broad destabilization over southwestern Manitoba as the low approaches may trigger surface-based convection, but the storms may struggle to organize due to the lower shear values and poor ventilation aloft.

The best chance for thunderstorms looks to be over western and southwestern Manitoba this afternoon. These thunderstorms may be with the potential for some marginally severe thunderstorms. Heading into the evening, some of the activity will spread into the Red River Valley. It will likely become less extensive as the night progresses. The threat for severe thunderstorms will diminish as the night goes on.
Long Range Outlook
After Wednesday, Winnipeg will see the warm weather continue, but skies will be variable as several disturbances make their way through. These will bring several chances for showers or thunderstorms to the city that may persist right into the weekend. At least overnight lows will stay in the low to mid-teens and those chilly mornings will be a memory of the past by then!
Today's seasonal daytime high in Winnipeg is 22°C while the seasonal overnight low is 9°C.