Winnipeg will see cloudy, cool weather return for the weekend with what looks like a good chance for some rain on Saturday.
Before the gloomier weather arrives, though, Winnipeg will get to enjoy plenty of sunshine today. A ridge of high pressure moving through will keep skies clear with northwest winds to around 20 km/h. Temperatures will climb to a seasonal high of 22°C this afternoon. Cloud cover will begin pushing in overnight with temperatures dipping to a low near 10°C.
Cloudy skies will remain in place through the day on Saturday as an upper-level disturbance crosses the region. An initial batch of showers will cross southern Manitoba through the day, likely impacting Winnipeg and areas south. In the evening, a secondary area of developing showers will likely impact Winnipeg and areas north. The cloudy skies and precipitation will keep things cool with a high in Winnipeg near 16°C. On the upside (perhaps?), winds will be light through the day. The city will see a low near 11°C on Saturday night.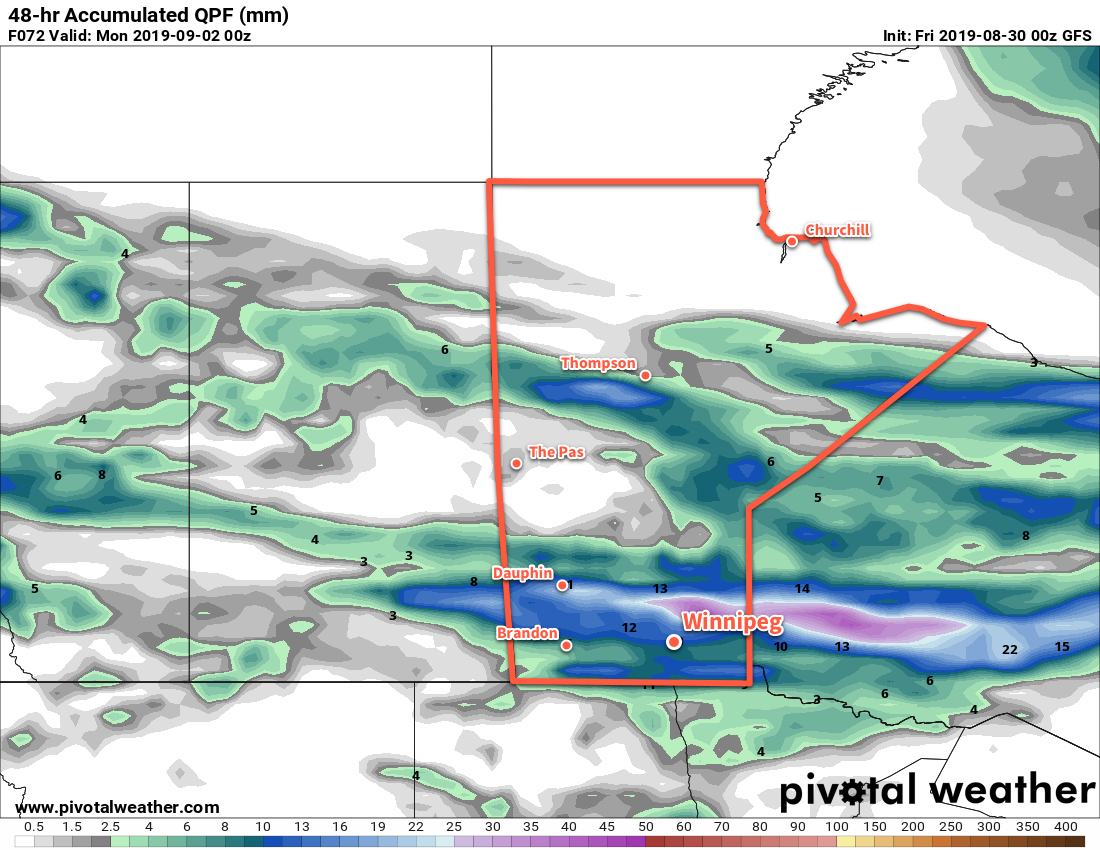 Skies in Winnipeg will stay mostly cloudy on Sunday. Conditions should stay dry through the morning, allowing temperatures to climb to a high near 19°C. The chance of showers will redevelop mid-afternoon as another disturbance moves through the region. The showers are will move off to the southeast on Sunday night with temperatures dipping to a low near 8°C.
Long Range Outlook
More unsettled conditions are forecast for Monday with another chance of showers expected in the Red River Valley. The cloud cover is forecast to break up for Tuesday, leaving the city with partly cloudy skies for much of the remainder of the week. Temperatures are forecast to remain steady with highs in the upper teens and lows in the upper single digits.
Today's seasonal daytime high in Winnipeg is 22°C while the seasonal overnight low is 9°C.