Winnipeg will see a few more days of seasonably cool weather and a bit more rain. Relief is on the way to start next week as some sun and warmth return to the region.
Outflow from a departing arctic high will result in a rather breezy day today in the Red River Valley. Winds will pick up out of the south to 30 gusting 50 km/h this morning and will make this afternoon's high of 11°C feel rather cool. Skies will stay mostly cloudy through the day as well. Tonight, a low pressure system will approach the region from the southwest. The cloud cover will thicken up with some rain spreading into the region for the second half of the night. Temperatures will dip to a low near 6°C.
Winnipeg will see periods of rain on Saturday as the low moves through the province. The wet weather will keep things cool with a high near 9°C, but winds will be light much of the day. Later in the afternoon winds will pick up out of the northwest into the 20 to 30 km/h range behind the low, then shift westerly at around 20 km/h for the night. The rain will taper off on Saturday evening; this system looks likely to produce another 10 to 20 mm of rain through the region. Temperatures will nudge down overnight to 8°C.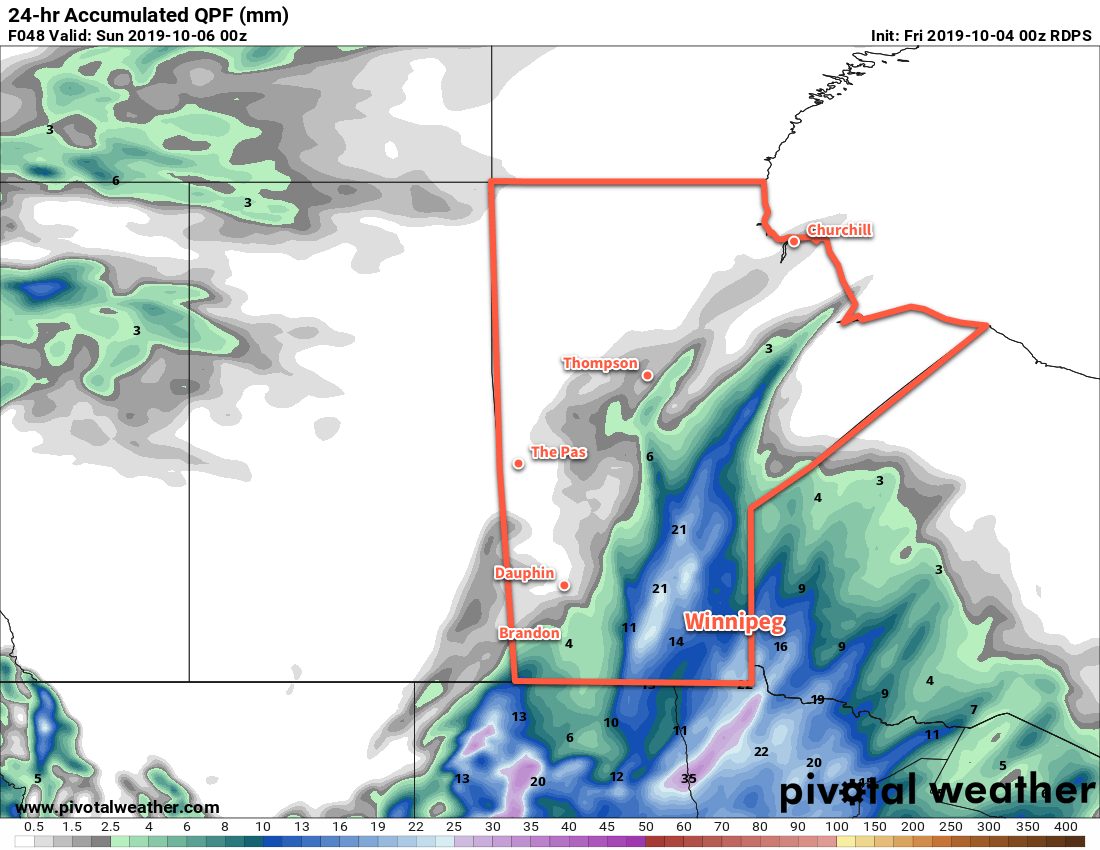 On Sunday morning, a few showers will be possible in Winnipeg as precipitation streams off of Lake Manitoba. The best chance looks through the morning hours, then the lake-effect precipitation will likely weaken. The city will see mostly cloudy skies through the day with those westerly winds continuing near 20 km/h. Skies are forecast to clear Sunday night as a ridge moves into the region. Temperatures will plunge as a result to a low near 0°C.
Long Range Outlook
A push of warm air continues to look likely to start next week. Should it arrive as expected, Winnipeg will see temperatures climb into the upper teens for both Monday and Tuesday. Another low is forecast to impact the region mid-week followed by a major surge of Arctic air southwards, plunging the region into a stretch of below-seasonal temperatures.
Today's seasonal daytime high in Winnipeg is 14°C while the seasonal overnight low is +2°C.