A series of low pressure systems will bring mild temperatures and light snow to southern Manitoba over the next couple days. Then bundle up, because bitter cold will crash through the Prairies into southern Manitoba.
A low pressure system passing through the region will bring cloudy skies with light snow to Winnipeg today. The city will see about 2 cm of snow before it tapers off later this afternoon. Temperatures will be seasonably mild with a high near -6°C. Winds will be breezy this afternoon, picking up to northwest to 30 gusting 50 km/h behind a weak cold front. Skies will clear out this evening with temperatures dipping to a low near -13°C. Winds will ease and shift westerly, but some breezy conditions will continue to be possible along the escarpment of the western Red River Valley.
On Tuesday, more cloud will build into the region as the next low rapidly approaches. The city will see mixed skies becoming cloudy later in the day. Winds will pick up to 30 gusting 50 km/h out of the southwest, sending temperatures to a high near -3°C. The low will pass through in the evening, bringing snow into the region and ushering in a powerful cold front.
After a few hours of light winds late in the day, northerlies will strengthen to 40 gusting 60 km/h overnight. Light snow will move into the region in the evening and persist through much of the night. Although only around 2 cm of snow will fall, the strong winds may still produce some areas of reduced visibility in blowing snow. Temperatures will plummet through the night, reaching a low near -26°C on Wednesday morning. Dangerous wind chills of -40 or colder are possible overnight into Wednesday morning.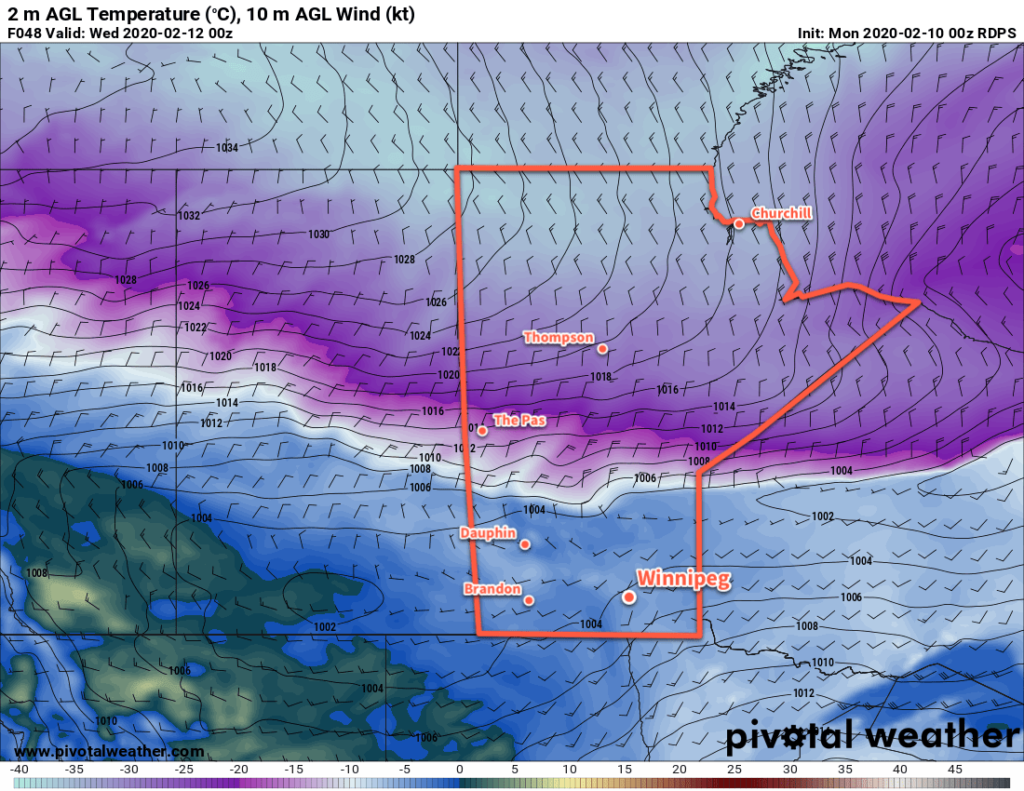 Skies will clear on Wednesday as the Arctic high moves into the region. Temperatures will barely recover with highs of just -24°C expected. Northwesterly winds of 30 to 40 km/h will continue for much of the day, not easing until the latter parts of the afternoon into the evening. Temperatures will head to a low near -31°C on Wednesday night with dangerous wind chills of -40 or lower possible again.
Long Range Outlook
The cold weather will stick around for Thursday, then seasonal temperatures are forecast to return after a windy Friday. The weekend will bring near-normal temperatures and variable cloudiness with no significant snowfall expected.
Today's seasonal daytime high in Winnipeg is -9°C while the seasonal overnight low is -20°C.