Winnipeg will see howling southerly winds today as warmer temperatures build back into the region. Unfortunately, they'll be gone nearly as quickly as they arrive.
Milder temperatures are spreading towards the Red River Valley today as a low pressure crosses the northern Prairies. The cold air in the Red River Valley won't exit without a fight, though, with strong southerly winds formed between the tight pressure gradient between the approaching low and departing Arctic high. Winnipeg will see southerly winds of 40 to 50 gusting 70 km/h this morning, producing wind chill values of -35 to -45 this morning. Temperatures will slowly climb through the day alongside increasing cloud. The winds will be strongest midday, then gradually ease to 30 gusting 50 km/h through the afternoon. By the time the sun goes down, Winnipeg's temperature should reach around -10°C with cloudy skies.
The winds will ease tonight with temperatures remaining climbing a bit more to -8°C under cloudy skies. There's a chance the region will see a few flurries through the night.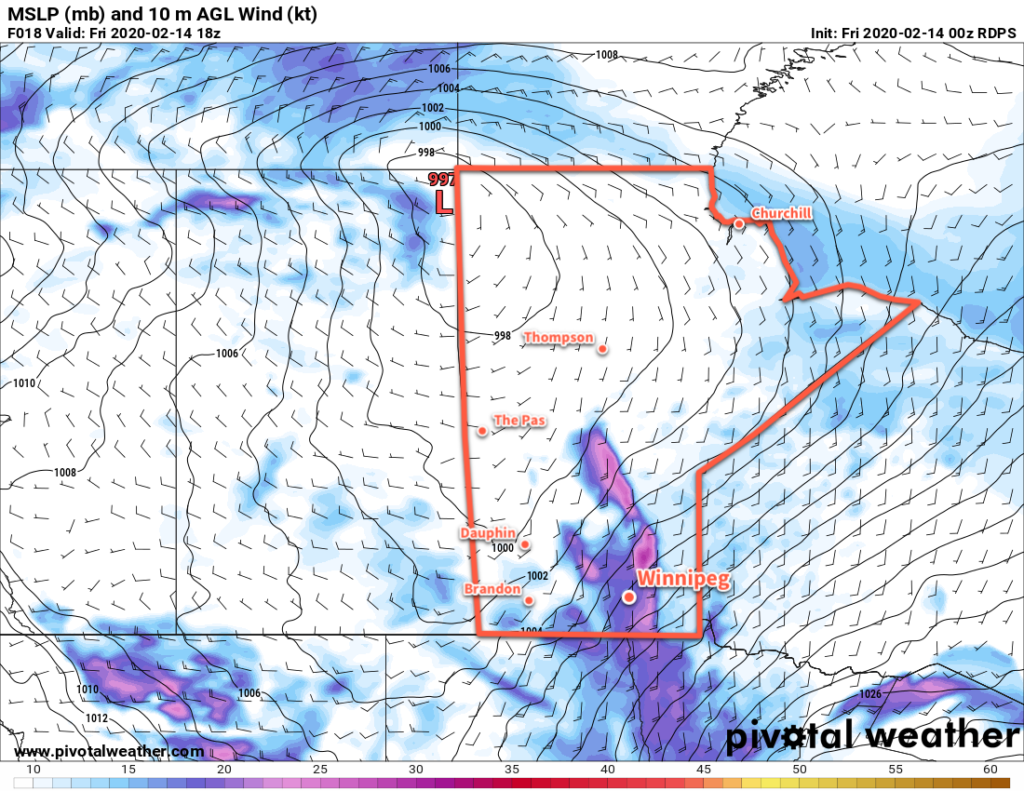 On Saturday, the cold front associated with the northern Prairies low will push through southern Manitoba. Before it arrives, temperatures will continue near seasonal values with cloudy skies. It will push through midday, ushering in northwest winds of 30 to 40 km/h that will clear skies out and send temperatures falling to around -17°C. Winds will ease in the evening as another high moves into the region. Temperatures will dip to a low near -27°C on Saturday night.
Sunday will see sunshine become mixed with a few clouds and temperatures climb back to around -16°C. A southerly wind will develop in the afternoon as the return flow on the rear flank of the departing high moves into the region. Winds won't be nearly as strong as seen on Friday. On Sunday evening, more cloud will push into the region as a weak low moves through. With the system moving through on Sunday night and all of the cloud it brings, temperatures should actually rise a bit through the night to about -13°C by Monday morning.
Long Range Outlook
There continues to be agreement that after some variable temperatures to start next week, a notable push of warm air will work into the region for the latter half of the week. With this, daytime highs are forecast to climb back to around 0°C and stay there for at least 4–6 days. There continue to be no major snowfall events in the forecast.
Today's seasonal daytime high in Winnipeg is -8°C while the seasonal overnight low is -19°C.