Winnipeg will enjoy a couple more days of mild temperatures before a passing low brings cooler and unsettled conditions back to the area.
Today will be the warmest day in Winnipeg for what could end up being a very long time. Skies will clear out this morning then warm up to a high near 24 °C as winds pick up out of the west into the 20–30 km/h range for the afternoon. The wind will ease this evening and temperatures will head to a low near 9 °C. Another low pressure system will move towards the province tonight, pushing cloudy skies into the city by morning.
Winnipeg will see mostly cloudy skies on Saturday, but temperatures will still be seasonably mild with a high near 20 °C. Winds will pick up out of the south to around 30 km/h for the afternoon. As the low passes to the north in the afternoon, a weak cold front will sweep across the Red River Valley. This will usher in a chance of showers later in the afternoon and into the night for the region. Winds will gradually shift to the northwest overnight as temperatures head to a low near 10 °C.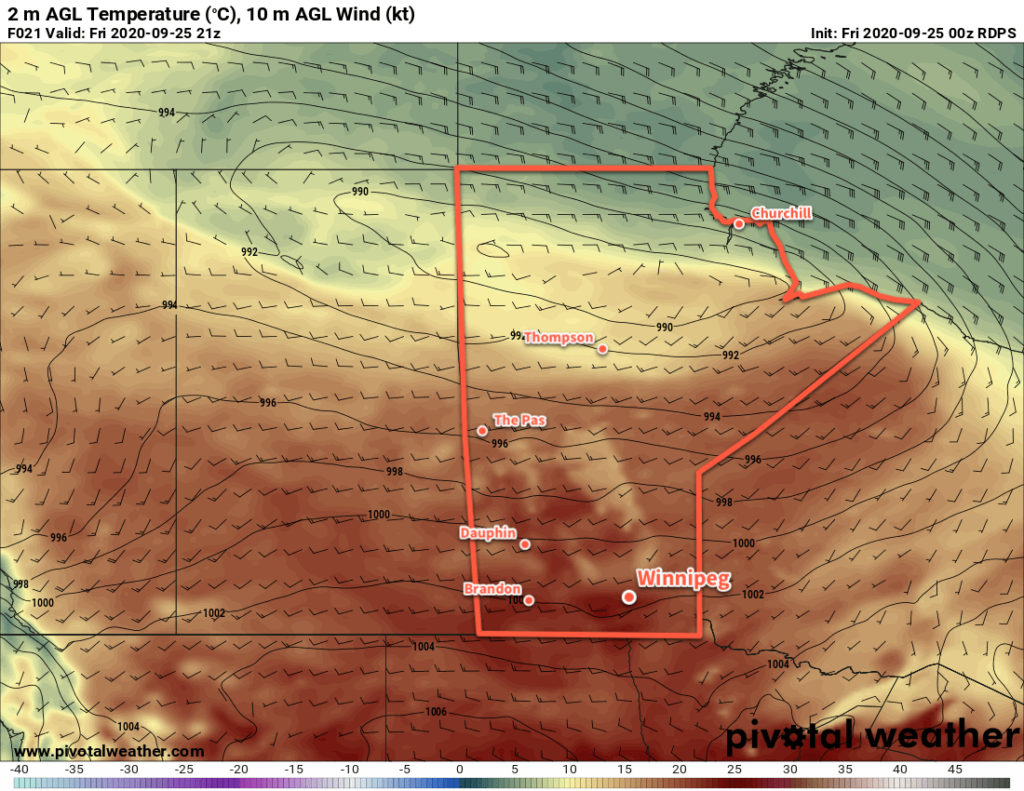 Sunday will continue to bring mainly cloudy conditions to Winnipeg as another cold front pushes through the area. Northwest winds of 30 gusting 50 km/h will usher seasonal temperatures back into the region. As a result, Winnipeg will see a comparatively cool high near 15 °C. There will likely be a few showers throughout the day as well. Plenty of cloud will linger into the night as the winds taper off and temperatures head to a low near 6 °C.
Long Range Outlook
Next week will bring seasonal temperatures to the city with highs in the low to mid-teens and lows in the low to mid-single digits. Lake-effect showers will persist in the lee of the lakes through the first half of the week, and more rain is possible Tuesday into Wednesday. Fall has arrived in full!
Today's seasonal daytime high in Winnipeg is 16 °C while the seasonal overnight low is 4 °C.