Winnipeg will see another batch of light snow beginning later today as a low pressure system pushes across the region.
It's a clear but cool start to the day in Winnipeg with temperatures in the mid-minus teens. Temperatures will gradually climb through the morning, then pop up to around -2 °C as cloud cover moves into the region. The city might see occasional light snow as the cloud moves in, but a more organized area of snow will push into the region early this evening. The snow will continue through the night as temperatures dip to a low near -7 °C.
Light snow will continue through much of tomorrow as a northwest wind ushers in a cooler air mass and lake-effect flurries from Lake Manitoba follow the broader area of snow. By the time it tapers off later in the day, Winnipeg should see 3–6 cm of new snow from this system. Those northwest winds near 20 km/h will keep things cool with temperature barely recovering to a high near -6 °C. Clearing should push into the region on Thursday night with temperatures dipping to a low near -12 °C.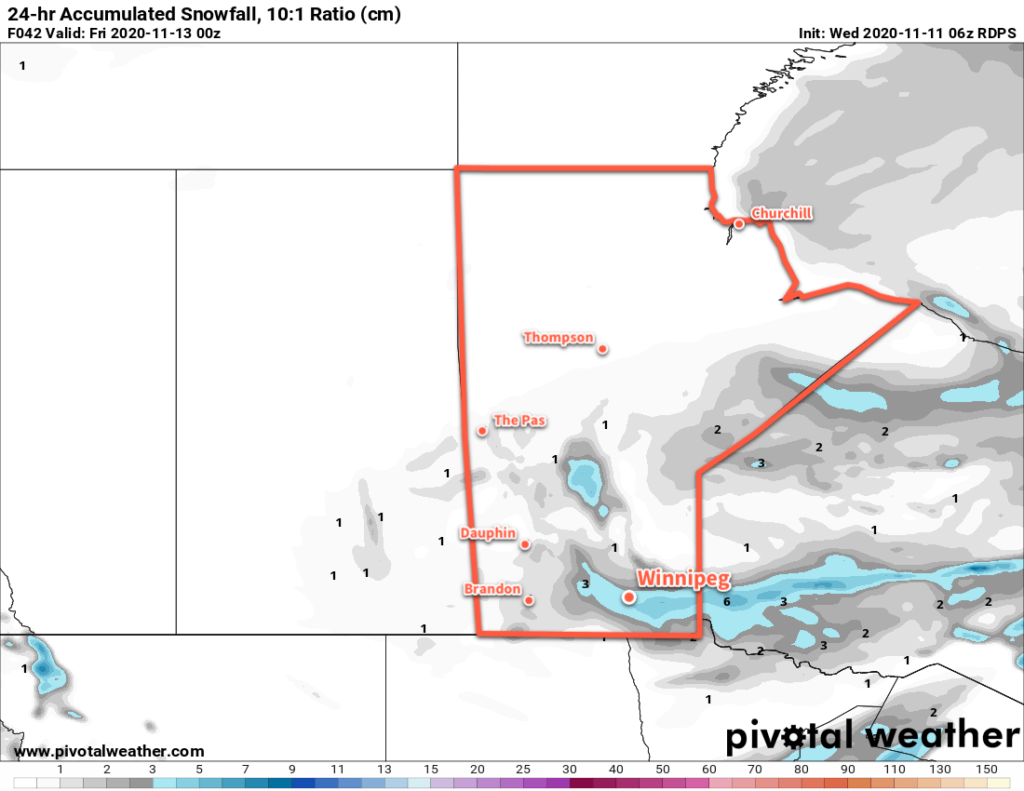 The region will see partly cloudy skies on Friday with temperatures rebounding nicely. Winnipeg's high should reach around -1 °C and dip to only -5 °C on Friday night as more cloud cover moves in.
Long Range Outlook
Another low pressure complex consisting of a low ejecting northeastwards out of the American Plains combined with an upper-level disturbance crossing the Prairies will bring cloud and snow to the region this weekend. Temperatures will be mild with highs near the freezing mark, but light snow will likely begin again on Saturday night and continue on Sunday. Another 4–8 cm of snow may be possible with this system as it moves through.
Today's seasonal daytime high in Winnipeg is -1 °C while the seasonal overnight low is -9 °C.