Winnipeg will see a couple more mild days before a cold front sweeps through the region.
Another push of mild air will push into southern Manitoba today as a low pressure system moves through the northern Prairies. It will bring more cloud to the region as temperatures climb towards a high near +1 °C. Winds will pick up out of the south to around 30 km/h for the afternoon then taper off in the evening. Some gusty winds will likely persist along the western escarpment into the evening hours as more warm air continues to push into the region. Temperatures will dip to a low near -5 °C with mixed skies tonight.
Winnipeg should see more cloud on Saturday with a few sunny breaks as temperatures climb back to +1 °C. A cold front will sweep through the Red River Valley in the evening, ushering in moderate northwest winds up to 40 gusting 60 km/h. Temperatures will drop quickly to a low near -11 °C with a bit of light snow moving through overnight.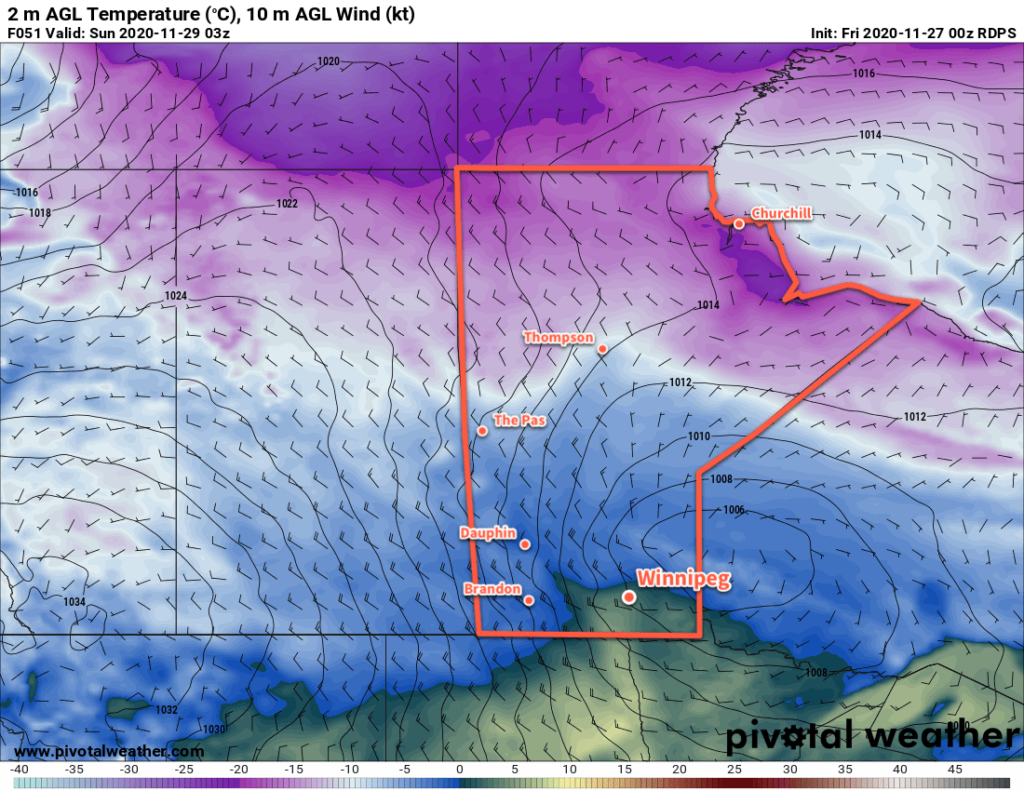 Sunday will bring significantly cooler temperatures to the region as an Arctic ridge moves through. Northwest winds near 30 gusting 50 km/h will continue for much of the day with temperatures rebounding slightly to a high near -9 °C. Skies will clear out through the day, followed by easing winds towards the evening. Winnipeg should see a low near -15 °C on Sunday night.
Long Range Outlook
Temperatures will climb back to seasonably mild values next week as an upper ridge redevelops and floods the Prairies with another wave of Pacific air. High should climb back into the -5 to 0 °C range with sunny weather turning cloudier midweek.
Today's seasonal daytime high in Winnipeg is -6 °C while the seasonal overnight low is -14 °C.