Winnipeg will continue to see temperatures well above seasonal values this weekend. The deep freeze typical for this time of year looks to stay absent through the coming week.
Instead of the cold, Winnipeg will instead see temperatures climb towards freezing over the coming days as a series of low pressure systems moving across the Prairies spread mild Pacific air into the region. First, though, Winnipeg will see a high near -8 °C today. Skies will likely stay cloudy for much of the day with plenty of stratus left behind from a disturbance that moved through overnight. With the cloud, the city will also likely see some light snow through the day. Clearing should work into the region this afternoon, though there's a chance it could take until evening for it to reach Winnipeg. Once it clears out, Winnipeg will see mainly clear skies overnight with a low near -12 °C.
On Saturday, the first of two low pressure systems will work across the central Prairies into Manitoba. As it pushes eastwards, it will spread cloud into the region through the afternoon hours. Winds will start light, but strengthen out of the south into the 30–40 km/h range for the afternoon. Temperatures will climb to a high near -2 °C. More cloud will move through the region on Saturday night as the winds ease and temperatures hover around -1 °C.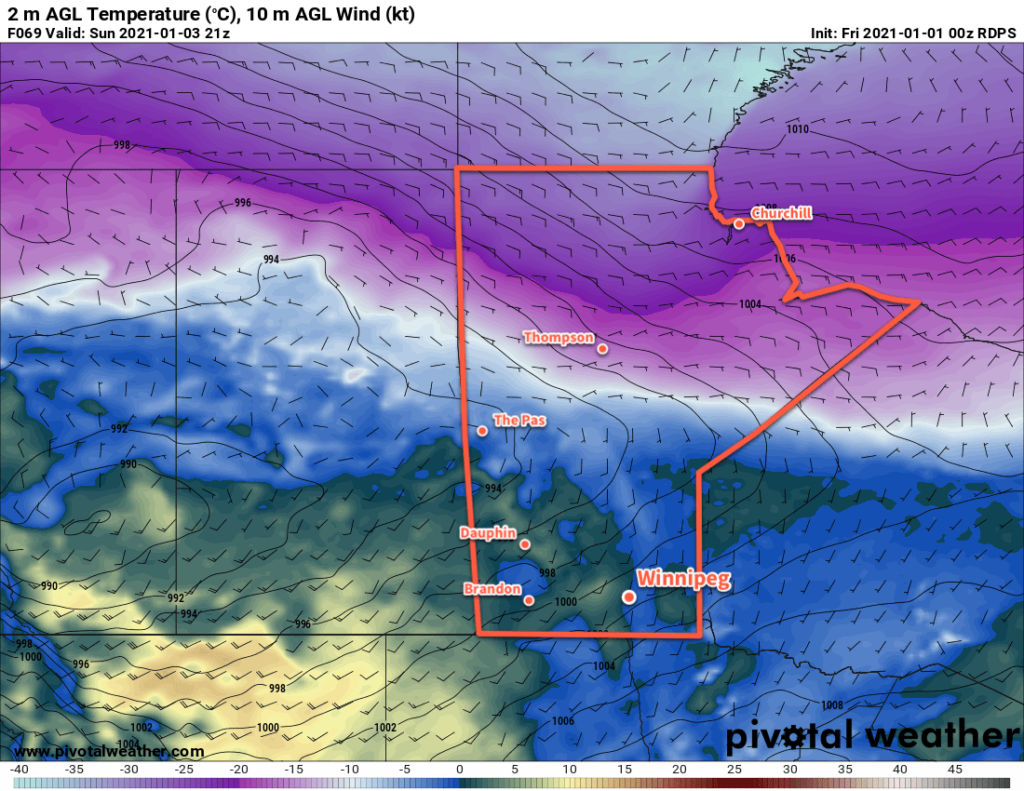 On Sunday, another low — slightly stronger than the first — will scoot across the Prairies. Temperatures will climb to around 0 °C in Winnipeg with skies clouding over. Winds will be light to start and gradually pick up to around 30 km/h in the afternoon. Heading into the night, a trough moving through the Red River Valley may bring some light snow or even a couple rain showers, depending on where exactly the temperature is at the time. Temperatures will dip to a low near -2 °C by Monday morning.
Long Range Outlook
Temperatures will cool slightly next week with highs slumping into the -5 to 0 °C range. Lows will also follow suit, staying well above normal for this time of year in the -5 to -15 °C range. Some snow is possible with a cold frontal passage on Monday, otherwise while skies stay on the cloudier side there should be little snow to speak of through the rest of the week.
Today's seasonal daytime high in Winnipeg is -13 °C while the seasonal overnight low is -23 °C.