Slack winds and a building upper ridge will continue to bring mild weather to Winnipeg as cloudier conditions move in.
Winnipeg will sit on the northeastern edge of a col today, bringing quiet conditions with a light southerly wind. Skies should stay mostly cloudy today; some models want to clear skies out this afternoon, but low-level winds in Winnipeg are forecast to stay southerly through the day. With little change in the low-level winds, it seems more likely that the clouds will persist through much of the day. Temperatures will continue mild with a high near -1 °C. The southerly wind will strengthen into the 20–30 km/h range overnight as temperatures head to a low near -5 °C.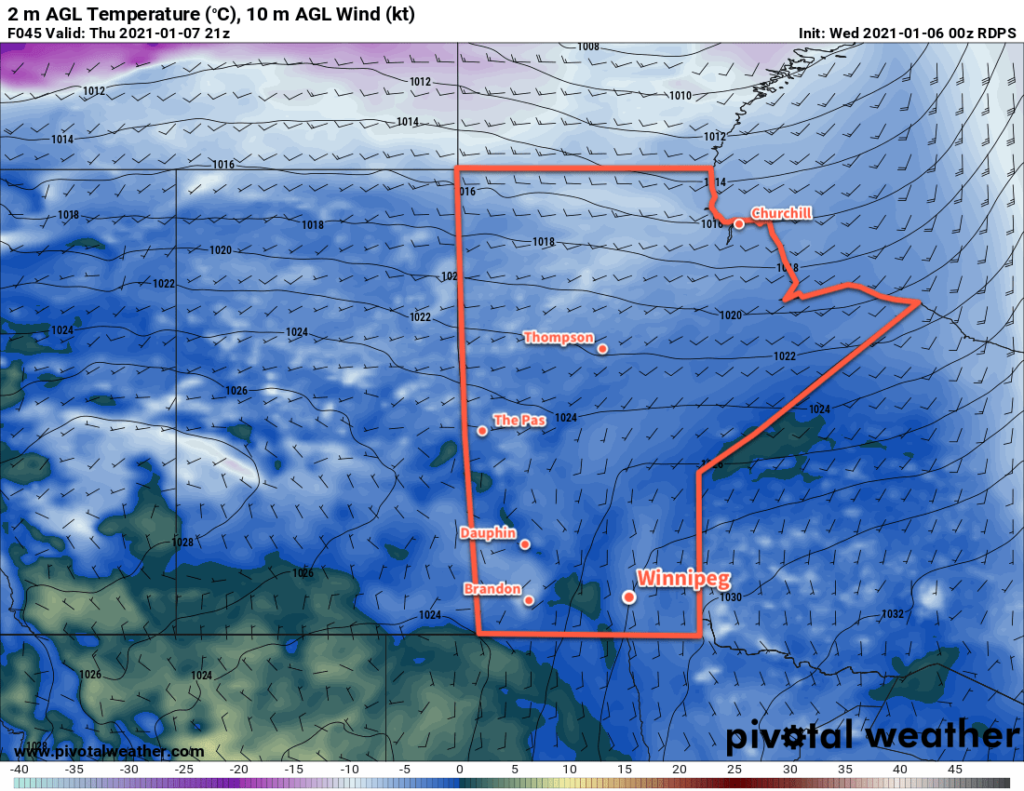 On Thursday and Friday, Winnipeg will see cloudy skies with mild weather continuing. The breezy southerly winds will continue through much of Thursday then taper off late in the day. Friday will bring a chance for some light snow to the region as a trough moves into the Red River Valley. Both days will see a high near -1 °C and lows around the -5 °C mark.
Long Range Outlook
The long-range forecast is rather astonishing for January in Winnipeg. Forecasts show little change to the broader weather pattern over the coming weeks. This means that the next 7–10 days will bring more of the same: mild temperatures and generally dry conditions.
Today's seasonal daytime high in Winnipeg is -13 °C while the seasonal overnight low is -23 °C.