A potent low pressure system diving through the eastern Prairies will bring warm and windy weather to Winnipeg today. In its wake, cooler weather will slump back into the region from the north.
Temperatures will rocket back above freezing in Winnipeg today as strong westerly winds usher in a Pacific air mass. Temperatures will climb to a high near +1 °C as southerly winds of 40 gusting 60 km/h shift westerly midday and strengthen to 50 gusting 70 km/h. Stronger winds will move through to the southwest of Winnipeg where gusts in excess of 90 km/h will be possible. A rogue gust closer to 80 km/h can't be ruled out for Winnipeg today.
Most of the precipitation associated with this system will stay north of the Red River Valley, tracking with the low centre and to its north. Areas along the Trans-Canada Highway will still likely see a bit of light snow or even a rain shower as this system moves through. The best chance for precipitation will be in the morning as the warm front pushes across the region. While skies will be mostly cloudy through the day, a sunny break or two is possible in the afternoon.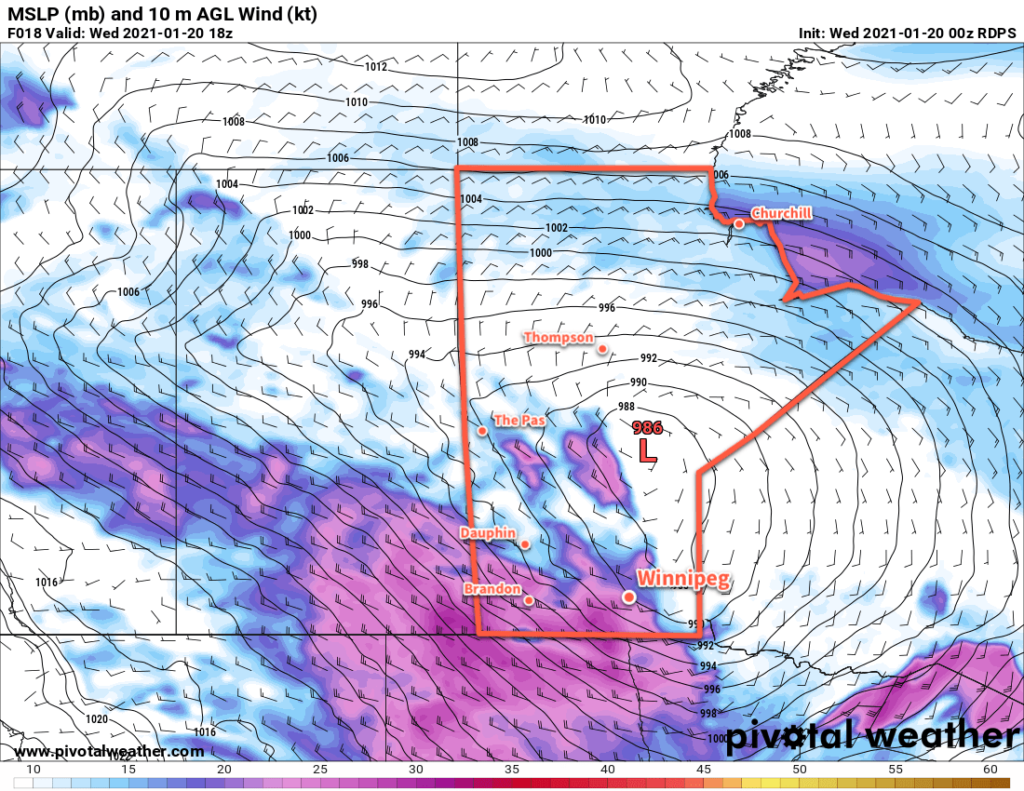 The winds will ease to 30 gusting 50 km/h this evening, then shift to the northwest overnight as a cold front slumps through. This will bring more cloud to the region and a chance for some light snow. Temperatures will plummet to a low near -16 °C by Thursday morning.
The cold weather will be back in force on Thursday as a ridge moves through the province. Temperatures will barely recover to a high near -15 °C as northerly winds near 30 km/h continue to funnel Arctic air into the region. Cloud will likely stick around through the morning hours, but some sunny breaks should develop in the afternoon. The clouds will clear out in the evening. Temperatures will drop to a low near -25 °C on Thursday night with light winds. A trough will begin rotating into southern Manitoba overnight, likely bringing cloud back into the region by Friday morning.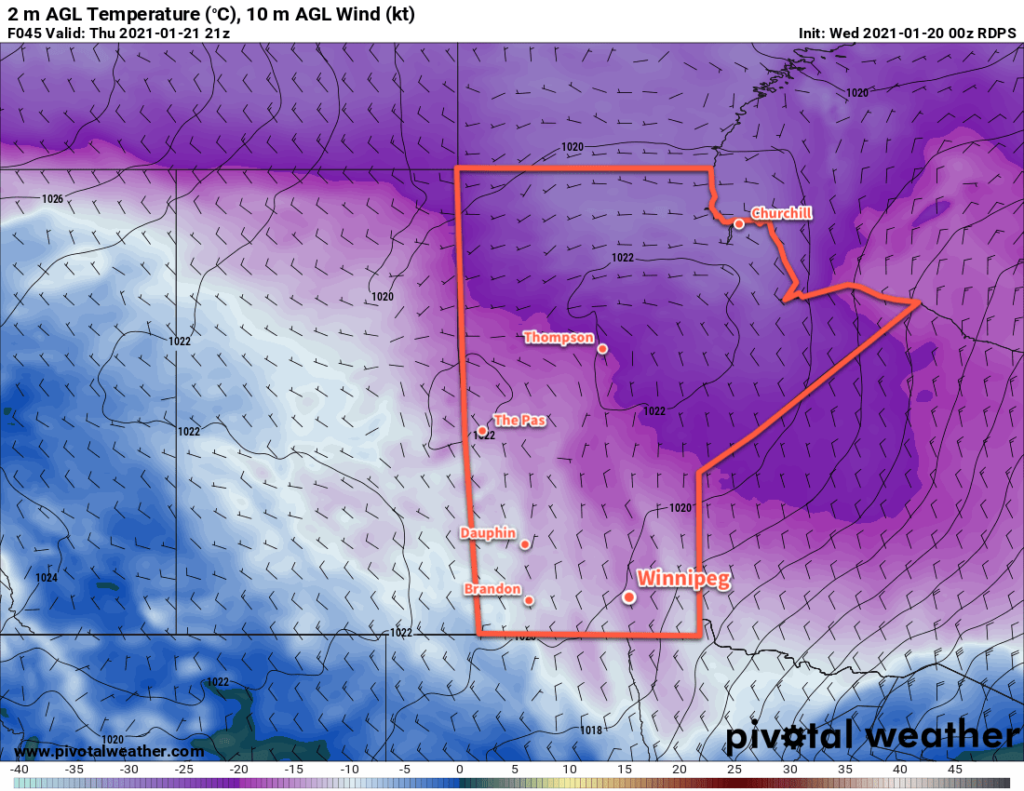 Winnipeg will see mixed skies again on Friday as that weak trough rotates across the region. Temperatures will return to seasonal values with a high near -13 °C and there's a slight chance for some scattered flurries. Skies will stay mainly cloudy on Friday night with a low near -19 °C.
Long Range Outlook
Some more cloud and snow is likely on the way for Winnipeg on Saturday with near-seasonal temperatures. Following that, temperatures will shift to seasonably cool with partly cloudy skies. Temperatures may moderate in the second half of next week.
Today's seasonal daytime high in Winnipeg is -13 °C while the seasonal overnight low is -23 °C.