Winnipeg will finally see temperatures warm back towards seasonal values through the rest of the week as the Arctic grip on the region weakens.
Temperatures in Winnipeg will gradually moderate through the rest of the week, followed by a push of much warmer Pacific air. Today will be the last day of lingering cold as the Arctic ridge hangs back into the region just a bit longer. Winnipeg will see a high near -17 °C and light south winds under mainly sunny skies.
A weak upper-level disturbance will move through the region tonight, bringing some cloud and a few flurries to the Red River Valley. The cloud will help keep temperatures slightly warmer tonight with lows "only" around -22 °C.
Another ridge of high pressure will move across the region on Thursday in the wake of the overnight disturbance. This will bring partly cloudy skies to the region as temperatures climb to a high near -13 °C. Skies will clear out for Thursday night with a low near -25 °C.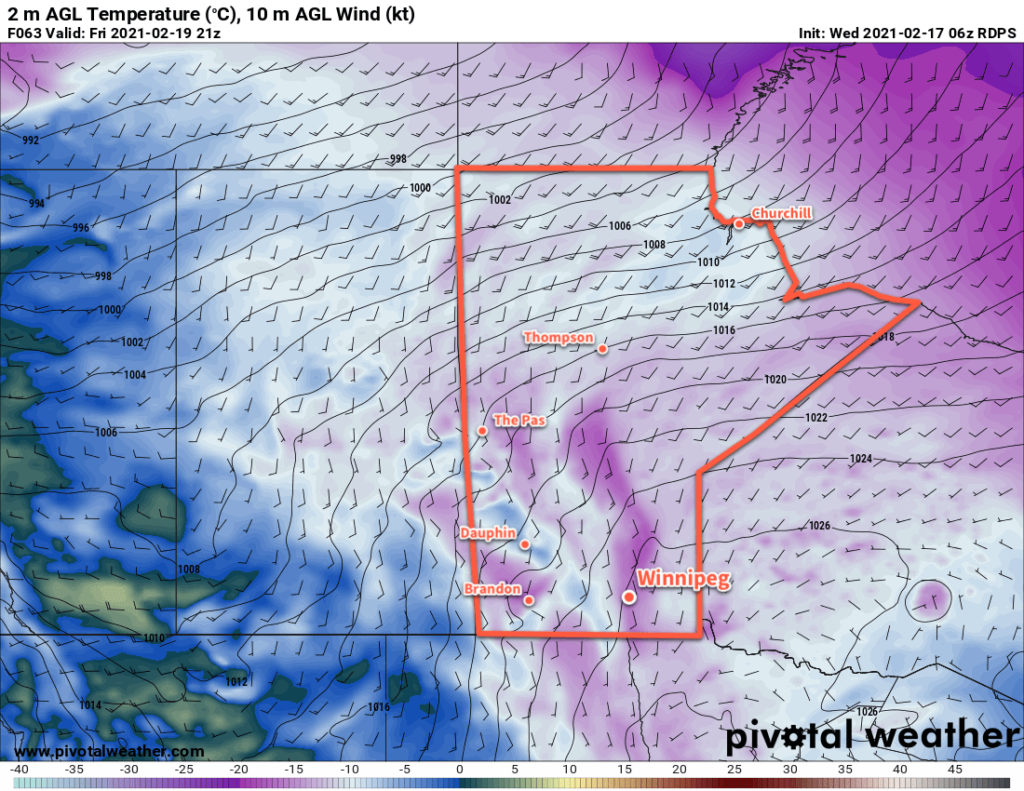 On Friday, the region should see mainly sunny conditions with temperatures climbing to a high near -12 °C. Temperatures will dip to a low near -17 °C on Friday night, but southerly winds will strengthen into the 20–30 km/h range overnight as a warm front moves towards the region. This front will also push some cloud into the region by Saturday morning.
Long Range Outlook
This weekend will bring a definitive close to the cold snap over the region as mild Pacific air washes over the province. Highs will climb to around -5 °C on Saturday to around 0 °C on Sunday with some breezy south-southwest winds. Some snow is possible on Saturday.
Highs may even climb above freezing for the first few days of next week before returning to near-seasonal values mid-week. A couple chances for snow exist through the first half of next week as a few disturbances slide southeastwards across the Prairies.
Today's seasonal daytime high in Winnipeg is -8 °C while the seasonal overnight low is -18 °C.