Cooler conditions will linger in Winnipeg through the rest of the week, bringing a gradual melt to the pile of snow that fell over the last 48 hours.
The upper vortex responsible for 23 cm of snow in Winnipeg over the past 48 hours — the biggest snow event of this winter/spring season — is now trundling off towards eastern Canada. A few flurries will linger in its trail through the day. The snow cover and a cool north wind near 20 km/h bring a cool high near 0 °C. Skies will stay mostly cloudy tonight with light winds and a low near -4 °C.
On Thursday, a trough of cooler air aloft will move into southern Manitoba. It will bring a mix of sun and cloud and northerly winds up to around 20 km/h again. Any snow associated with this system will likely stay over southwestern Manitoba with light amounts. Temperatures will climb to a high around 3 °C in Winnipeg. Warmer highs are likely over the western Red River Valley where slight downsloping from the escarpment helps temperatures into the upper single digits. Mixed skies will stay for the night with temperatures dipping to a low near -5 °C.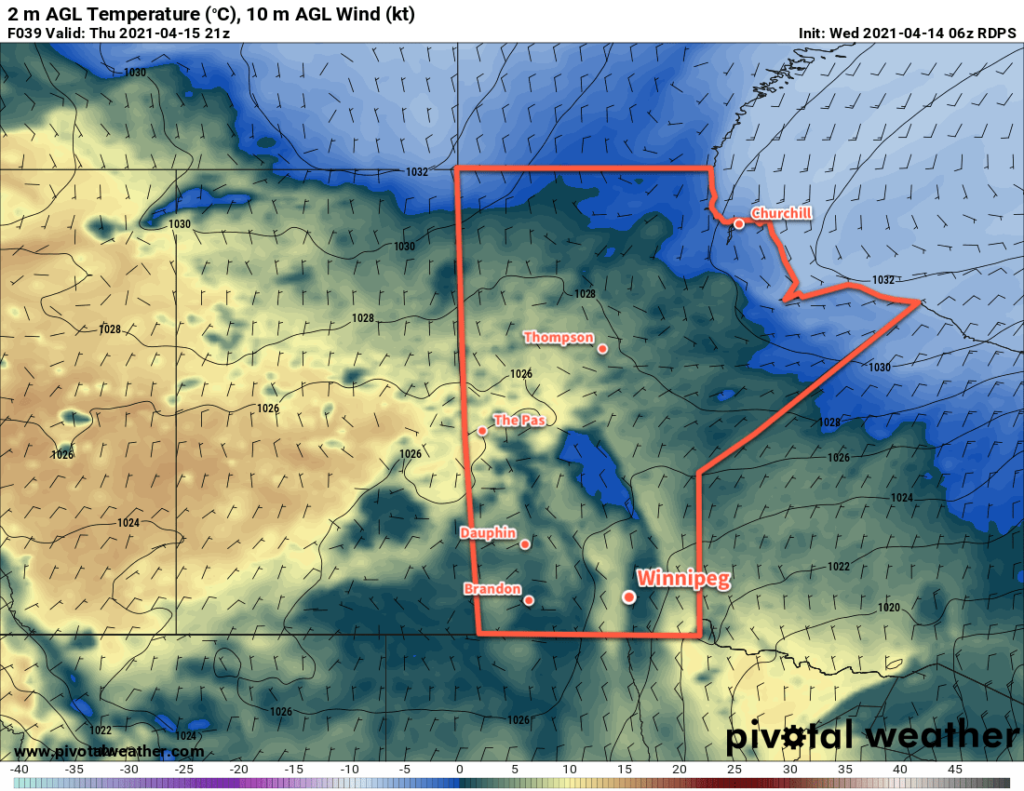 A broad area of high pressure will build into the region on Friday, bringing a bit more sun. Winds will pick up out of the north into the 20–30 km/h range with a high near 3 °C. Note that it could get warmer than that, highly depending on how quickly the snow pack over the region melts. Given the discrepancy in snow depth, some areas may see highs a few degrees warmer than others on Friday. Skies will clear out on Friday night with temperatures heading to a low near -7 °C.
Long Range Outlook
Temperatures will return closer to seasonal values on Saturday, then another low pressure system is forecast to move through on Sunday. This disturbance will bring more cloud and a chance for some rain or snow. Cooler and cloudier weather starts next week, followed by a gradual return to seasonal temperatures and generally sunny conditions.
Today's seasonal daytime high in Winnipeg is 10 °C while the seasonal overnight low is -2 °C.