Winnipeg will enjoy pleasant spring weather with seasonably mild temperatures and a chance of showers.
Winnipeg will see warmer weather move in today as a weak area of low pressure builds east across the Prairies. Temperatures will climb to a high near 22 °C this afternoon with southerly winds into the 20–30 km/h range. Skies should stay mostly sunny through the day. It will continue to be dry; with warm weather and dew points between -5 and -10 °C, the relative humidity will drop into the 10–20% range for the afternoon. A few clouds will linger overnight as a continued southerly flow brings warmer air with a bit more moisture into the region. Winnipeg should see a low near 9 °C. There's also a slight chance that a few showers may drift across the region overnight.
Thursday will be a beautiful day across many parts of the Red River Valley. Winnipeg will see a high near 24 °C with partly cloudy skies as the broad area of low pressure continues to build into the province. Dew points will be higher on Thursday, climbing above 0°C and into the low to mid single digits. While this isn't particularly remarkable on its own, it will be a 10–15 °C increase from Wednesday. One thing that the higher dew points will allow for, though, is the likely development of some scattered showers in afternoon. Although there isn't too much instability, an isolated non-severe thunderstorm may be possible as well.
Things will taper off in the evening with temperatures in Winnipeg heading to a low near 9 °C under partly cloudy skies.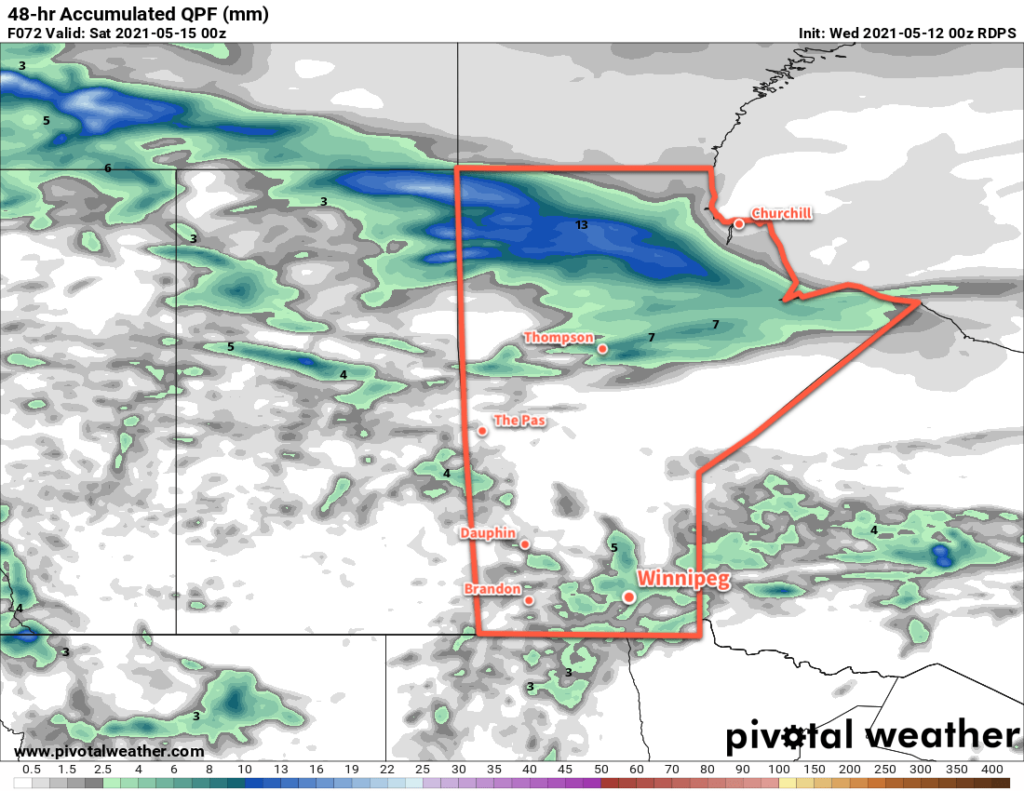 Friday will bring much of the same to Winnipeg again with a high near 22 °C and partly cloudy skies. Some scattered showers will once again be possible in the afternoon with the risk of an isolated non-severe thunderstorm. Temperatures will dip to a low near 7 °C on Friday night with a few lingering clouds.
Long Range Outlook
Spring arrives, as they say, slowly and suddenly. While a prolonged cool pattern only came to an end yesterday, now it looks like Winnipeg will be seeing nothing but warmth for the next week. Highs of 20–25 °C are forecast well into next week with overnight lows in the upper single digits or low teens. The warmer overnight lows, in particular, should help the growing season get started across the region.
Several disturbances will move through the region through the next week, bringing a couple chances of rain with them.
Today's seasonal daytime high in Winnipeg is 19 °C while the seasonal overnight low is 5 °C.