Warm and mostly dry weather will continue in Winnipeg through the weekend.
Another in a series of weak disturbances will move through southern Manitoba today. It will bring mixed skies to the region with another chance of scattered showers this afternoon. Temperatures will be mild with a high near 23 °C and winds will be generally light. With the dry conditions, any showers will be capable of producing locally gusty winds up into the 50–70 km/h range. The cloud cover will break up tonight with temperatures heading to a low near 9 °C.
On Saturday, the region will see light winds with partly cloudy skies. Temperatures will head to a high near 23 °C again. By the evening, an organized low crossing the northern Prairies will push a warm front eastwards through the region. As it passes, it will bring a chance of showers to the region. The rest of the night should see partly cloudy skies and a low near 12 °C. Southerly winds will strengthen to around 20 km/h overnight.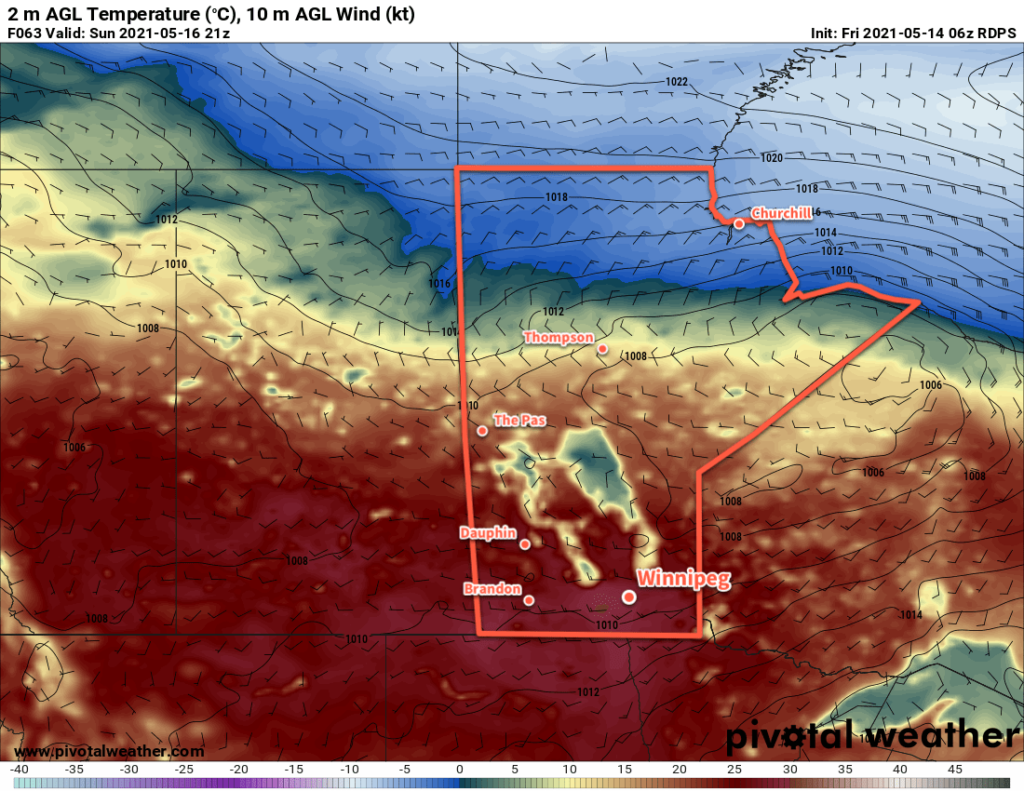 Sunday will bring the heat to southern Manitoba. Well into the warm sector of the northern Manitoba low, breezy southwest winds of 30–40 km/h will send highs into the upper 20s. A trough will slump southwards into the region through the afternoon. It will bring a chance of showers with it, and behind it winds should diminish a bit and turn westerly. The region will see a few clouds Sunday night with diminishing winds and a low near 12 °C.
Long Range Outlook
Another organized low will start moving out of central Alberta on Monday, bringing a renewed push of warmer air into southern Manitoba. Temperatures will be very warm through the first half of the week.
By mid-week, the persistent southerly flow will bring a pool of Gulf of Mexico humidity into the northern Plains of the United States, potentially into southern Manitoba as well. As this moisture approaches, forecasts show a deep upper trough moving into western North America. These two features will combine to bring more humid and unsettled conditions to southern Manitoba in the second half of the week.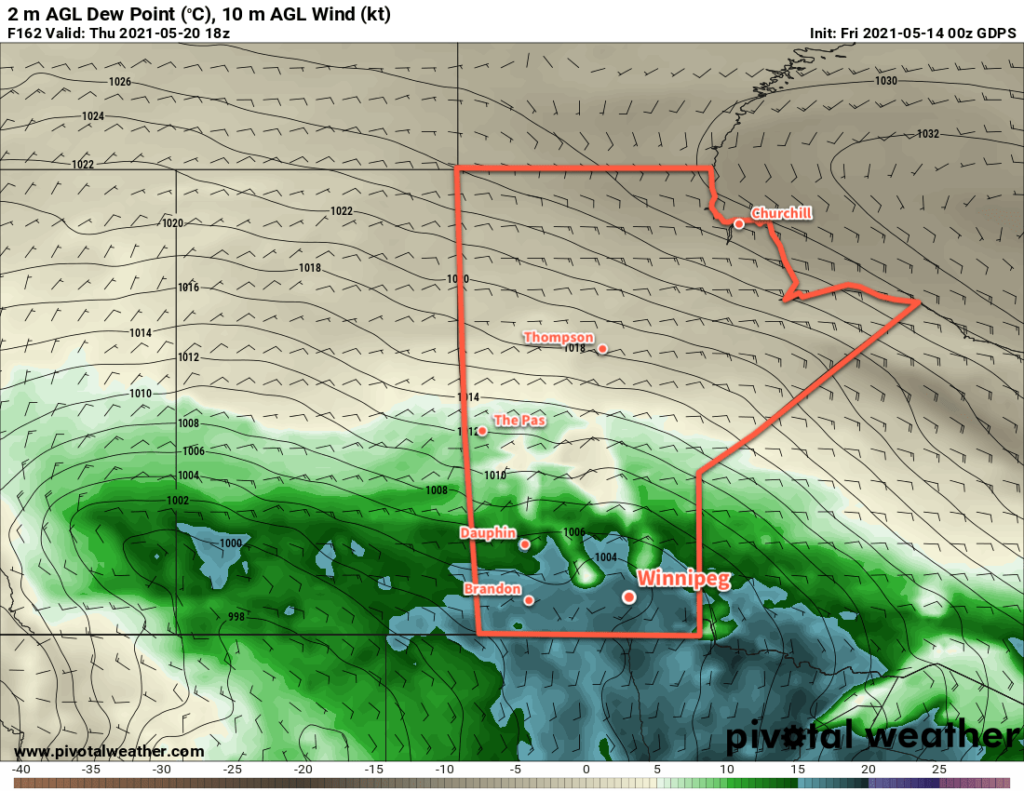 The potential exists for significant rainfall, which would be welcome relief for the drought conditions. This unsettled period could also bring the first well-organized thunderstorm risk to the region, but if the forcing is too strong, it will favour broad areas of showers instead.
So after another warm and mostly dry 5 days, the region should see a shift into a more humid and unsettled pattern.
Today's seasonal daytime high in Winnipeg is 20 °C while the seasonal overnight low is 5 °C.